March 5-9 Monday AND Tuesday 🚀 2nd grade basketball @ Zion. Girls @ 4:00, boys @ 4:30. Parents should have players there 15 minutes before game time. 🚀 5-8 grade....Mrs. Reynolds will stay after school to assist anyone who has missing assignments for 3rd 9 weeks. If your student doesn't know if they should stay, you may call the office. Friday 🚀 Concession Upcoming Events!! 12th - Reports cards 15th - P/T conferences, 3:05-8:05 16th - No school 19th-23rd - Spring Break

So proud of our Lady Rockets for making it to the second round of the finals. The Rockets are the ORES State Division III runner-up! Great job to both teams for a successful season! Congratulations to Talib Mink,Landon Vann, Codey Petree, and Cole Kimble!!! They were chosen by ORES for the All-Tournament team.

Congratulations Lady Rockets!!!! Tomorrow at 6:00 PM Take State!!!

ORES bracket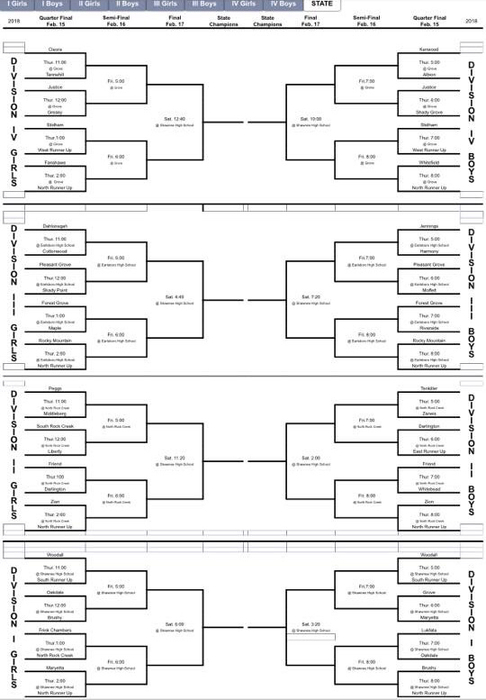 Please share! Feb 12-17 🏀 State basketball is this week. We will be preparing goody bags for them. If you would like to donate snacks, drinks, candy, encouragement notes, etc. please have them to our office by Wednesday. We are preparing for 29 students and 4 adults for a total of 33 bags. Monday 🚀 Vision Screenings for all students Tuesday 🚀 Orders and money for Cupcake Boxes are due. $5 per box. See order form below. Wednesday ❤️ Valentine's Day parties. Teachers will send notes concerning details. Thursday - Saturday 🏀 ORES State Basketball Tournament. We are Division 3. (Bracket posted below) Games Thursday and Friday will be played at Earlsboro, Saturday finals will be at Shawnee High School. Teams must win each day in order to advance. All tickets are $5. I will TRY to update game scores after each quarter of each game. If not, ending scores will always be posted. We have awesome fans and would love to see the stands filled during each game! Go Rockets! Take State!! Thursday 🚀 ORES - girls @ 2:00, boys @ 8:00 Friday 🚀 ORES - girls @ 6:00, boys @ 8:00 Saturday 🏆 ORES Finals - girls @ 4:40, boys @ 7:20

Congratulations to Rockets and Lady Rockets!! Both girls and boys won over Moffett. Next game will be Thursday. Girls @ 7:00, boys @ 8:00. Go Rockets!!! 💙💛

Feb menu and calendar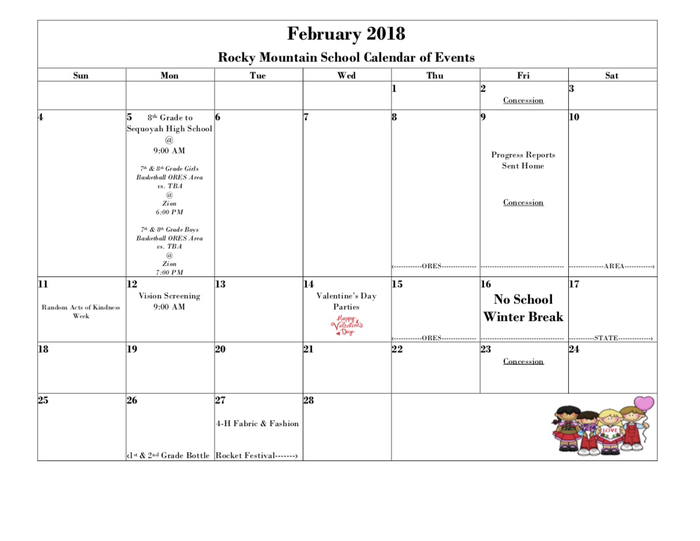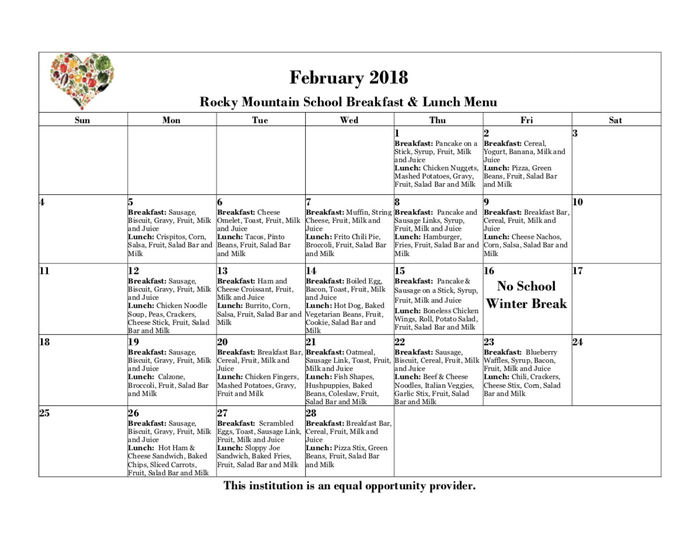 Jan 29 - Feb 3 **ORES brackets are with this post. This year, we are Division 3, Area East. Our Area games will be played at Zion. As we advance to State, those games will be played at Earlsboro until the finals at Shawnee High School. All tickets for Area and State will be $5. Monday 🚀 5th-8th basketball @ Grandview, 4:30 Tuesday 🚀 7/8 Scrimmage @ Maryetta, 4:00 Wednesday 🚀 4th basketball @ Peavine, 9:00 Friday 🚀 Concession Saturday 🚀 ORES Area - we received a "bye" Monday, Feb 5 🚀 ORES Area @ Zion, play winner of Belfonte and Moffet, girls @ 6:00, boys @ 7:00

ORES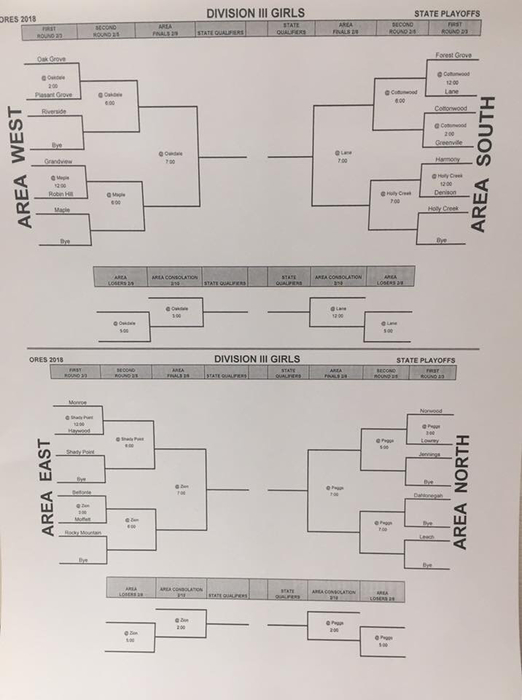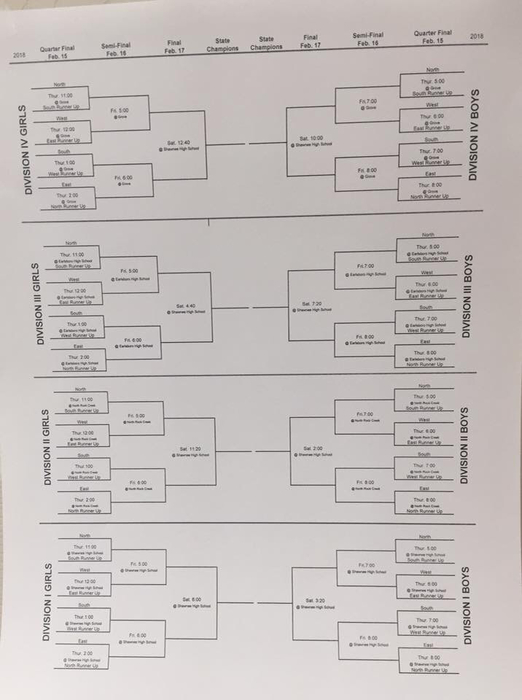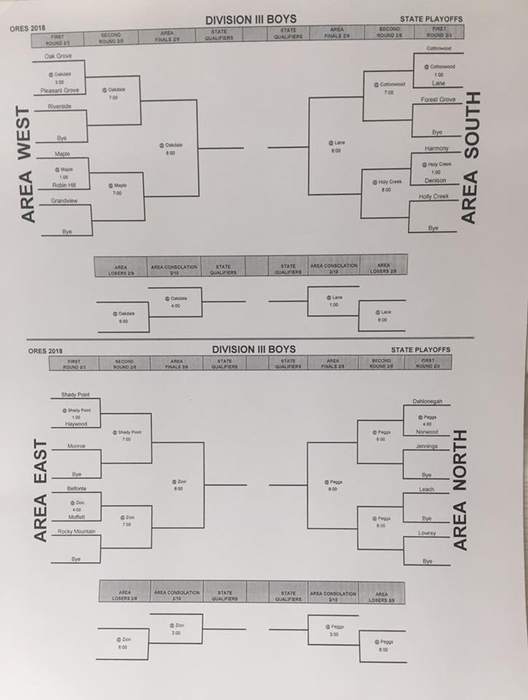 Adair County Tournament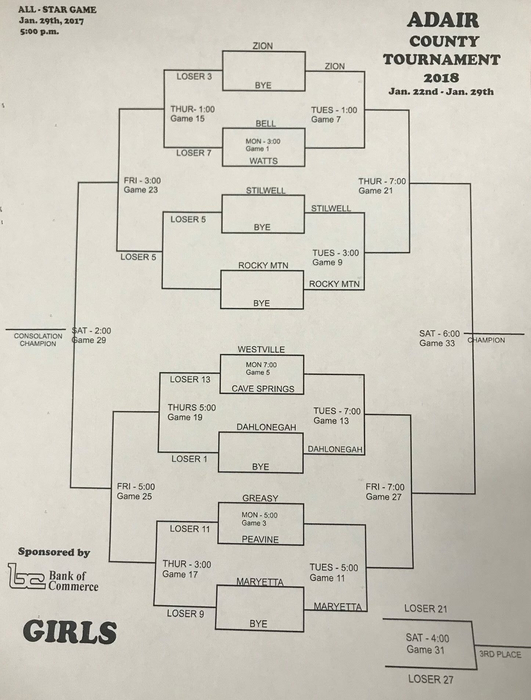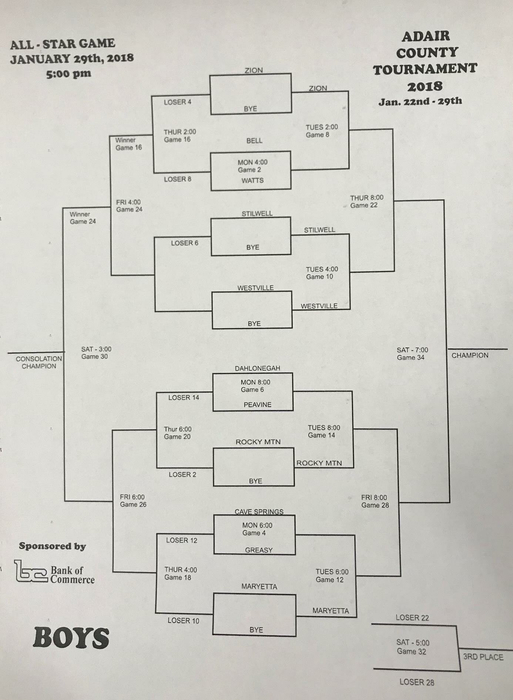 January 15 - 19 🚀🚀 We will be hosting the annual 7/8 basketball tournament this week. We hope to see you there!! See brackets posted below. Monday 🚀 Professional Development - NO SCHOOL for students 🚀 7/8 Basketball home vs Lowery, girls @ 5:00, boys @ 6:00 (Players and Cheerleaders should be at the gym at 4:30) Tuesday 🚀 3/4 Basketball at Stilwell Tourney. Girls @ 6:15, boys @ 7:00. Both teams play Stilwell 2 🚀 Rocket Tournament Wednesday 🚀 Rocket Tournament Thursday 🚀 4-H Image Dress @ Peavine, 9:00 🚀 Rocket Tournament 🚀 Stilwell Tournament Friday 🚀 Concession 🚀 Rocket Tournament 🚀 Stilwell Tournament

January 8-12 ** Scheduling changes for 3/4 basketball. Please read for the accurate schedule Monday 🚀 5/6 basketball at Peggs Tournament, girls @ 2:30, boys @ 3:15. See attached brackets Tuesday 7/8 Basketball home vs. Grandview, 4:30 Wednesday 🚀 3/4 Basketball @ Westville, 9:00 Friday 🚀 3/4 Basketball home vs Cave Springs, 9:00 🚀 Concession

OCTOBER 9th - Fall Carnival, 6:00-8:00 PM Students are selling tickets for 🚀 Meat Basket from Mountain View Meats 🚀 Hunter's Dream Basket 🚀 Ladies' Day Out Basket **All proceeds go to the Christmas Fund

Picture Retakes!!!!! 🚀Sports pictures for football, softball, and cheerleading. Make sure you have your uniform