January 18-22 🙌🏻 ZERO new notifications of positive cases or needed quarantines for school!!! Monday 😊 NO SCHOOL - enjoy!! Tuesday 🚀 Virtual students - meal pickup and homework exchange, 10:00-10:30 📚 5-8 Homework Help w/Mrs. Reynolds, 3:05-4:30 🏀 7/8 basketball at Cave Springs, 4:00. Fans will need to wear a mask and social distance. ‼️‼️‼️ 5-8 grade Virtual parents and students are encouraged to attend an informational workshop about assignments, correctly submitting assignments, and grades. Parents learn how to check your kids assignments and missing work. The workshop will be @ 6:00 PM in Mrs.Goldman's room in the new gym. Attendees must wear a mask. ‼️‼️‼️ Wednesday/Thursday 🔹 No activities Friday 🎩 Hat Day - choose a hat from your house and wear it to school!

RMS Reminder...... There will be no school on Monday. We will see everyone on Tuesday! Enjoy the three-day weekend with your family!

RMS 5/6 basketball teams will scrimmage Stilwell Middle School tomorrow (Friday) at 12:00 PM at Stilwell Middle School gym.

RMS Community..... Yesterday, Governor Stitt released new policy that would affect quarantine protocols for public schools. We have not seen any written guidance concerning this matter. RMS will not be implementing this policy. Rather, we will continue to follow quarantine protocols set forth by the Center for Disease Control (CDC) and Adair County Health Department. We will continue our daily preventative measures with students and staff that we have had in place since July. The safety and well-being of our students, staff and community will remain a top priority. We appreciate our students, staff and parents support in following set guidelines in order to assure everyone's safety.

RMS parents.... We received word this afternoon that a student has tested positive. Every parent of that class has been notified concerning whether or not their child needs to quarantine. If you did not receive a call from Mrs. Ketcher, your child is not in that class and has not been exposed.

January 2021 school board meeting agenda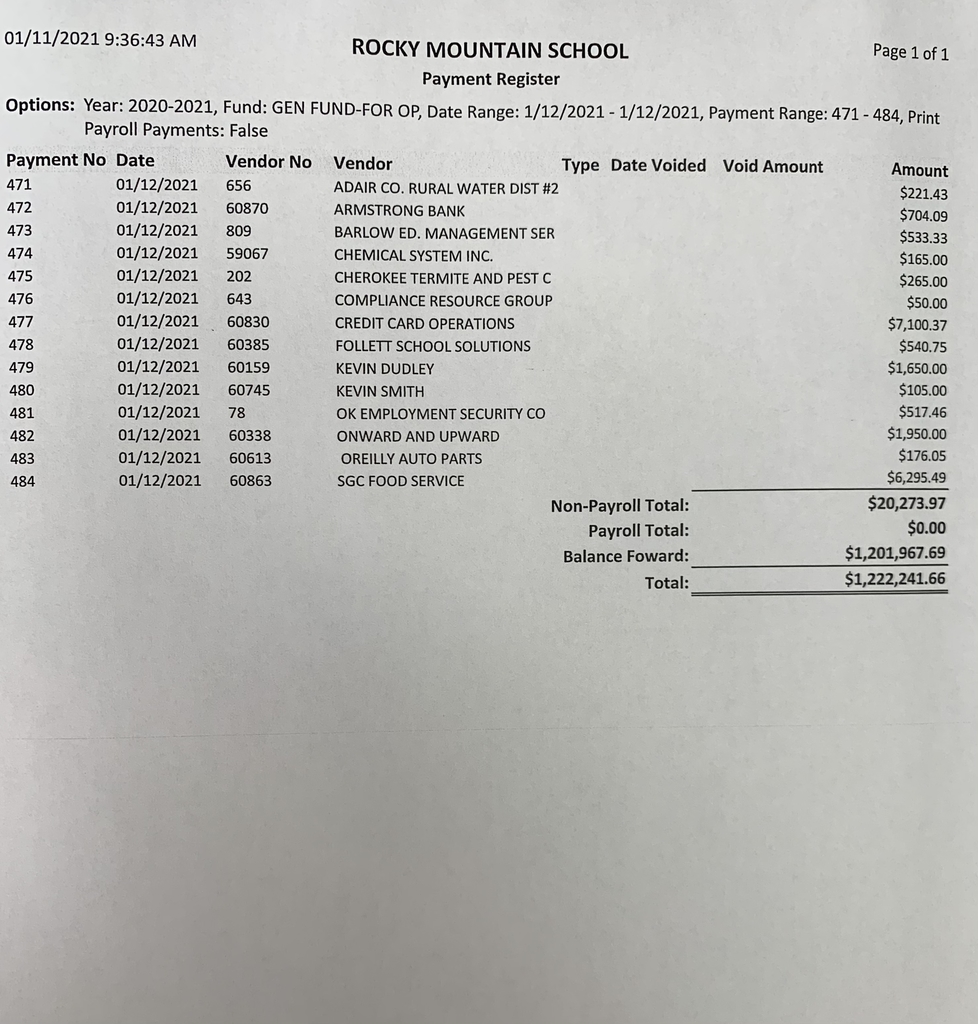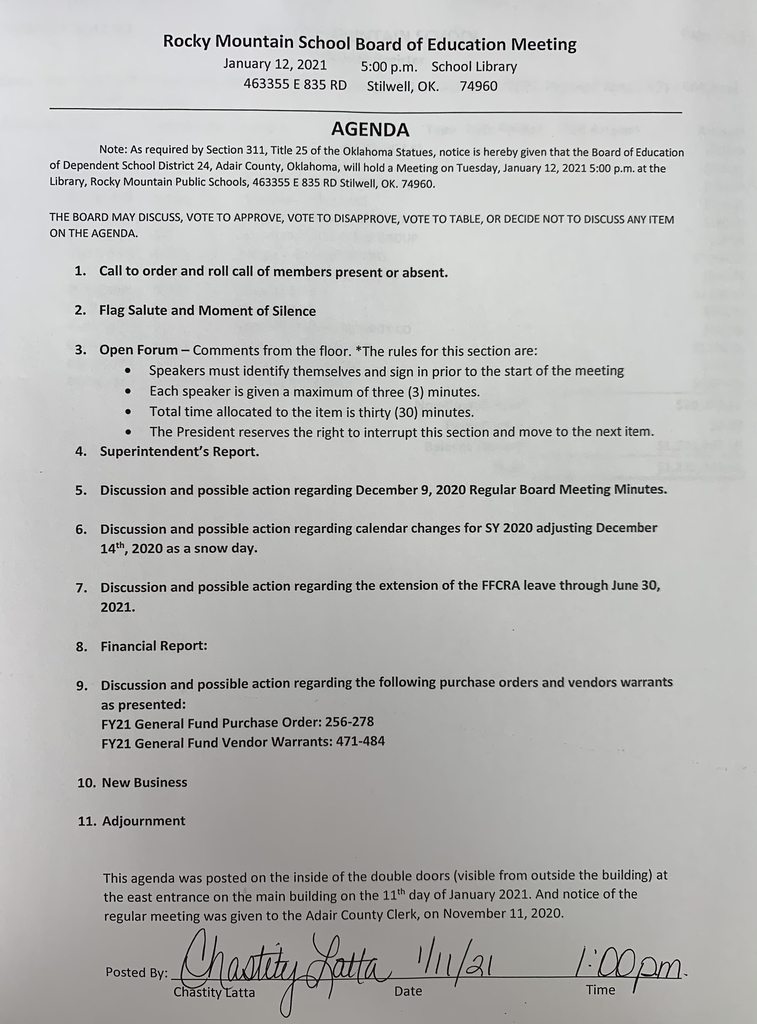 RMS January 11 - 15 📝 Report cards went home Friday with Kdg - 4th grade. 5th-8th will receive theirs tomorrow. Monday 🚀 Virtual student meal pick up and homework exchange, 10:00 - 10:30 📚 5th - 8th homework help with Mrs. Reynolds, 3:05-4:30 Tuesday 📚 5th - 8th homework help with Mrs. Reynolds, 3:05-4:30 Wednesday - Friday 😊 No after school activities at this time 😷 We have received word today that a staff member has tested positive. This position has not been in close contact with students and will not require anyone to quarantine.

RMS Parents........ Today, we received notice that a middle school student tested positive for Covid. Any person that was identified as needing to quarantine has been notified. Continue to help stop the spread....... 🔹 Wear your mask 🔹 Wash your hands 🔹 Watch your distance

RMS Parents - Jan 7 If your child rides Jack's bus, they will be about 15 minutes late.

2021 January Cafeteria Menu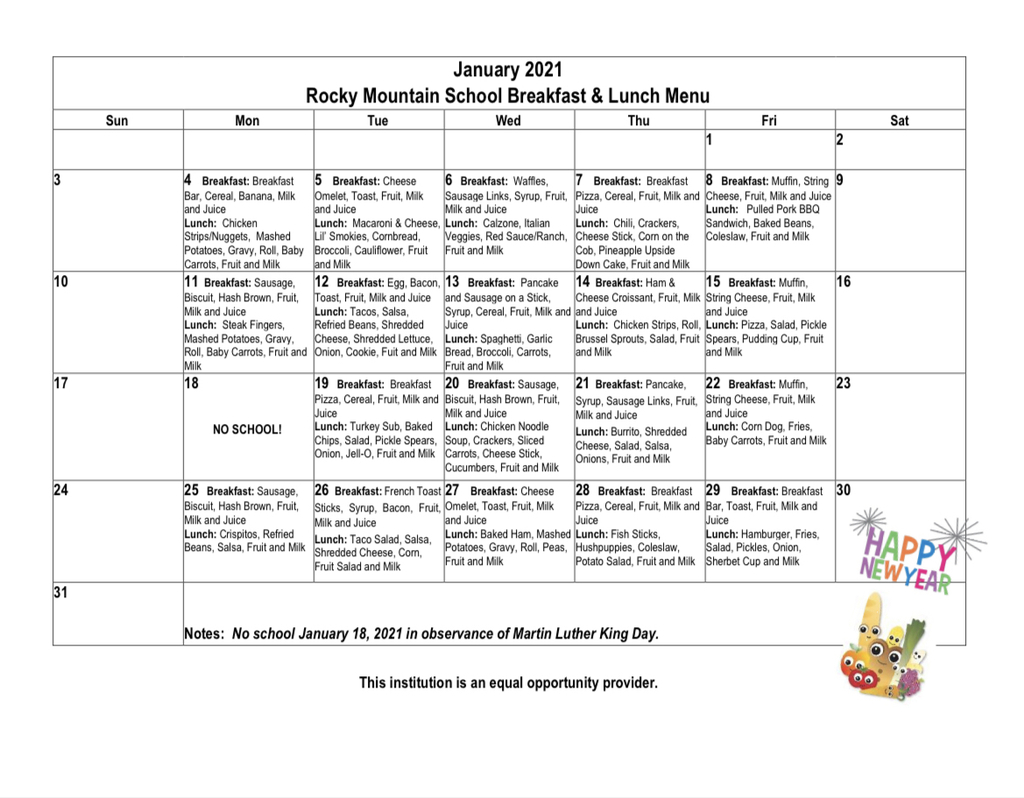 RMS Jan 4-8 😷 Please make sure your child brings their mask and has an extra in their backpack Monday 🚀 Virtual student meal pick-up and homework exchange Monday - Friday 🚀 No extra-curricular activities 🏀 Basketball teams will be practicing during PE each day preparing for games next week Help keep everyone safe and healthy! Reasons your child should stay home: 🔹 fever, cough, sore throat, headache, body aches, shortness of breath, diarrhea, vomiting, loss of taste or smell, etc. 🔹 has tested positive for Covid, strep, or flu 🔹 is waiting on test results 🔹 has been directly exposed to someone who has tested positive for Covid ❓ If you have questions or need to notify us that your child will not be at school due to illness or exposure, please call the office at 918-696-7509. You may also call or text my phone after school hours at 818-797-0318.

RMS Parents Reminder....... If your child was virtual or distance learning before we went on break, they have until the morning of Jan. 4th to complete any missing assignments. (Some 5-8 grade in-person learning students may have a couple assignments that need to be submitted.) 💻 If your child is completing assignments online, they need to have it completed and submitted. 📚 If your child has a paper/pencil packet, assignments need to be returned on Jan 4th from 10:00-10:30. ❓ Questions or have extenuating circumstances?? Teachers and staff are on break. However, you can contact me at 918-797-0318.

RMS would like to give a "Shout Out" and thank you to First Christian Church and the Kaleo Foundation for the students' snack pack gifts and gifts for staff members. What a great addition to what the students received from school! Virtual and Distance Learning students can pick up their gifts tomorrow from 1:00-2:00 PM in the paved parking lot.

RMS Activities Dec 15-18 😷 We have received notification that we have a staff member who tested positive today. In addition we have 3 virtual/distance learning students who are positive. The students have not been on campus and the staff member has not had contact with any students in the last 48 hours so no quarantines are required for in-person students and staff. Remember, if your student displays any symptoms, please keep them home, call our office and we will switch them to distance learning. Tuesday 💻 Virtual and Distance Learning meal pick up and homework exchange, 10:00-10:30 AM Wednesday and/or Thursday 🎄 Recording Virtual Christmas program. Please send the outfit you want your child to wear during the program on Wednesday. We will help students change and will return their outfit home once recording is complete. Some children may also have a costume they need bring for their assigned part in the program. When the program is edited and ready for release, we will send you the link to be able to watch it. Thursday 🎅🏼 Wear a Christmas shirt/sweatshirt/sweater Day Friday 😴 Pajama/sweats Day 📚 Last day of 1st Semester

RMS 5-8 Parents.... 🏀 Health Dept. official said students should be fine concerning possible exposure at Tuesday night ballgame. No quarantine needed. They may return to school tomorrow. 📚 If any student has missing assignments, complete and submit those today. ⛄️ Hope you are enjoying the day!!!

RMS 5-8 grade parents..... 🏀 Basketball players and cheerleaders should remain in quarantine until I notify you tomorrow concerning the decision after consulting with the health dept official. 📚 Several students have missing assignments. Tomorrow is a great day to get everything caught up and submitted to teachers. The end of the semester is Friday, December 18th!

Snow day is the 14th!!! 🤦🏻‍♀️

RMS students and staff must have crossed their fingers and wore their pajamas inside out, because we have received some beautiful snow! Rocky Mountain School will be closed Monday, December 13th for a snow day! Be safe, and enjoy!!! 😊

People with COVID-19 have had a wide range of symptoms reported – ranging from mild symptoms to severe illness. Symptoms may appear 2-14 days after exposure to the virus. People with these symptoms may have COVID-19: Fever or chills Cough Shortness of breath or difficulty breathing Fatigue Muscle or body aches Headache New loss of taste or smell Sore throat Congestion or runny nose Nausea or vomiting Diarrhea

RMS 5-8 grade basketball and cheerleading parents - I have received word that one of the referees at Tuesday night's game has tested positive. His tracing team said he may or may not have been contagious. His contagious window is right in the bubble concerning quarantine. The unfortunate part is it is Friday evening and my contacts with the health department are not available. Out of extra caution for everyone's health, 5-8 players and cheerleaders who were at the game Tuesday, should quarantine definitely through Monday. I will speak with authorities on Monday and let you know their decision ASAP. In the meantime, quarantine at home and monitor for any symptoms. If you have and questions or concerns about COVID and the symptoms, please let me know.