RMS Nov 16-20 👏🏼 No additional students/staff in quarantine or exhibiting symptoms Monday 📣 Cheer practice, 3:05-4:00 Tuesday 📚 5th-7th Tutoring/homework help with Mrs. Reynolds and Ms. Goldman, 3:05-4:30 Wednesday-Friday 😊 No activities Nov 23-27 🦃 Thanksgiving Break

RMS Virtual parents 🚀 Meal pick up and homework exchange tomorrow, 10:00-10:30

8th grade RMS parents.... 🚀 If you signed up for meals, please pick up tomorrow between 10:00-10:45 in paved parking lot. If you need to arrange a different time, please let us know. 🚀 Remind students to log on each hour with their teachers. Teachers will present information, answer questions, etc. Ag with Mr. Bergman will be 5th hour for everyone.

RMS Parents.... Rocky Mtn. will be open for in-person learning next week, Nov. 16-20. The county numbers continue to climb. Other schools have been hit and have a lot of staff and students out. Right now, we have sent one class home due to the 2 positive students reported earlier in the week. We did this in order to reduce the risk of exposure and spread to others. Other than that, come Monday we will have 7 students and 1 staff member in quarantine due to outside exposure. We will continually monitor our #'s and will make decisions for in-person and distance learning as needed. Remember, we went to distance learning when our numbers were high, while other schools stayed in session. We will keep you informed if our status changes so that you can better prepare for your family. If you decide distance learning is the best choice for your family next week, we will support you in that decision. Because the #'s are so fluid, I need you to let us know this weekend if you find out your child needs to quarantine, happens to test positive, or you are choosing distance learning. Please call or text me at 918-797-0318. If you have any questions or concerns, you can always reach me at school or on my cell. As parents, you are doing a marvelous job of keeping us informed so that we can ensure the safety of others. Thank you for being such a valuable partner in our school! I hope each of you have a happy and safe weekend!

RMS Parents.... We had an additional middle school student test positive today. Both students were exposed outside of school, but they are in the same grade. In order to limit exposure and spread to any other students within our school I quarantined that entire class this afternoon. Remember if your child is experiencing a headache, low grade fever, cough, sore throat, or upset stomach please do not send them to school. We will continue to work together in order to keep everyone safe and our school open.

RMS Parents..... This notice is to let you know that we have received word that we have 1 individual at the middle school who has tested positive. This individual has not been at school for several days. However, we are working with health officials and if any child is identified as needing to quarantine, we will notify those parents. At this time, this is the only positive case in our school. As always, we will remain diligent with our protocols and continue to monitor our numbers within the school. Please continue to do your part in stopping the spread and reducing the number of positive cases in our county.

‼️ Cherokee Nation Health Services is offering after hours drive-thru flu clinics at ALL Cherokee Nation Health Centers (excluding Gadugi Employee Health Center) on Tuesday, Nov. 10 from 5 p.m. – 8 p.m. Flu season is in full swing. So be sure to stop by one of our health centers and get your flu vaccine! 💉

November 9 - 13 Monday 🚀 Virtual student meal pick up and homework exchange, 10:00-10:30 📣 Cheer practice, 3:05-4:00 📚 5-8 tutoring/homework help with Mrs. Reynolds, 3:05-4:30 🏀 Basketball game cancelled due to community Covid #'s, will try to reschedule Tuesday 📚 5-8 tutoring/homework help with Mrs. Reynolds or Ms. Goldman, 3:05-4:30 Wednesday - Friday 😊 No after school activities

School Board Meeting Agenda Nov 2020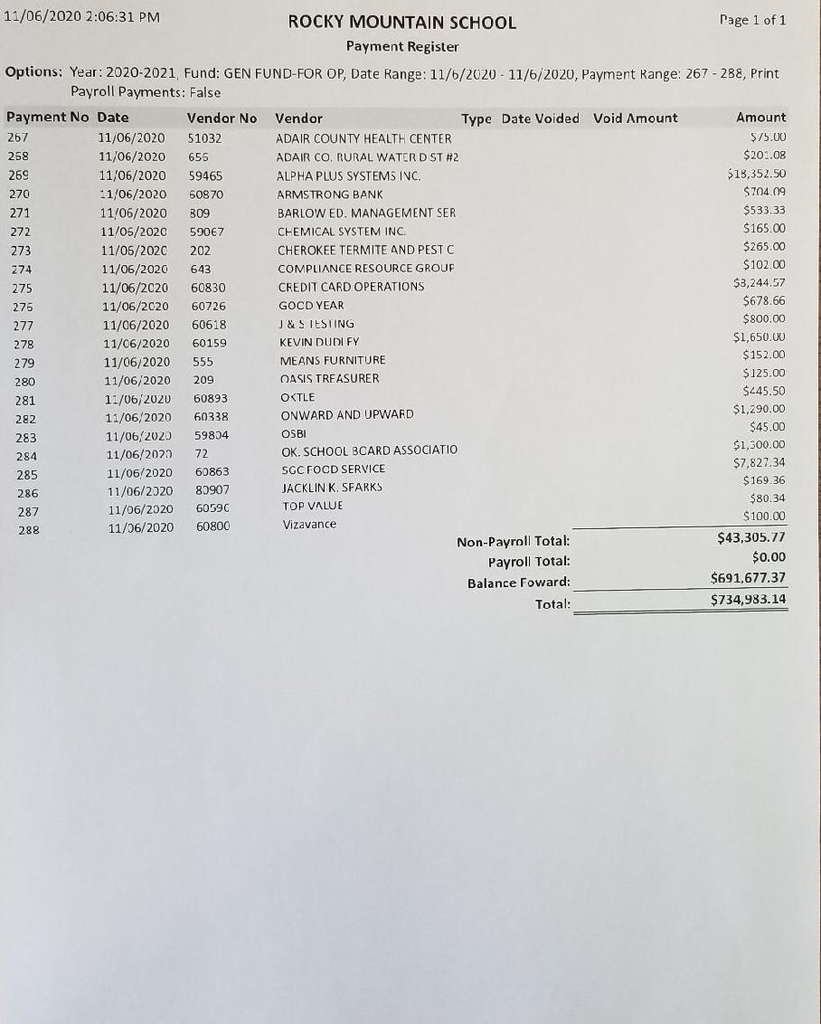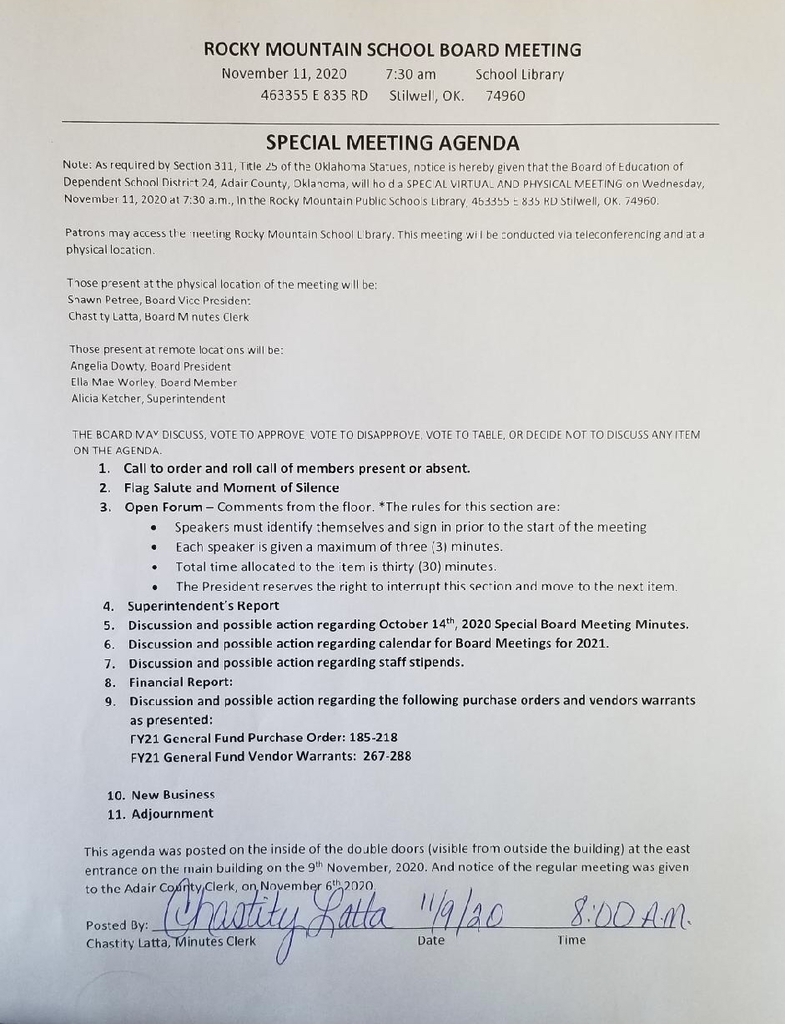 RMS Parents... 🚀According to the Covid map published by the Ok State School Board Association, our county has an average of 59.9 new cases daily and moves us into the red category. 🚀I work with the state health dept. as needed with quarantine and possible exposure issues and will continue to do so to insure you and our community that our school is remaining a safe environment for students and staff. 🚀 As of now, we only have 3 staff members and 7 students in quarantine for next week. Only one of those is positive and I reported that to you at the beginning of this week. 🚀 RM will remain open for in person learning next week. We will constantly keep tabs on our numbers and will transition anyone or any group to distance learning if needed. 🚀 To reduce community spread, all ballgames will be canceled next week. 🚀 Remain diligent in practicing protocols and notifying us if your child is directly exposed and needs to quarantine, or if your child is sick and should remain home for a day or so. 😊 THANK YOU for making our students, staff, and community a priority!! Have a terrific and safe weekend!

Nov. 3 - 6 ⏰ Make sure you turned your clocks back one hour 💧 Students should have a reusable water bottle in their backpack each day 😷 Students should have at least one extra mask in their backpack in case theirs gets wet or dirty 🏀 Basketball schedule and protocols will be posted tomorrow Monday 📚 3:05-4:30, 5th - 8th tutoring/homework help with Mrs. Reynolds 📣 Cheer practice, 3:05 - 4:00 🏀 CANCELED b-ball with Peavine Tuesday 📚 3:05-4:30, 5th - 8th tutoring/homework help with Mrs. Reynolds Wednesday 📚 3:05-4:30, 5th - 8th tutoring/homework help with Ms. Goldman Thursday 🏀 7/8 B-ball @ Maryetta, 4:00, 2 games

Updated Basketball Schedule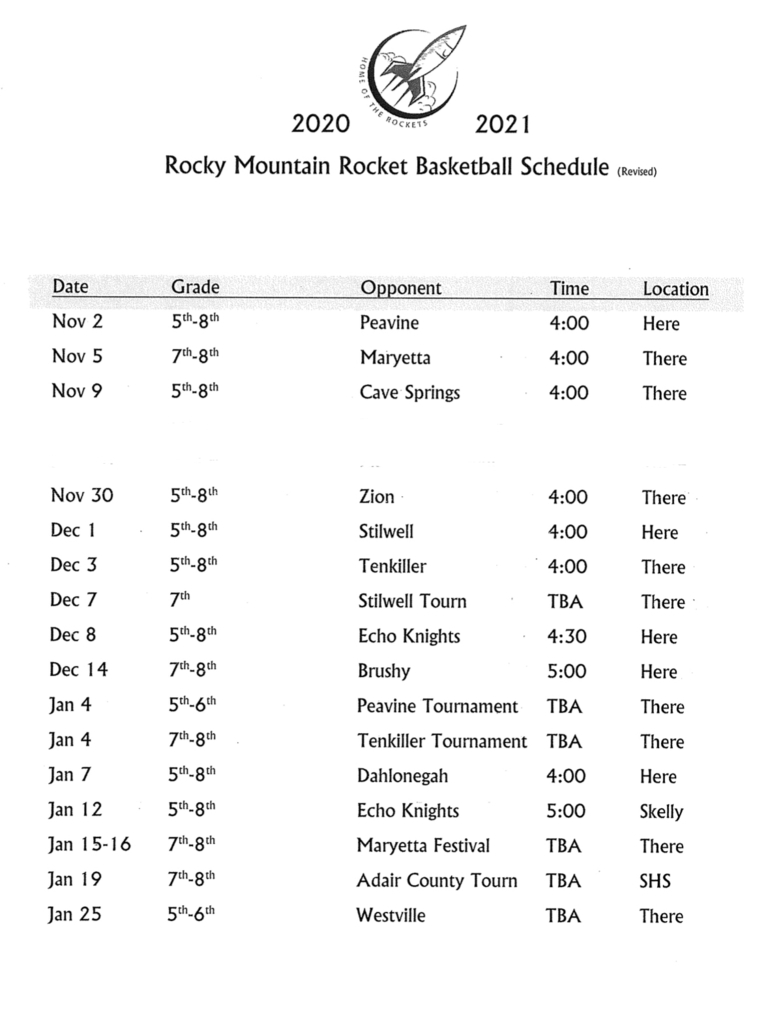 RMS parents.....due to conflicting weather reports, we sent each student home with their tablet or laptop just in case the ice moved this far into the state. We fully expect to be in school tomorrow. Please make sure your child returns their tablet or laptop tomorrow. Thank you!

RMS PreK - 4th Virtual students.....meal pick up and homework exchange tomorrow from 10:00 - 10:30 AM

RMS 5th - 8th Virtual Students 1. Each student should have an invite In their email to a meeting with Mrs. Brown on Wednesday morning. Parents, make sure your 5-8 students join this meeting!! This will take place each Wednesday. Meetings will include important information, address assignment issues, answer questions, etc. 2. Meal pick up is Monday from 10:00 - 10:30!!!

RMS 2 of 2 messages October 26 - 30 Red Ribbon Week!!! Monday 🚀Pink Out Day - "Support the fight against cancer and drugs!" 📣 Cheer Practice, 3:05-4:30 Tuesday 🚀 Twin Day (or more!) - "Help each other stay drug free!" Wednesday 🚀 Camo Day - "Don't let drugs find you!" Thursday 🚀 Tye Dye Day - "Keep your future colorful, don't do drugs!" Friday 🚀 Red, White and Blue Day - "Voting for a drug free future!" 🎃 " Say Boo to drugs" - Wear your costume in the afternoon for class parties Party information...... 1. If you allow your child to bring a costume, please make sure it is relatively simple so they need very little help with it. 2. Parties will be in each homeroom during the afternoon, times will vary 3. Please send prepackaged/store bought treats for your child's class. 4. No visitors will be allowed in the building for class parties 5. Teachers will send additional info if needed.

RMS 1 of 2 messages...... October 26 - 30 Weather alert..... The next several days are supposed to be cold and wet with wind chills much lower than actual temperatures. Find those coats! COVID reminders.......... 😷 The health and safety of students and staff are always a priority. I have, and will continue, to work with health officials guidance to assure everyone is as safe as possible at all times. 😷 If you or someone in your house exhibit symptoms of COVID, staff and/or students should remain home until you know the said person is negative and their is no danger of spreading it. Students may participate in distance learning, complete their assignmentsat home and not be counted absent. 😷 If staff or students come into direct contact with someone who tests positive, you are obligated to stay home and let us know. I will work with the health department to determine if the student or staff member has to quarantine and for how long. Remember, this effects everyone differently. What may be a light case for one, might be life and death for another. 😷 Please make sure your child has a mask each morning. In addition, please make sure they have a spare mask or two in their bag. Wash masks after each wearing. 😷 It takes all of us being honest and working together to keep everyone safe. Thanks to everyone for being so diligent!!

Meat Basket tickets and money are due tomorrow!! We will draw the winning ticket on FB Live at 1:30 PM. All proceeds go to RM students' Christmas fund.

RMS students should return all Meat Basket tickets and money by Friday morning.

Rocky Mtn Virtual Students - Meal pick up and homework exchange will be Tuesday, October 20th, 10:00 - 10:30 AM.