🏀 7/8 Lady Rockets will play Maryetta tonight at 6:00 PM in the finals of the Adair County Tournament. You can watch live at stilwellindians.tv Go Lady Rockets!! 🚀

Calendar Updates 🏀 7/8 basketball game tonight has been changed from 6:00 PM to 5:00 PM. ⚙️ Robotics meet has been changed from January 22 to January 29

RMS Parents, 🥶 Tomorrow's wind chills are expected to be very cold. Bus riders should stay in the house or warm vehicle until the bus arrives, then go outside to board. Layer your child's clothes. We will only be outside in order to change buildings.

🍀 4-H Image Dress 3-8 grade students were given information today. Any member who wants to participate, should come dressed tomorrow for one of the categories listed on their information sheet. This year's event is virtual so Mrs. Frances will take students' pictures and submit it to the local 4-H office.

🏀 UPDATE 7/8 Girls have received a forfeit and will not have a game tonight. Boys will now play tonight at 7:00 PM.

Jan 18 - 22 Adair County B-ball Tournament, Tues-Sat, all games at Stilwell Activity Center, see Facebook post for brackets. Masks and social distancing are encouraged. They will also stream games. Tues ⚙️ Robotics until 5:00 🏀 3/4 b-ball POSTPONED 🏀 7/8 Adair County Tourn., Girls play Bell at 7:00, Boys play Bell @ 8:00 Wed ⚙️ Robotics until 5:00 🏀 7/8 County Tourn. Thurs ⚙️ Robotics until 5:00 🏀 7/8 County Tourn. Fri 🍿 Concession 🏀 7/8 County Tourn Sat ⚙️ Robotics Meet at Tahlequah 🏀 7/8 County Tourn

RMS Community, 🚀 We will return to in-person learning tomorrow, Tuesday January 18th. Our numbers remain in good shape. Some will be returning while others will need to be in distance learning a few days. 🚀 Those returning from quarantine will be required to wear a mask for their allotted days. 🚀 Out of caution for all, we are encouraging everyone to voluntarily wear a mask for the next 4 days. Parents, please have a discussion with your student concerning your preference. As always, we have disposable masks available, but we will be actively offering them to everyone throughout this week. After that, we can evaluate our school and community for any further recommendations. 😊 HUGE THANK YOU to parents and staff for being honest and willing to work together!!!

RMS Reminder 😊 NO SCHOOL Monday 😷 If your child has any symptoms……Headache, Sore throat, Feels like they have a head cold, Fever, Cough, Vomiting, Diarrhea…….Please keep them home and consider getting tested. 😷 If your child has tested positive since Thursday OR you have discovered they need to quarantine, OR they have a different bug and you have not contacted me, please text me at 918-797-0318 so that they can be changed to distance learning if necessary. 😷 Remember there are several bugs going around including stomach, strep, flu.

RMS Parents, Within the last 48 hours, we have seen an increase in students and staff who are sick with sinus symptoms, Covid symptoms and/or the stomach bug. Therefore, we will be CANCELING school on Friday, January 14. We are already out on Monday. This will give us 4 days to slow the spread. We have been very blessed with good health in our school. It is because we have a terrific staff and parents who cooperate and keep health and safety of themselves and others a priority. As always, if you have questions or need anything, please text or call my phone at 918-797-0318. Stay safe and we plan to see everyone on Tuesday, January 18.

RMS phones are not working. If you need to contact the school, you can send a message on our Facebook page in Facebook Messenger. We will acknowledge if we receive your messsge.

Basketball Update 🏀 Teams had to pull from playing so games tonight are CANCELED. 😊 Stay home, stay safe 😊

🩸 Be a Hero - Donate Blood! Blood drive today at Rocky Mountain School, 12:45-5:45 PM, Old Gym. Drop-ins welcome.

UPDATE on basketball schedule 🏀 Tenkiller Tournament - new brackets posted on Facebook. No games Tuesday. Both teams play Thursday. Boys will play in Consolation Finals at 5:00, girls will play in Championship Finals at 6:00. 🏀 Games with Cave Springs on Friday have been CANCELED.

January 2022 Board Meeting Agenda and Payment Register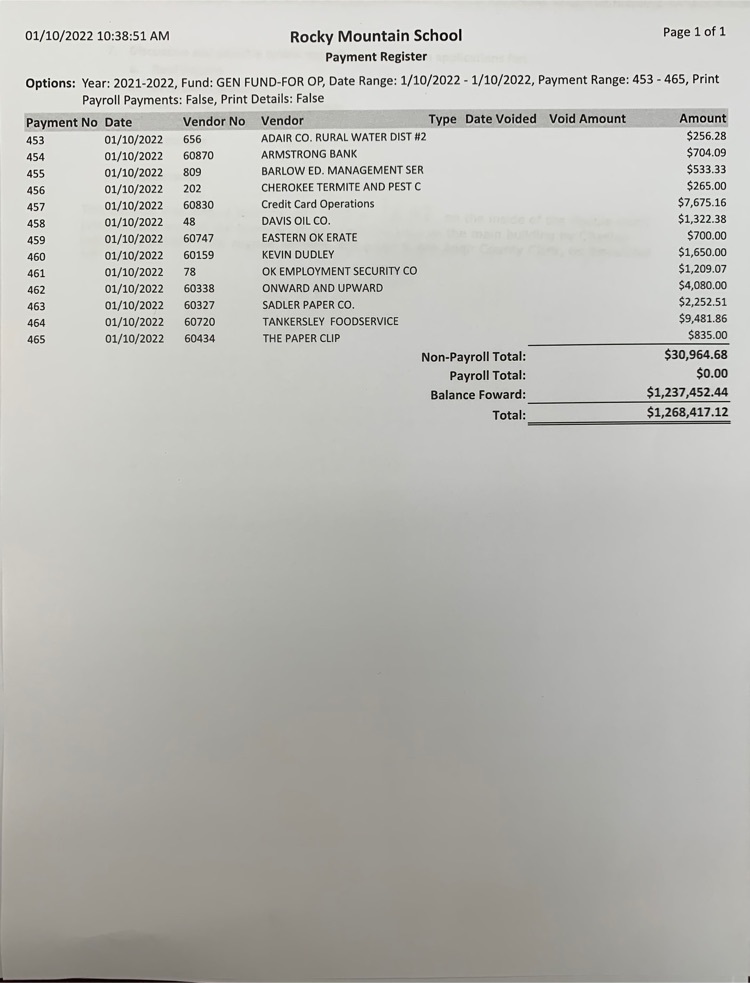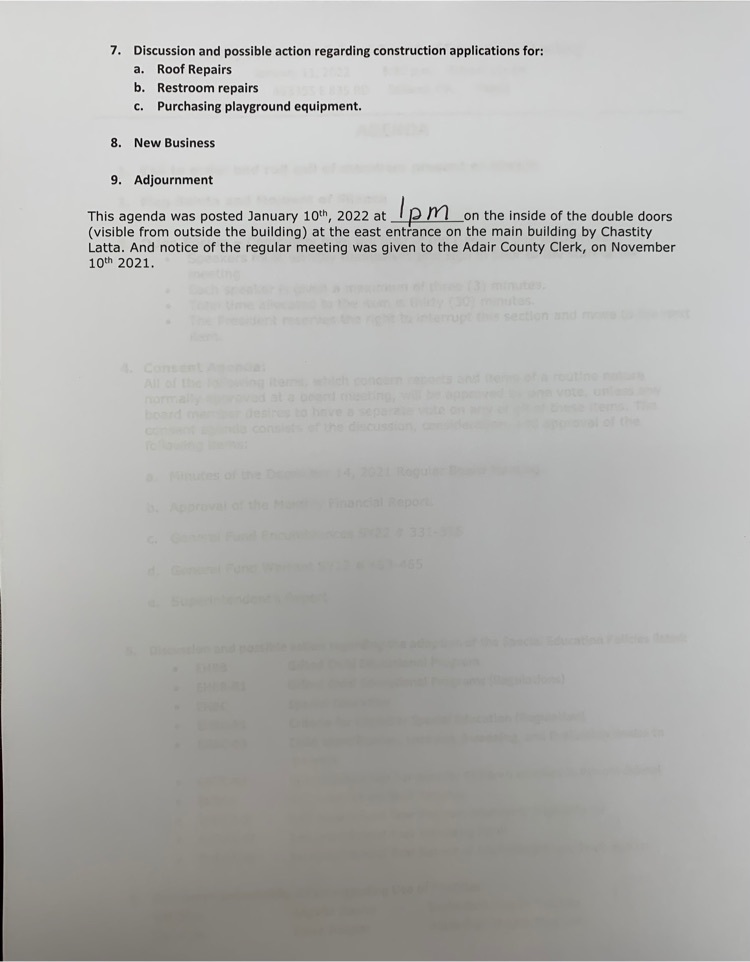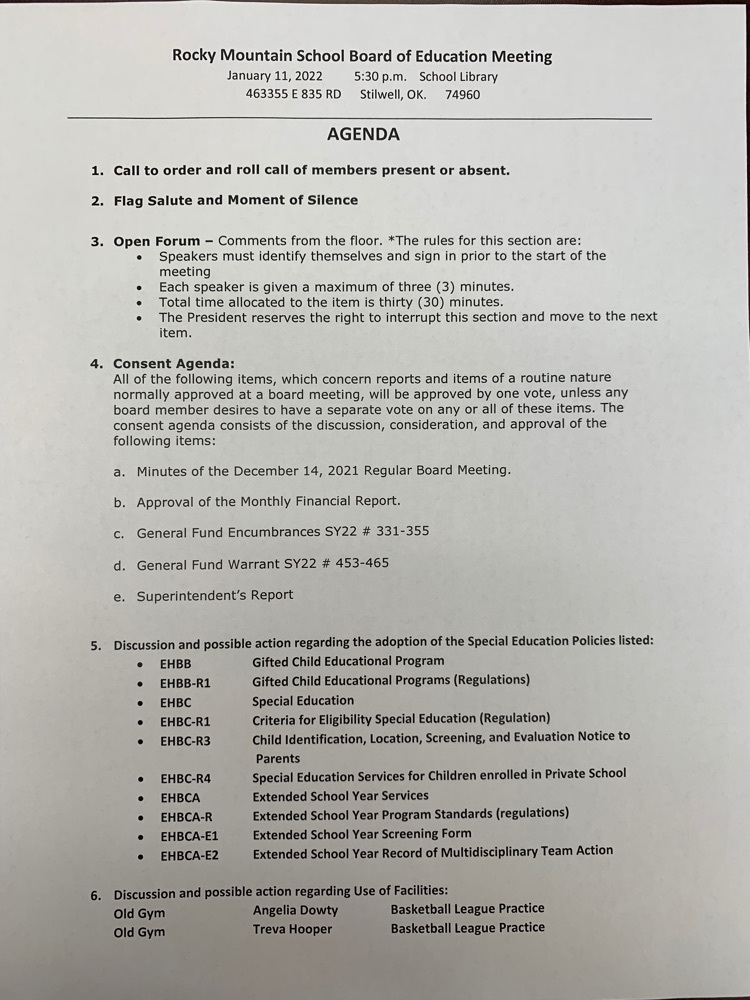 🏀 3/4 basketball game is not Friday. It is on January 18th. (I know better than to do something from memory. 🤦🏻‍♀️)

RMS Jan 10-14 🩸 Save a Life - Give Blood! Blood Drive on Wednesday, Old Gym, 12:45-5:45 PM. Students took info home for parents last week. Mon 📚 Homework Help until 4:30 ⚙️ Robotics until 5:00 📣 Cheer until 5:00 🏀 7/8 Tenkiller Tournament, girls @ 6:00, boys @ 7:00 ( See FB post for bracket) Tues 🏀 7/8 Tenkiller Tournament Wed 🩸 BLOOD DRIVE, 12:45 - 5:45, old gym ( see FB post) 📚 Homework Help until 4:30 Thurs 📣 Cheer Practice until 5:00 🏀 7/8 Tenkiller Tournament Fri 🏀 3/4 vs Stilwell, home, 9:00 🏀 5-8 (4 games) vs Cave Springs, home, 12:30 🍿 Concession

Friday Schedule Update 🏀 5/6 AND 7/8 games w/Westville are CANCELED. Coaches will try to reschedule. 🏹 Archery at Maryetta, 5/6 @ 9:00, 7/8 @ 10:00, will be back for lunch 🍿 School Concession

3-8 grade RMS basketball updates as of 1/5/22 🏀 3/4 will play at home THURSDAY at 9:00, not Friday. 🏀 5/6 - Westville needs to RESCHEDULE Friday's game so no game for 5/6 Friday 🏀 7/8 will play Westville Friday at 4:30 at home

Basketball and Archery Updates 🏀 3/4 play here on THURSDAY at 9:00, not Friday. 🏀 Today's game with Peavine is 7/8 only, 2 games. They called and said it will start late, around 4:15. 🏀 5/6 will now be playing Friday @ Westville, 1:00 🏹 5-8 Archery, Friday @ Maryetta, 9:00 and 10:00 shooting times. Will return to school for lunch.

RMS, Jan 3-7 Happy New Year!! We hope everyone has had a good break and ready to start the second semester!! Health Reminder: 😊 We have been fortunate to not have Covid cases in our school this last semester. We ask that everyone remain diligent and honest so that everyone remains healthy. CDC has released new recommendations. I will post those on FB. Please call if you have questions. 😊 Remember, individuals with fever, vomiting or diarrhea need to be symptom free for 24 hours before returning to school. Mon 📣 Cheer practice until 4:30 ⚙️ Robotics until 5:00 Tues 🏀 7/8 b-ball at Peavine, 4:00 Wednesday 🚀 Report Cards will be sent home Fri 🏀 3/4 b-ball, home vs. Tenkiller, 9:00 🏀 7/8 b-ball (no 5/6 game), home vs Westville, 4:30 🍿 Concession