RMS Fall Break Reminder 🍁 Oct 14, 15, 18 (Thurs, Fri, Mon) 🍁 See you Tuesday, Oct. 19! 😊 Enjoy!

Due to weather forecast for tomorrow, the trip to Fayetteville tomorrow for girls' softball will be rescheduled for Friday, October 22nd.

RMS Jean Day tomorrow!

RESCHEDULED Field Trip - Due to the weather forecast for tomorrow, the trip to Gentry is being rescheduled. - Pre K3, Pre K4, and Kdg will go to Gentry on October 29th. - Thank you for understanding that safety of everyone is priority. Hopefully the 29th will be great weather!

RMS October 12th - Federal Programs Public Hearing and Request for Comments, 5:00, cafeteria - JOM election 6:00 PM tonight, cafeteria - In-person or phone conferences by appointment - 3:05 - 8:00 PM today - Call 918-696-7509 before 3:00 to make your appt.

October 2021 Board Meeting Agenda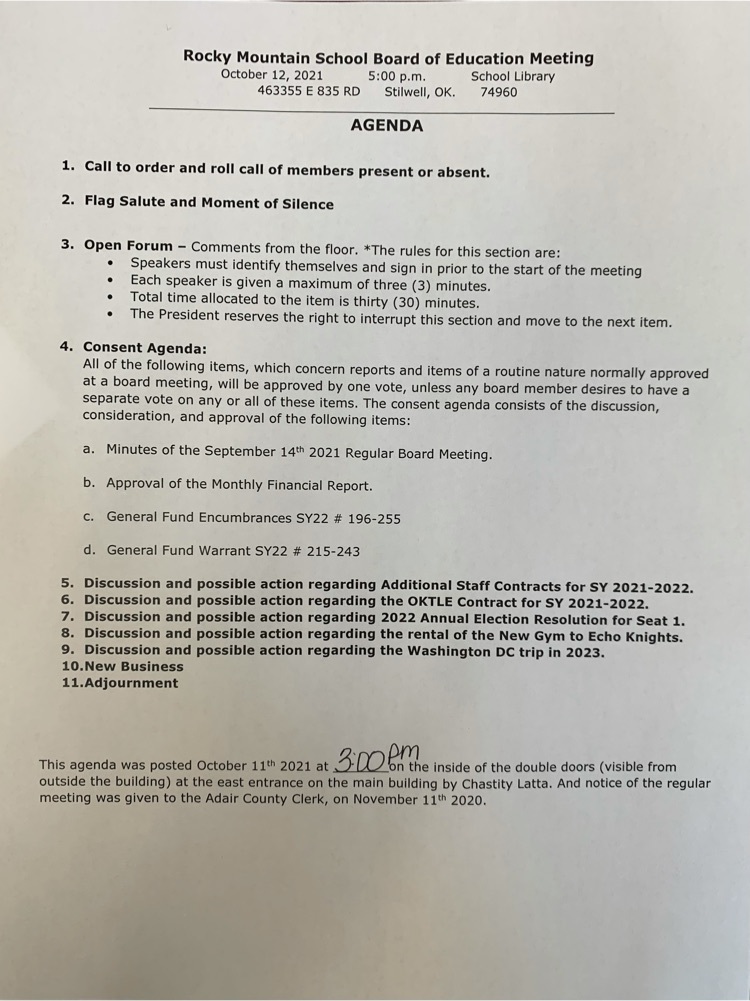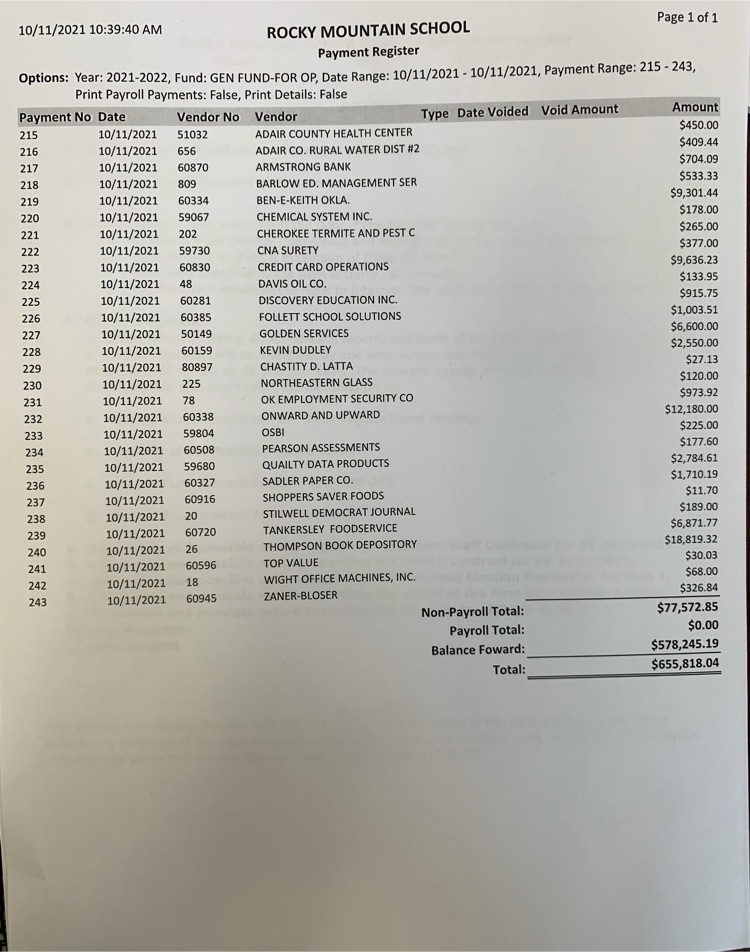 September/October Counselor Newsletter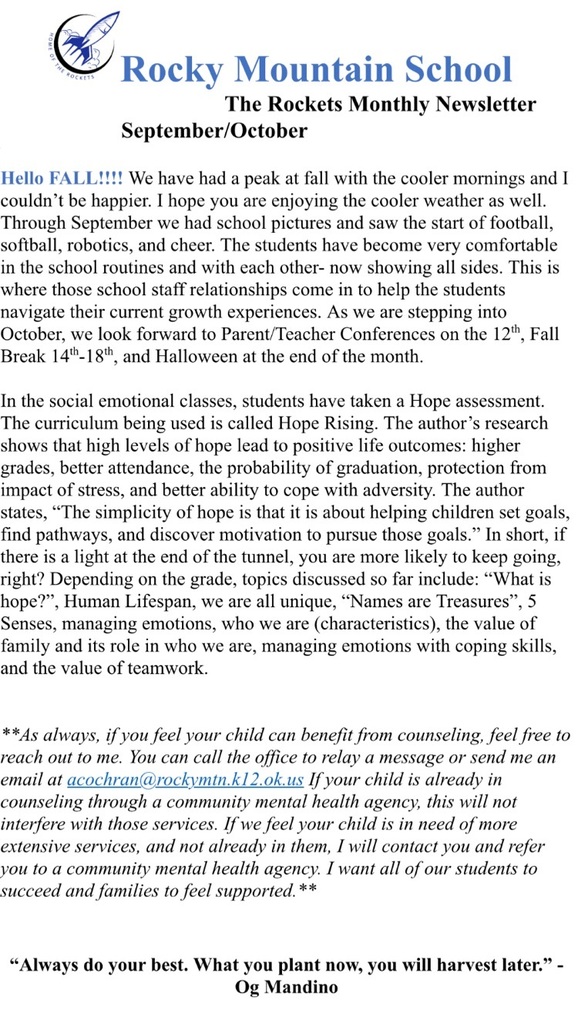 P/T Conferences tomorrow from 3:05 - 8:05 PM. - We can schedule in-person or phone conferences to meet your scheduling needs. - Pre-K will need to meet in person to pick up learning kits provided by Cherokee Nation. - Please call make and appointment to discuss your child's progress.

Calendar Correction Wednesday 🚌 PreK and Kdg to Gentry

Oct 11-15 Mon ⚙️ Robotics until 5:00 📣 Cheer until 4:30 📚 5-8 Homework help until 4:30 Tues 🏃🏻 Cross Country at Cherokee Landing 🚀 P/T Conferences, 3:05-8:05. Please call and make an appointment to discuss your child's progress. Thurs, Fri, next Mon 🍁 Fall Break, No School

Cheerleaders remember to bring items for concession fundraiser tomorrow.

5-8 basketball opportunity….. Angel Goodrich will conduct a clinic for 10 individual players Oct 11 and 13. The cost is $100. First 10 paid will be accepted. Angel has played professionally and has much to offer our players.

Parent-Teacher Conferences are scheduled Tuesday, Oct. 12th, 3:05 - 8:05 PM. Conferences will be by appointment only. Please call our office, 918-696-7509, between 8:00 - 3:00 to schedule an appointment with your child's teacher. We are looking forward to reviewing your child's progress.

🍁 Fall Carnival 🍁 🌻 October 5th, 5:30-7:30 PM 🌻 Tickets are $.50 each. Most games are 1 & 2 tickets to play 🌻 Carnival games in paved parking lot 🌻 Bingo in New Gym 🌻 Concession 🌻 Drawing for Meat Basket at 7:20 PM

Reminder….. 🍁 Fall Carnival is Tuesday, 5:30-7:30. Bring the following items by Mon, Oct 4th. 2 2 liter bottles of pop 1 item for the country store 1 cake, cupcakes, cookies or Little Debbie's for the cake walk. fresh baked items can be brought in October 5th.

Thurs 🏈 5-8 Football at Liberty at 5:30 Fri 🏃🏻🏃🏻‍♀️ ORES State Cross Country @ North Rock Creek, Shawnee @ 12:30 🍿 Concession - items sold for $.50 and $1

Oct 4-8 ‼️ Friday is end of 1st 9 weeks. All assignments due. Mon 📚 5-8 grade homework help until 4:15 ⚙️ Robotics until 5:00 📣 Cheer until 5:00 Tues 🍁 Fall Carnival, 5:30-7:30. Please bring 2 liter pop, country store item, cake walk item! Wed 🏃🏻 3-8 Cross Country @ Stilwell

October 2021 Calendar and Menu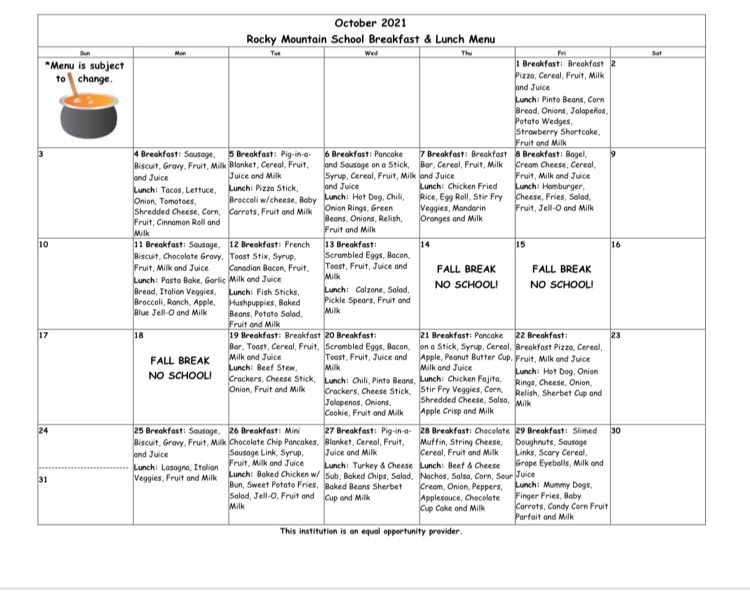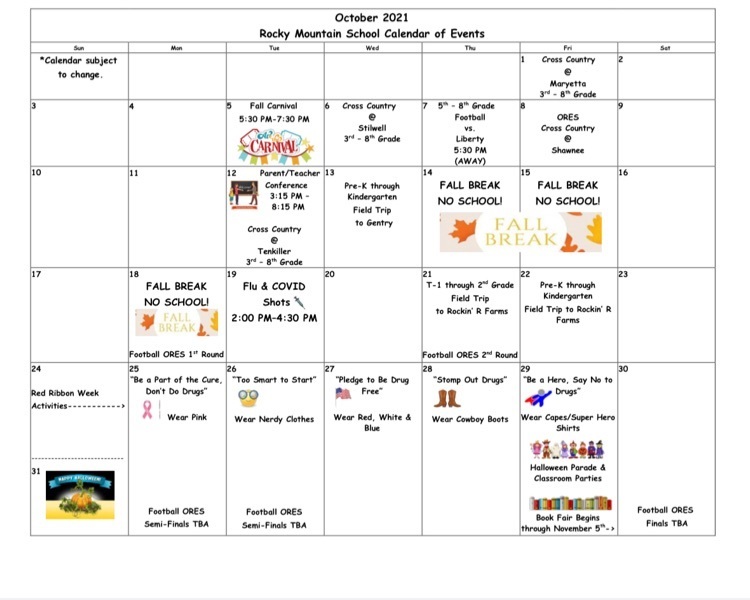 AIRC Family Night for 5-8 grade - FREE BBQ sandwich dinner at 6:00, FREE Fall Carnival tickets for signing in and completing surveys, FREE information and demonstrations concerning what the program has to offer from 4:00 - 6:00. Hope to see you there!

September 27 - October 1 Monday ⚙️ 5-8 Robotics until 5:00 📣 Cheer until 5:00 😊 AIRC Family Night, 4:00-5:30, dinner at 5:30. Students can stay in Boys and Girls Club, then parents come anytime that you can, eat dinner, complete surveys and receive FREE carnival tickets! All students received a flyer. (See below) Tuesday 🏈 3/4 Football at Tenkiller at 4:00 Wednesday 📚 Homework help/tutoring until 4:30 Thursday 🏈 5-8 Football, home vs. Moffett, 4:30 Friday 🏃🏻🏃🏻‍♀️ 3-8 grade Cross Country @ Maryetta, 3rd grade starts @ 9:00 followed by each grade 🍿 Concession