RMS Reminder ❗️ BE SURE to RETURN work from Friday's Virtual Day!! Work not turned in will be recorded as a zero and an absence for that day! 🇺🇸 7/8 Washington DC kids must turn in RADA orders and money tomorrow!!

Nov 28 - Dec 2 Mon ⚙️ Robotics until 5:00 📣 Cheer practice until 4:30 Tues 🏀 5-8 Basketball at Tenkiller, 4:00 Thur 🏀 5-8 Basketball at Cave Springs, 4:00 Fri 🏀 3/4 Basketball at Peavine, 9:00 🍿Concession

Nov 21-25 🦃 NO SCHOOL this week. We hope you each enjoy spending time with family and friends during this break. 📚 Remember to complete Virtual Friday work and return it on Monday. If your child was absent on Thursday, their work is in mailbox inside front gate at school. 🇺🇸 7/8 grade going to DC in 2023 are selling RADA Cutlery. Orders and money are due Monday the 28th! 🏀 Tuesday practice for 5-8 grade girls 11:00-12:30 and 5-8 boys 1:00-2:30

🚀 Teachers gave their contact information in case a child needs assistance 💙 If you cannot reach a teacher or have a question, as always, you can call or text me at 918-797-0318

Rocky Mtn Families 🚀 Today is a VIRTUAL Day, no school on campus so staff and students may attend Turman services if they wish. READ THE FOLLOWING 📚 Students received their work yesterday. Work MUST be COMPLETED and RETURNED on Monday, Nov 28. All work NOT RETURNED on MON the 28th will be recorded as a ZERO in the grade book. NO LATE WORK ACCEPTED.. 😊 ATTENDANCE for today is taken from returned work. If work is returned you are PRESENT today. If work is not returned, you will be recorded as ABSENT. ❗️Students who were absent yesterday….your work is in the black mailbox inside the gate, in an envelope with your name on it. You MUST PICK UP YOUR work and follow rules stated above!

🏀 RMS 7/8 BOYS basketball will practice today until 4:00

😊 Roads are clear!! School is in session for RMS. See you in a bit!!

Nov 14 - 18 Mon 🏀 7/8 Dahlonegah Tourney, Girls @ 1:00, Boys @ 2:00, bracket on school FB ⚙️ Robotics until 5:00 Tues 🏀 Dahlonegah Tourney Wed 🦃 Thanksgiving dinner, 11:00. - 12:00, parents welcome 📣 Cheer until 4:30 🏀 Dahlonegah Tourney Thurs 📚Packets/assignments for virtual Fri sent home 🏀 Dahlonegah Tourney Friday 📚 VIRTUAL Day. Complete homework and return after break Nov 21-25 🦃 Thanksgiving Break - No School

7/8 Boys Basketball 🏀 7/8 Boys practice tomorrow (Sunday) from 2:00-4:00, New Gym in order to prep for next week's tournament

Updates for RMS families 💙 Services for Ty and Tori Turman will be next Friday, Nov.18, 2:00 PM at the Siloam Springs Bible Church 💙 NEXT FRIDAY, Nov. 18th will be a Virtual Day. NO CLASSES on campus. Students will have a paper/pencil packet to complete. Teachers will be available through email to answer questions. 💙 Many of you have reached out wanting to do something for the family. Our school will be accepting donations and/or cards from students, staff and community. If you wish to donate and/or send a card, drop it off at our office. Donations can also be made at Arvest bank and GoFundMe. 🤗 Thank you for being such a caring community! .

Friday 🥶 Find your coat - cold front moving in! 🚌 5-8 to Ft Gibson National Cemetery (we will be outside) 🏀 5-8 basketball, 1:00 home vs Westville, CHANGE 7/8 play first followed by 5/6 🍿 Concession at ballgame

PreK 3's -4th grade parents ❤️ Remember, we will be doing things a little different this year. We are going to take our Veterans Day Program "on the road" this year to the Stilwell Community Building. We will be performing for the seniors tomorrow at 10:00. The program will be short and simple. Parents are more than welcome. 👕 Please have your child wear red, white, and/or blue to school tomorrow

7/8 News 🏀 7/8 BOYS basketball practice after school tomorrow until 4:00 🇺🇸 Those planning on going to Washington DC, those students received forms for RADA Cutlery fundraiser. Orders will be delivered before Christmas break in case anyone wants to order for Christmas gifts. I'm not sure about what the profit margin is on this one. I will check and let you know.

RMS Parents ✔️ The polls are open until 7:00 PM. If you have not already, you have time. Go make your vote count!

RMS Family….. 🇺🇸 Today is ELECTION DAY!! Make sure you exercise your right to vote at your designated precinct. Polls will be open until 7:00 PM 🇺🇸Check the OK Voter Portal before you go to view a sample ballot and check your precinct location. Some precinct locations changed this year after legislative redistricting, and don't forget to bring your ID to vote! 🇺🇸 If you received a mail-in ballot that you did not return, that's OK! You can still vote in person after signing an affidavit that you didn't return a mail-in ballot. 😊 Thank you for casting an educated vote!

November 2022 School Board Meeting Agenda and Payment Register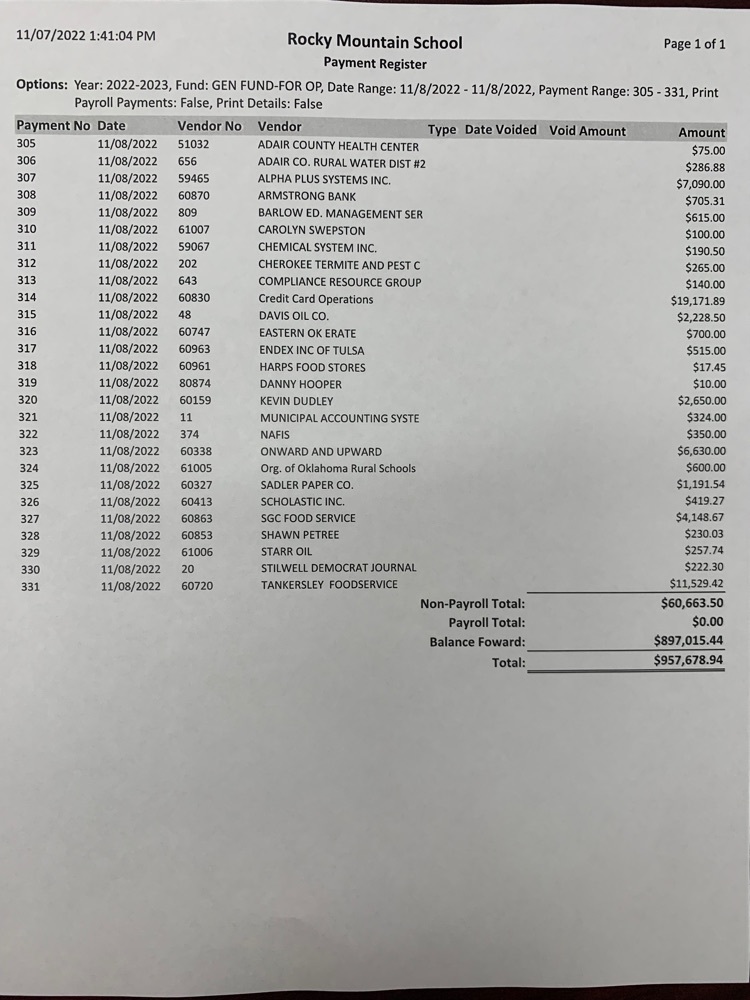 Monday ⚙️ Robotics until 5:00 Tuesday 📣 Cheer practice until 4:30

Nov 7-11 🙏🏼 Continue to uplift the Turman family in your thoughts and prayers Mon 🧑‍🍳 Crock Pot Night CANCELED out of respect of the Turman family and Rescuers Tues 🏀 5-8 ballgame CANCELED due to Leach having a conflict in schedule 🚌 5-8 to Lake Tenkiller Wed 🏀 3/4 ballgame CANCELED due to Veterans Day Program 🇺🇸 Veterans Day Program This year, PreK - 4th will perform at the Community Building at 10:00 AM for the Senior Nutrition program. Parents are welcome! Thurs 🏀 7/8 basketball at Maryetta, 4:00 Fri 🇺🇸 5-8 to a National Cemetery for Veterans Day 🏀 5-8 basketball vs Westville, home, 1:00

RMS families….. Please lift up the Turman family in your thoughts and prayers! Rescue teams have worked tirelessly and continue the search for Ty. So much love and support has been demonstrated throughout the day from our town and community. 💙

🏀 RMS 5/6 Basketball players should return to school about 3:30. If no one is here for pick up, they will report to Boys and Girls Club.