RMS Parents Reminder....... If your child was virtual or distance learning before we went on break, they have until the morning of Jan. 4th to complete any missing assignments. (Some 5-8 grade in-person learning students may have a couple assignments that need to be submitted.) 💻 If your child is completing assignments online, they need to have it completed and submitted. 📚 If your child has a paper/pencil packet, assignments need to be returned on Jan 4th from 10:00-10:30. ❓ Questions or have extenuating circumstances?? Teachers and staff are on break. However, you can contact me at 918-797-0318.

RMS would like to give a "Shout Out" and thank you to First Christian Church and the Kaleo Foundation for the students' snack pack gifts and gifts for staff members. What a great addition to what the students received from school! Virtual and Distance Learning students can pick up their gifts tomorrow from 1:00-2:00 PM in the paved parking lot.

RMS Activities Dec 15-18 😷 We have received notification that we have a staff member who tested positive today. In addition we have 3 virtual/distance learning students who are positive. The students have not been on campus and the staff member has not had contact with any students in the last 48 hours so no quarantines are required for in-person students and staff. Remember, if your student displays any symptoms, please keep them home, call our office and we will switch them to distance learning. Tuesday 💻 Virtual and Distance Learning meal pick up and homework exchange, 10:00-10:30 AM Wednesday and/or Thursday 🎄 Recording Virtual Christmas program. Please send the outfit you want your child to wear during the program on Wednesday. We will help students change and will return their outfit home once recording is complete. Some children may also have a costume they need bring for their assigned part in the program. When the program is edited and ready for release, we will send you the link to be able to watch it. Thursday 🎅🏼 Wear a Christmas shirt/sweatshirt/sweater Day Friday 😴 Pajama/sweats Day 📚 Last day of 1st Semester

RMS 5-8 Parents.... 🏀 Health Dept. official said students should be fine concerning possible exposure at Tuesday night ballgame. No quarantine needed. They may return to school tomorrow. 📚 If any student has missing assignments, complete and submit those today. ⛄️ Hope you are enjoying the day!!!

RMS 5-8 grade parents..... 🏀 Basketball players and cheerleaders should remain in quarantine until I notify you tomorrow concerning the decision after consulting with the health dept official. 📚 Several students have missing assignments. Tomorrow is a great day to get everything caught up and submitted to teachers. The end of the semester is Friday, December 18th!

Snow day is the 14th!!! 🤦🏻‍♀️

RMS students and staff must have crossed their fingers and wore their pajamas inside out, because we have received some beautiful snow! Rocky Mountain School will be closed Monday, December 13th for a snow day! Be safe, and enjoy!!! 😊

People with COVID-19 have had a wide range of symptoms reported – ranging from mild symptoms to severe illness. Symptoms may appear 2-14 days after exposure to the virus. People with these symptoms may have COVID-19: Fever or chills Cough Shortness of breath or difficulty breathing Fatigue Muscle or body aches Headache New loss of taste or smell Sore throat Congestion or runny nose Nausea or vomiting Diarrhea

RMS 5-8 grade basketball and cheerleading parents - I have received word that one of the referees at Tuesday night's game has tested positive. His tracing team said he may or may not have been contagious. His contagious window is right in the bubble concerning quarantine. The unfortunate part is it is Friday evening and my contacts with the health department are not available. Out of extra caution for everyone's health, 5-8 players and cheerleaders who were at the game Tuesday, should quarantine definitely through Monday. I will speak with authorities on Monday and let you know their decision ASAP. In the meantime, quarantine at home and monitor for any symptoms. If you have and questions or concerns about COVID and the symptoms, please let me know.

December 2020 Board Meeting Agenda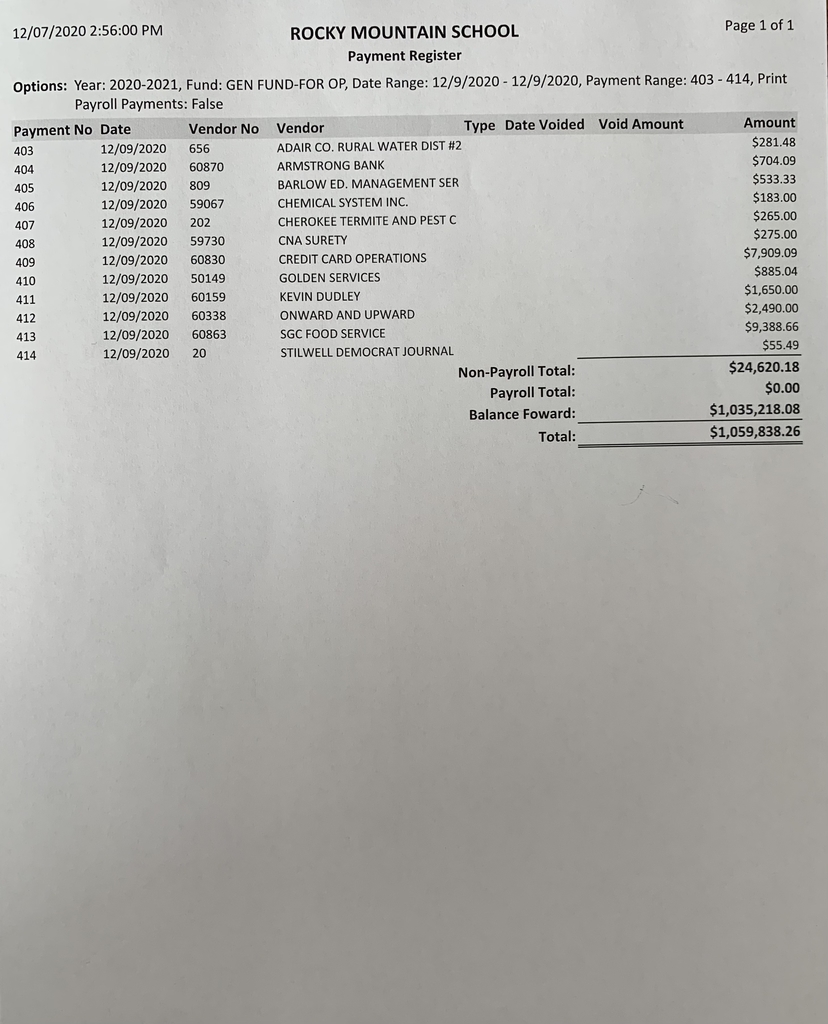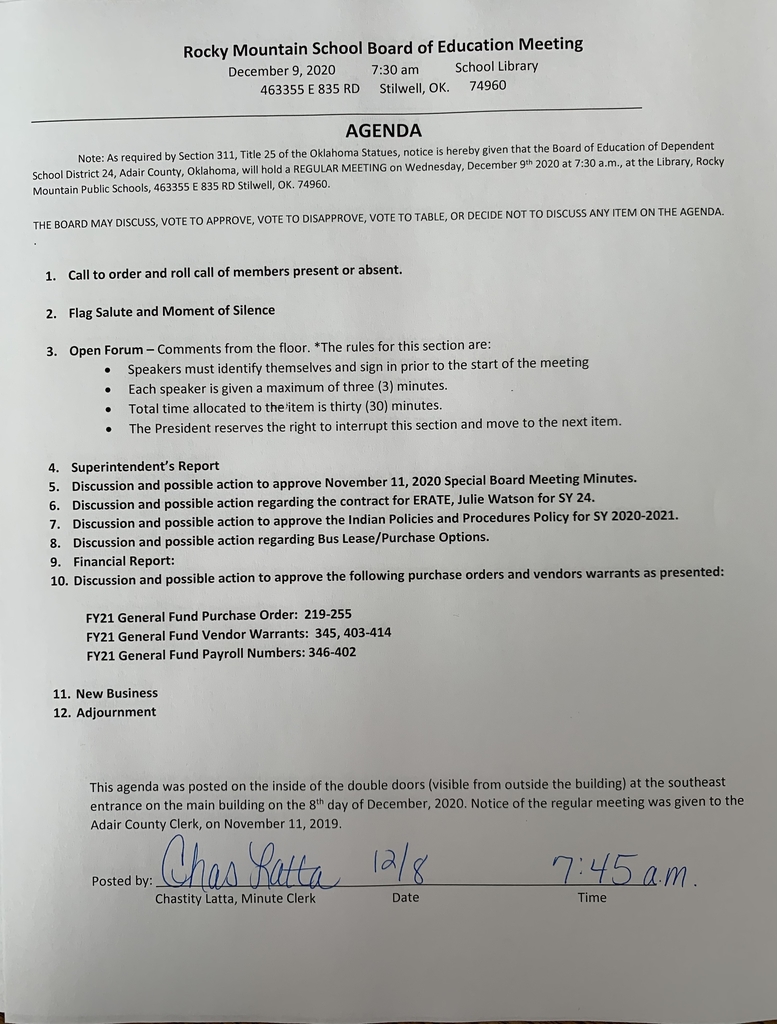 CORRECTION for RMS basketball on Dec 8....... Game time is 4:30 PM, we will play 4 games Please follow all protocols

Dec 7-11 😷 Thank you to our parents for being so diligent with quarantine protocols. Because of your efforts, we have not had any additional positives this week and those who tested positive over break or needed to quarantine from exposure have not posed any additional risks for those attending school. Monday 📣 Cheer practice until 4:30 📚 5-8 grade Tutoring/homework help with Mrs. Reynolds until 4:30 Tuesday 📚 5-8 grade tutoring/homework help with Mrs. Reynolds until 4:30 🏀 5-8 basketball at home. We will play Echo Knights, 4 games, 4:00 🏀 Basketball protocols - So that our students, staff, and parents remain healthy and students can continue playing.........mask mandate, temps at the door, quarantined or running fever with 24 hrs before game - please stay home, consider limiting who you invite, seating will be marked off to encourage social distancing Wednesday No activities Thursday 🤓 K-8 Vision Screening Friday No activities

RMS Parents.... Nov. 30-Dec. 4 I hope you enjoyed having your children home last week. We are looking forward to seeing everyone tomorrow!! Remember, school starts at 8:00 AM. 😷 If your child has been placed in quarantine due to being exposed during last week, please call or text me this evening @ 918-797-0318 so that we can place them on distance learning. You can also call the office in the morning, 918-696-7509. 🏀 Our county is red again this week on the OSSBA Covid map. All ballgames this week have been postponed and we are working on rescheduling them if possible. Monday 📚 5-8 grade homework help with Mrs. Goldman until 4:30 Tuesday 📣 Cheer practice until 4:30 Wednesday- Friday 🚀 No activities

RMS Nov 16-20 👏🏼 No additional students/staff in quarantine or exhibiting symptoms Monday 📣 Cheer practice, 3:05-4:00 Tuesday 📚 5th-7th Tutoring/homework help with Mrs. Reynolds and Ms. Goldman, 3:05-4:30 Wednesday-Friday 😊 No activities Nov 23-27 🦃 Thanksgiving Break

RMS Virtual parents 🚀 Meal pick up and homework exchange tomorrow, 10:00-10:30

8th grade RMS parents.... 🚀 If you signed up for meals, please pick up tomorrow between 10:00-10:45 in paved parking lot. If you need to arrange a different time, please let us know. 🚀 Remind students to log on each hour with their teachers. Teachers will present information, answer questions, etc. Ag with Mr. Bergman will be 5th hour for everyone.

RMS Parents.... Rocky Mtn. will be open for in-person learning next week, Nov. 16-20. The county numbers continue to climb. Other schools have been hit and have a lot of staff and students out. Right now, we have sent one class home due to the 2 positive students reported earlier in the week. We did this in order to reduce the risk of exposure and spread to others. Other than that, come Monday we will have 7 students and 1 staff member in quarantine due to outside exposure. We will continually monitor our #'s and will make decisions for in-person and distance learning as needed. Remember, we went to distance learning when our numbers were high, while other schools stayed in session. We will keep you informed if our status changes so that you can better prepare for your family. If you decide distance learning is the best choice for your family next week, we will support you in that decision. Because the #'s are so fluid, I need you to let us know this weekend if you find out your child needs to quarantine, happens to test positive, or you are choosing distance learning. Please call or text me at 918-797-0318. If you have any questions or concerns, you can always reach me at school or on my cell. As parents, you are doing a marvelous job of keeping us informed so that we can ensure the safety of others. Thank you for being such a valuable partner in our school! I hope each of you have a happy and safe weekend!

RMS Parents.... We had an additional middle school student test positive today. Both students were exposed outside of school, but they are in the same grade. In order to limit exposure and spread to any other students within our school I quarantined that entire class this afternoon. Remember if your child is experiencing a headache, low grade fever, cough, sore throat, or upset stomach please do not send them to school. We will continue to work together in order to keep everyone safe and our school open.

RMS Parents..... This notice is to let you know that we have received word that we have 1 individual at the middle school who has tested positive. This individual has not been at school for several days. However, we are working with health officials and if any child is identified as needing to quarantine, we will notify those parents. At this time, this is the only positive case in our school. As always, we will remain diligent with our protocols and continue to monitor our numbers within the school. Please continue to do your part in stopping the spread and reducing the number of positive cases in our county.

‼️ Cherokee Nation Health Services is offering after hours drive-thru flu clinics at ALL Cherokee Nation Health Centers (excluding Gadugi Employee Health Center) on Tuesday, Nov. 10 from 5 p.m. – 8 p.m. Flu season is in full swing. So be sure to stop by one of our health centers and get your flu vaccine! 💉