August 30 - September 3 REMINDER - School Pictures on Thursday Monday 📚 5-8 grade After school tutoring/homework help w/Mrs. Reynolds, 3:05-4:30 📣 Cheer practice, 3:05-4:30 Tuesday 📣 Cheer practice, 3:05-4:30 Wednesday 🥎 RMS Softball Festival, RMS girls play @ 9:00 & 11:00. 📚 5-8 After school tutoring and homework help w/Mrs. Reynolds, 3:00-4:30 Thursday 📸 SCHOOL PICTURES!! 😊 5-8 After school activities sponsored by American Indian Resource Center (AIRC), 3:15-4:30 at Boys and Girls Club. Stay, then have parents pick you up before the football game!! 🏈 5-8 Football, home, 5:00, 2 games (Will upload season schedule tomorrow) Friday 🥎 5-8 Softball @ Kansas, 10:00, 1 game 🍿 Concession ( items are $.50 or $1.00) September 8 & 9 😊 No School - Labor Day Break

🥎 The softball game with Stilwell tomorrow will be rescheduled. 🍿 Concession tomorrow

🚀 We have had 3 who have tested positive. NONE of these children have been at school this week. No one will need to quarantine because parents made wise choices about their child's health and others' safety. 🚀 Thank all of you for being an important partner with RM school. We will continue to work together in order to provide a safe and healthy environment so RM children can attend school in-person.

RMS Parents……… 🚀 If you or your child test positive for Covid, unless you know the direct individual you were exposed to, it is difficult to know where you may have picked it up. Work, school, grocery store, Walmart, church, shopping —- we are potentially exposed anytime we do anything. 🚀 If your child is identified as being exposed at school and needs to quarantine, you will always be contacted directly to let you know. 🚀 RMS staff continually work to provide your child with a safe environment to come to school in-person to learn and be with friends each day. 🚀 Parents, Grandparents, and Guardians of RMS are doing a WONDERFUL JOB of keeping students home when they are sick. We appreciate your efforts to help us keep students, staff, and your families safe and healthy. Yes, attendance is important, but health is priority. 🚀 If your student is not at school, please call our office so that it can be a documented absence. If your child will be gone 2 or more days, we will be happy to gather homework.

Correction - My cell number is 918-797-0318. I think most of you have it by now anyway. My eyes are getting old. 🤓

RMS August 23-27 😷 Got Covid Symptoms? Please stay home until positive or negative diagnosis. Questions? Call the office during school hours, 918-696-7509 or Mrs. Ketcher's cell after hours, 918-707-0318. Monday - Thursday 🏈 6-8 football practice until 4:00 Tuesday 📣 6-8 grade interested in cheerleading, meet with Mrs.Goldman and Ms. Shermanda until 4:30 Wednesday 🚀 1:00 Guest speaker for 5-8 grade, sponsored by American Indian Resource Center (AIRC) Thursday 🥎 Maybe a 5-8 softball game - waiting to hear from other school Friday 🥎 5-8 Softball @ Stilwell, 1:30 🍿 Concession after lunch, students may bring money September 2nd 📸 School Pictures

Meet Mrs. Cochran!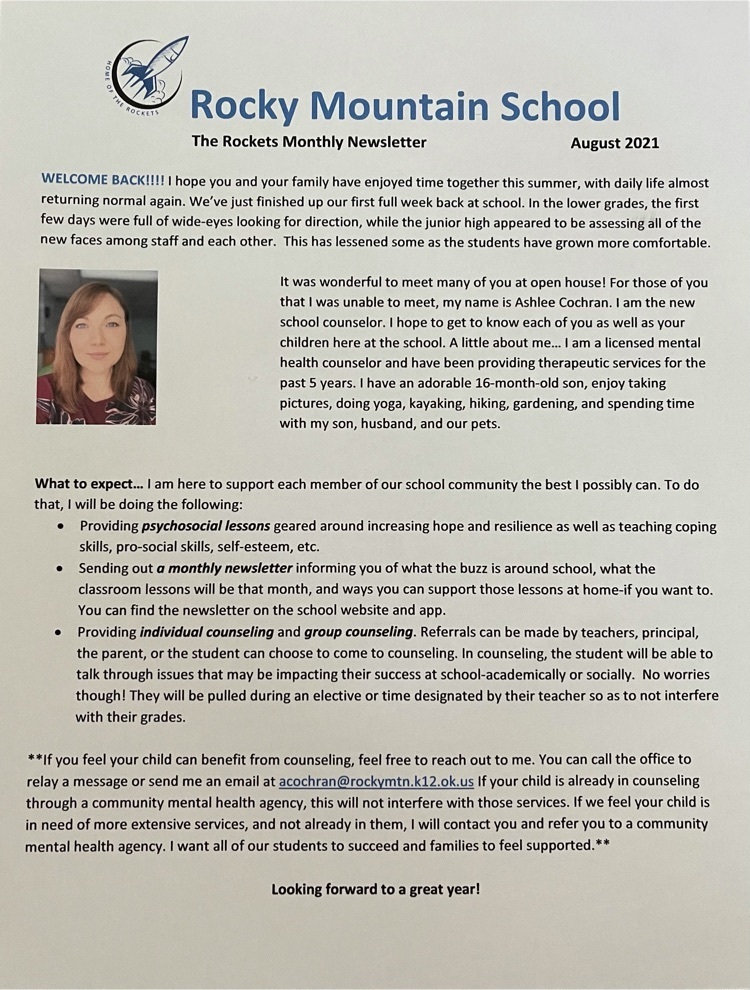 RMS Parents.... Today we had a positive Covid case identified in our lower elementary. Anyone who would need to quarantine has already been contacted. If you have not been contacted, your child is clear. Our custodians and teachers are doing a great job with our mitigation measures in order to keep our building sanitized, encouraging hand-washing and social distancing. Remember, if your child has any symptom of Covid, please keep them home in order to reduce the spread. I know it's allergy season and it is hard to distinguish symptoms but monitor for these symptoms....... Fever or chills Cough Shortness of breath or difficulty breathing Fatigue Muscle or body aches Headache New loss of taste or smell Sore throat Congestion or runny nose Nausea or vomiting Diarrhea

🥎 Due to the rain, the softball field is too wet to play Thursday and Friday. Mr. Kimble is working to reschedule the RMS Softball Festival. We will keep you posted.

RMS News…. 🚀 Sports Physicals for 3-8 grade tomorrow. Students must have signed paperwork. 🏈 6-8 grade after school football practice until 4:00 on Tuesdsy, Wednesday, and Thursday. 🥎 RMS Softball Festival for 5-8 grade Thursday and Friday. Schedule was released today and will be posted on website and Facebook tomorrow. (My phone scrambled it). Our girls play Thursday at 11:00 & 12:00, Friday at 10:00 & 1:00.

RMS Reminders…. 🚀 Compete and return all enrollment forms. 🚀 Physicals for 3-8 grade students will be Tuesday. We will take students who have paperwork completed and returned. 😊 Have a great week!

August 2021 calendar and menu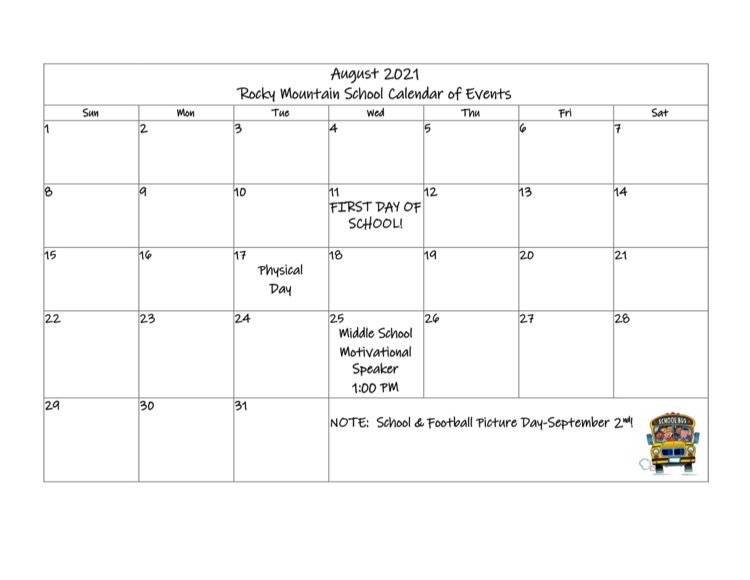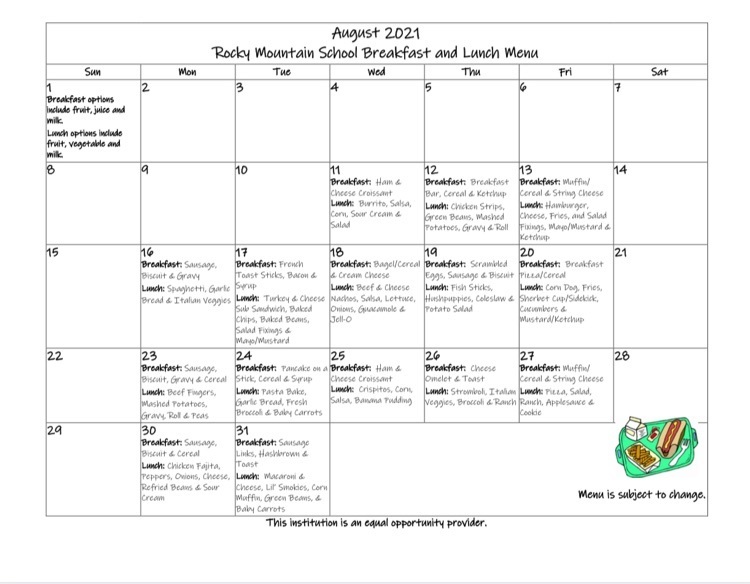 RMS families…… We are so excited to see everyone tomorrow!!! If you were not able to attend the Open House on Monday, forms will be sent home tomorrow. Please return all forms by Monday, August 16th. Students who arrive before 7:35, should report to the Old Gym. 7:35-8:00, students may be dropped off at all main doors of the campus. We ask that you be observant of the car line and watch for children exiting vehicles. Cars unloading in front of the office should observe the proper lane of traffic. You may need to circle in the parking lot in order to face the correct way of traffic. Staff members will be located at the drop-off points to assist children with going into the building in order to reduce exposure within the buildings. It's going to be a great school year! 💙🚀

August 2021 School Board Meeting Agenda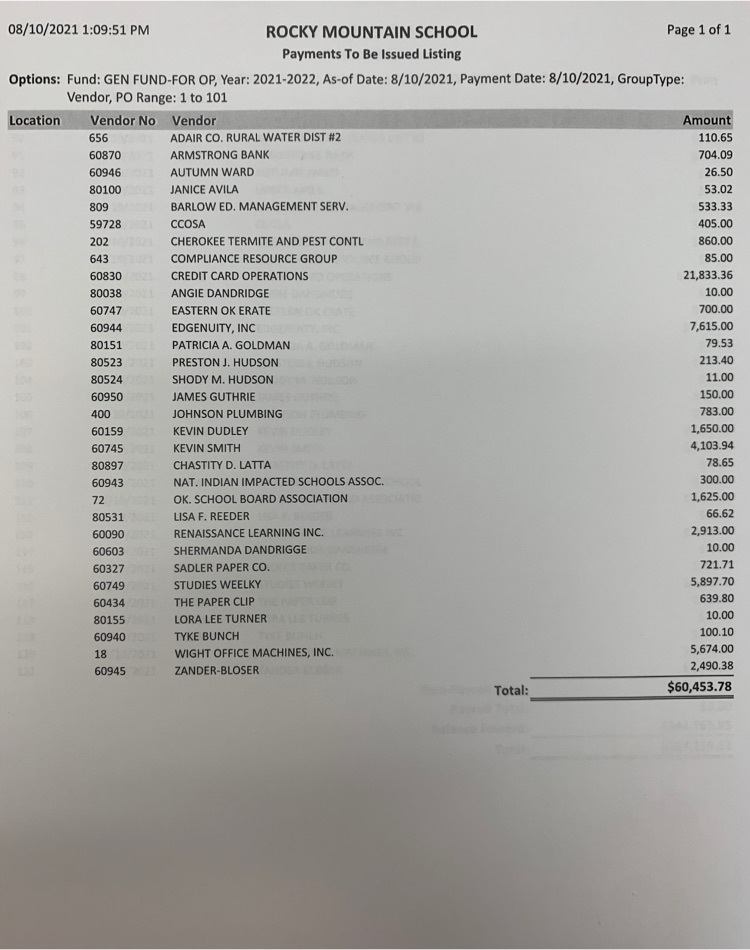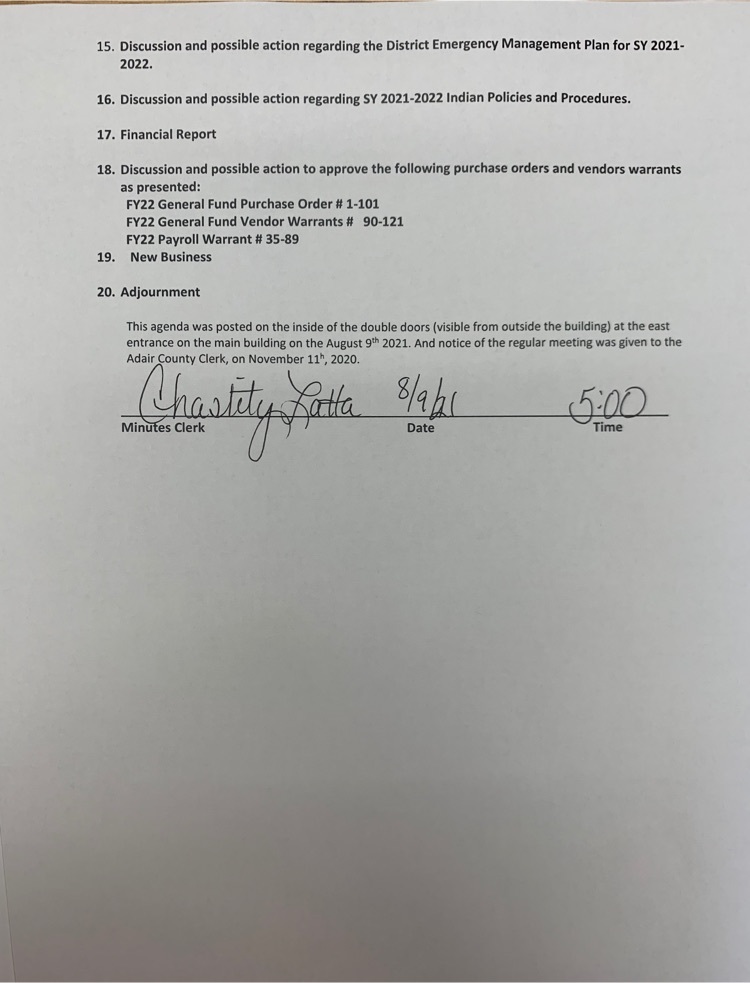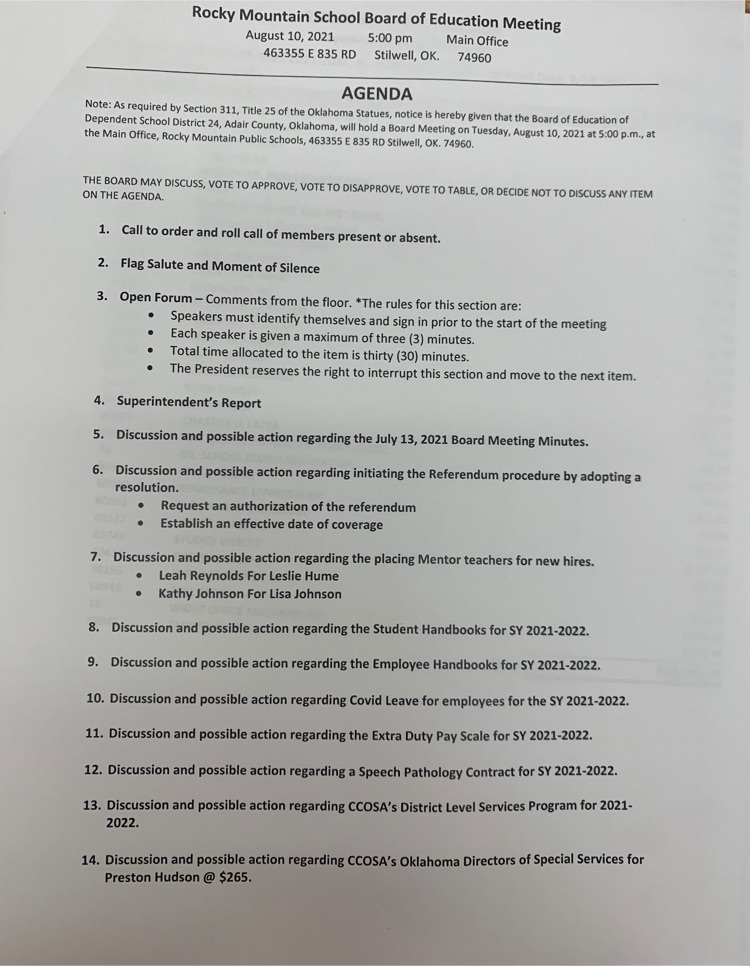 RMS Families…… Looking forward to an awesome school year!! 🚀 Monday, August 9th, Open House, 5:00-7:00 PM in Paved Parking Lot. Come meet your 2021-2022 teachers and pick up paperwork. Free Ice Cream. Enrollment for new students in gym lobby. 🚀 Wednesday, August 11th, First Day of School, 8:00-3:05 🚀 SB 685, dictates that masks are optional unless the governor calls for a state of emergency. CDC encourages mask wearing indoors. 🚀 FREE school supplies. Your child only needs a backpack. 🚀 FREE Breakfast and Lunch. We still need a form on file. 🚀 FREE Extended Care/Boys and Girls Club, 6:30 - 7:35 AM and 3:05-6:00 PM 🚀 We will take 3rd-8th athletes for physicals on Aug 17th. Requires a signed permission form.

Community Backpack Giveaway Today at Carson Park 6:00-8:00 PM Stop by our school booth and say hello!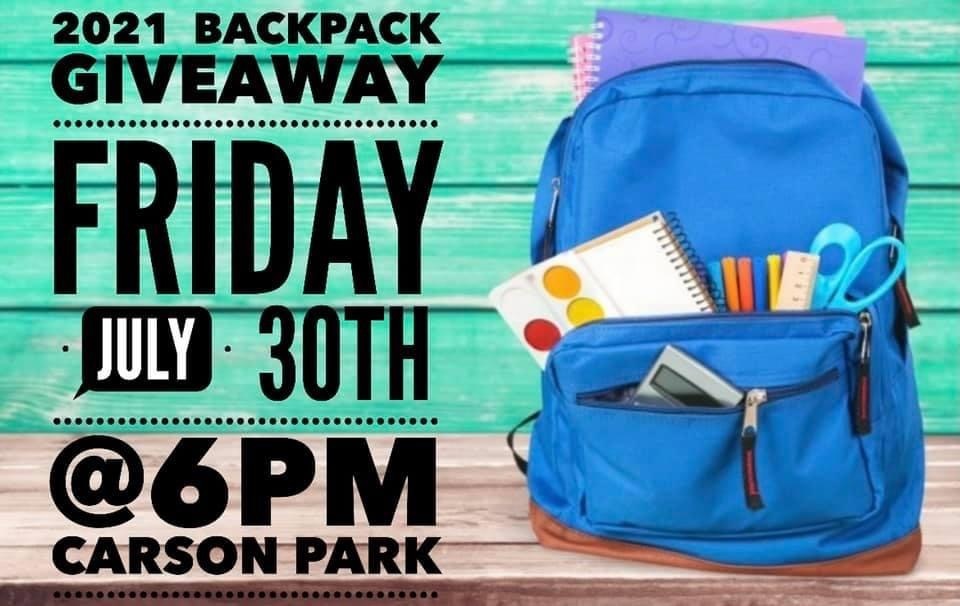 RMS Pre-K parents…. A requirement of the CN head start program is a health screening that consists of a physical, lab, screening for hearing, vision and dental and immunizations if needed. CN will coordinate "Head Start Round-Up" so that you can get all these things taken care of in one day, free of charge. Please call 539-234-3141 and tell the clerk you want to schedule a Head Start Round Up appointment. Appointment dates are July 13, 15, 21 and August 3, 5.

July 13 l, 2021 School Board Meeting Agenda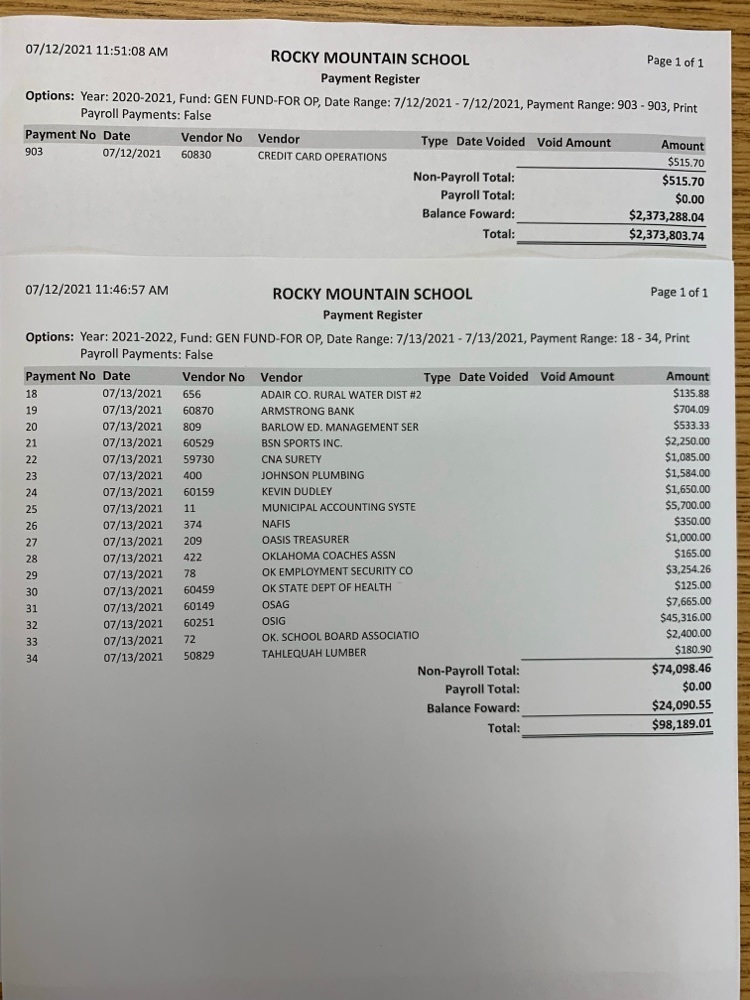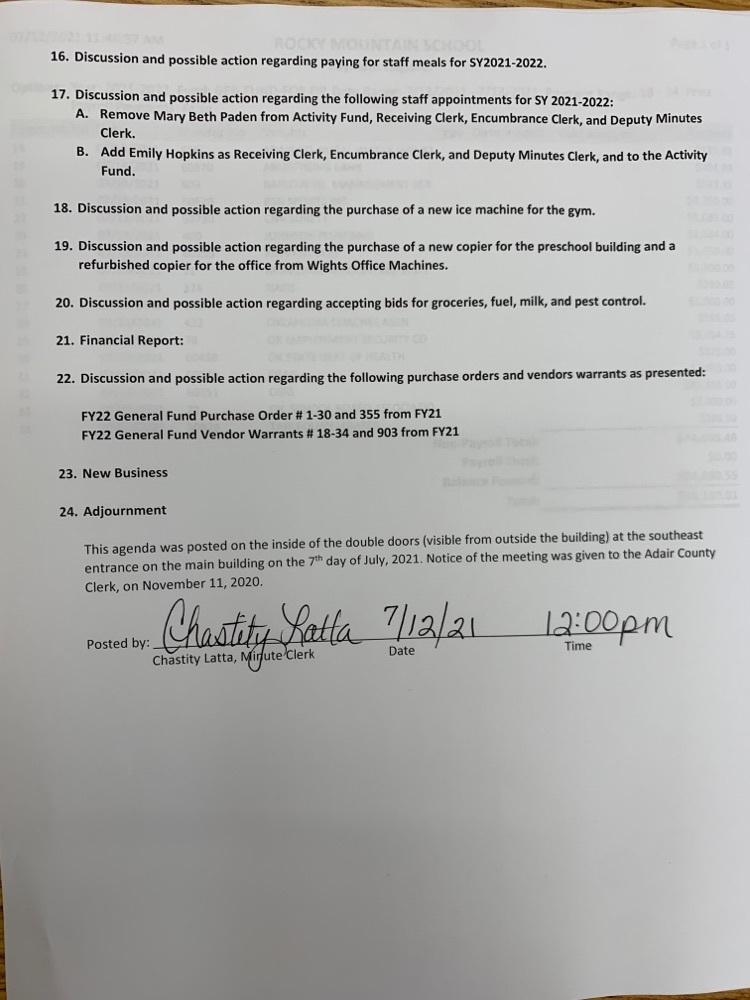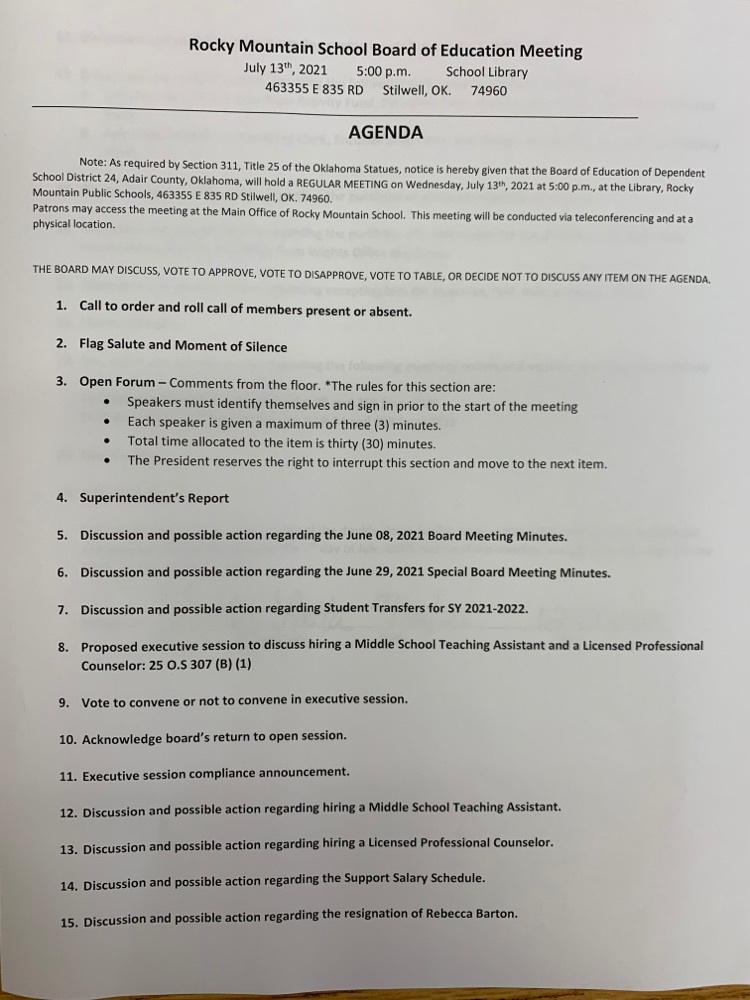 RMS staff…… 🇺🇸Wishing everyone a happy and safe Fourth of July weekend! 🇺🇸 🚀We want to congratulate and welcome Emily Hopkins as our new encumbrance/student information clerk. 😊Have a great weekend!

June 24, 2021 School Board Meeting Agenda