Feb 13-17 Mon 🧁 Valentine Cupcake Box orders must be returned if you are ordering Tues ❤️ ALL Valentine Deliveries will be in the Library ❤️ Class Valentine Parties 🏀 1st & 2nd Bottle Rocket Festival - full schedule on School app live feed and Facebook 🏀 Girls play at 11:00 and 6:00 🏀 Boys play at 11:30 and 6:30 Thurs 🏀 1st-2nd Bottle Rocket Festival 🏀 Girls play at 2:00 and 6:00 🏀 Boys play at 2:30 and 6:30 Fri 🍿 Concession Monday, February 20 😊 NO SCHOOL - President's Day

DC 2023 trip Parents Monday A couple of notes have been sent…..but ❤️ Send items for Valentine boxes - mini cans of soda and ind wrapped candy 🏀 Send Items for 1-2 grade bottle rocket festival Tues and Thurs 🙌🏻 If parents (or adult rep) can and/or would like to volunteer to work concession, gate, etc during games, please call the office tomorrow and let us know days and times 🏀 Games will start at 10:00 AM and end at 7:00ish both evenings. Clean up will hopefully be done before 8:00 PM. Mrs. Reynolds will be creating a schedule. Have a conversation to let your child know if they can work of the evening and what times.

RMS REMNDER 😊 No School Friday, February 10th.

⚙️Robotics Parents: Robotics until 5 today

Due to car trouble, State Shirts will be ready at 10:30 today. So sorry for any inconvenience

👕 Basketball tshirts will be in our office at 9:00 in the morning. If you can't get to school, notify us and we will bring it to Shawnee. 😊 🏀 RM girls travel to Shawnee tomorrow. They play Denison at North Rock Creek at 5:00. We are the home team so we would like to fill the stands with Royal Blue directly across the floor from the bench and make some POSITIVE noise as these girls work to take state!! 🏆

RMS Girls 🏀 🍡 Bring snacks for 16 people to the office so we can create snack packs for them 🩱 Bring your swimsuit (just in case) 💲 Optional - money for store stops, concession, shopping 🏀 Remember to pack everything for your suit including both sets of shorts and shoes!! 😊 Parents have questions? Think of something I forget to tell the group? please text or call me. 918-797-0318

February 2023 Menu and Calendar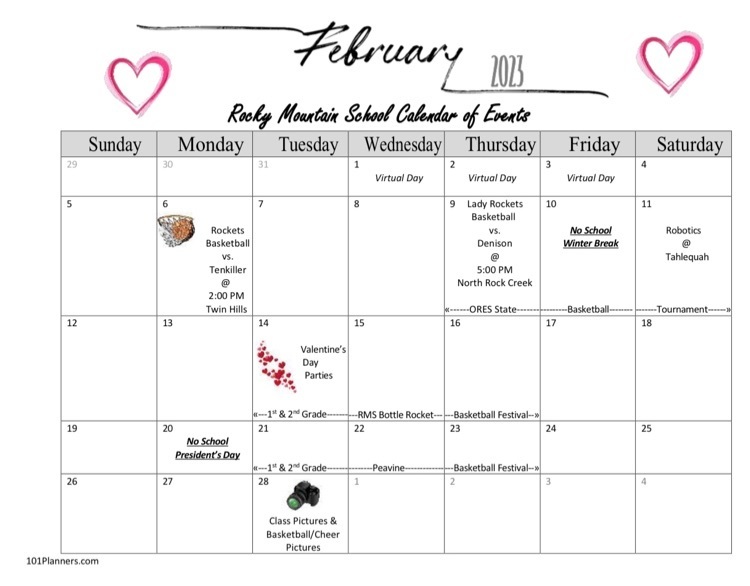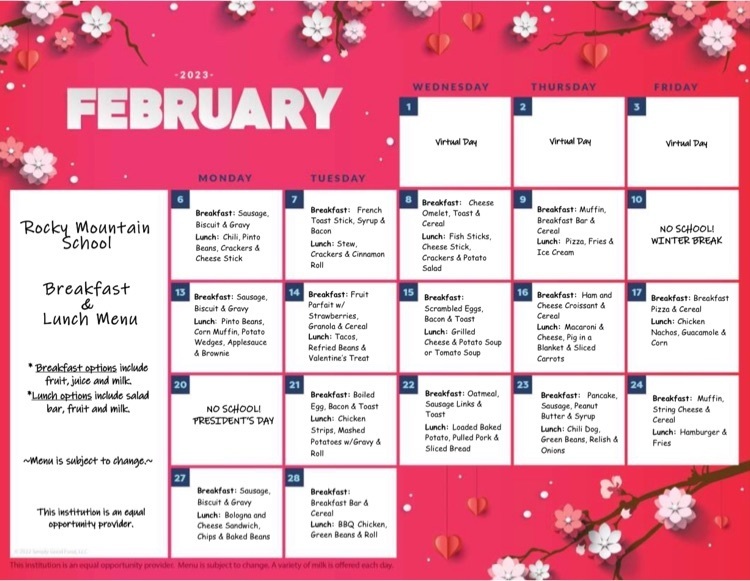 RMS Reminder Friday 😊 I failed to put it in the text yesterday, NO SCHOOL on FRIDAY!!!

‼️RMS Virtual Days Assignments that required writing something down on paper for last Tuesday, Wednesday, Thursday and Friday should be returned tomorrow. ‼️

Feb 6-11 Mon 🚀 RM Spirit Day - wear RM gear in support of boys' team! 🏀 ORES Area, boys vs Tenkiller at Twin Hills, 2:00 ⚙️ Robotics until 5:00 Tues ⚙️ Robotics until 5:00 Thurs 🚀 RMS Spirit Day!! Wear your RM gear to send off those going to state! 🏀ORES State Tournament at North Rock Creek, Shawnee. All admission $6. 🏀 Girls play Denison @ 5:00 🏀 Boys - to be determined Fri 🏀 ORES State Tournament Sat 🏀 ORES State Tournament

🏀 RMS bus is at Tahlequah headed to school.

ORES Area Games 🚙 Put on your Royal Blue, hop in the car and travel to Twin Hills to MAKE SOME NOISE for the Rockets and Lady Rockets in the ORES Area games tomorrow. Admission is $6. 🚀 We are the visiting teams so fill the stands behind or directly across from the visitors bench. 🏀 Boys play Twin Hills at 12:00 🏀 Girls play Zion in the Finals at 1:00

RMS 🏀 Teams 🚌 The bus will leave at 9:00 AM in the morning. 💲Bring money to stop at a store or McDonalds on the way 👕 Bring all of your uniform including shoes and both pairs of shorts 🏀 Boys play at 12:00, Girls play at 1:00

Feb 3 5-8, Mr. Hendrix 5th grade - write a couple of paragraphs on how climate change will affect our economy in the next 10 years (flooding, etc). 6th grade - draw a diagram of how a pot of water would heat use conduction, convection, and radiation in your drawing. 7th grade - write a paragraph on hypothetically what would happen if ice was more dense than water(remember in reality ice floats). 8th grade - make a Venn Diagram comparing and contrasting mitosis and meiosis.

Feb 3 5-8, Mrs. Reynolds Students we are going to have a scavenger hunt. Go find all the shoes and write down the sizes. Now find the mean or average shoe size in your house!! Remember to find the mean or average add up all your numbers (data) and divide by the amount of data you have!!!

Feb 3 5-8, Mr. Hume Spend 20 minutes reading a book or magazine. Write an argumentative essay. This essay is to convince the reader whether or not virtual learning can take the place of in class learning. Students must give their reasoning through their own experiences and the article must consist of three paragraphs.

Feb 3 5-8, Mrs J Create snow/ice poetry First: Start by writing down a list of words that describe or are related to snow/ice Next: Use the words to write a poem about winter, it doesn"t have to rhyme, or it can rhyme if you want it to It must be at least two stanzas long or longer would be nice. Here are some words that I thought of: sleet slick slushy cold snowdrift snowflake snowman being snowed in beautiful magical old man winter Jack Frost

Feb 3 4th, Mrs. Davidson ● Math- Find items in your house that are examples of quadrilaterals (square, rectangle, parallelogram, rhombus, and trapezoid). ● Reading- Read a story to a parent or sibling and retell the main events of the story in your own words. ● Writing- Write about the most interesting place you have ever been. ● Science- Write about a typical day for you if there was no gravity.

Feb 3 3rd, Mrs. Kimble Math- Look around your house for 3-dimensional shapes (cube, rectangular prism, triangular prism, cylinder, sphere, rectangular pyramid, triangular pyramid) List as many as you can find. Writing- Write 5 sentences giving directions on how to clean your room. (Use sequential order words: first, second, next, then, finally.) Reading- Read a nonfiction story in your big or little reader and write down 3 facts you learned. Science- Think about what happens when snow and ice melts. Write about what causes it to happen and where does it go?