September 14-18 Message 1 of 2 All Pre-K through 8th grade students will be in distance learning for the next two weeks. No students will be on campus. Monday *Pick up your child's device, a hot spot if you are on that list, and instructions for logging into class. All Pre-K - 4th will be better served by using the tablet or computer provided by the school because they are pre-loaded with their apps and/or passwords. 5th - 8th should use their own computer if possible to free up availability for those who don't have their own. Pick up schedule....... 10 - 11, Last name A-H 11 - 12, Last name I - R 12 - 1, Last name S - Z 5 - 7 PM, Working parents or if earlier times don't work with your schedule * Students will be expected to log in for class each day and complete their assignments in order to receive credit and be counted in attendance. This is not sit and review mode. Your teachers are prepped and will be teaching/assigning regular class assignments each day. The day will be shorter because of things such as recess, lunch, class changes, etc. But their classes and assignments will be that of regular school. *Because some students will not get their device until late, tomorrow will be short, check-in activities to get both students and parents acclimated. *Monday is a regular day for students who have been virtual all along. Wednesday * Textbooks and supplies will be distributed. * Meals for Wed - Fri will be distributed to ALL students. * Distribution times, 11 AM - 2 PM or 5-7 PM. Come at whatever time is best for you.

RMS Reminder................ Today is a NO SCHOOL day. Do not worry about logging in for class. Distance learning will begin Monday. Additional information will come later. Stay safe and healthy.

NO pre-K through 2nd grade students have come into contact with the staff member that has tested positive. Students in these grades will NOT need to quarantine unless they have an older sibling in grades 3-8.

RMS Parents, This is an update concerning notice of a staff member who has tested positive for COVID-19. This staff member is in contact with all 3rd-8th grade students. Therefore, all 3rd-8th grade students will need to quarantine at home for 14 days ending September 24th. It is the recommendation of the health department that siblings to these students quarantine as well. As always the health and safety of our students and staff, and families are our number one priority. For this reason, as an added layer of precaution, we will be cancelling school tomorrow, September 11th. On Monday September 14th, our entire school will transition to distance learning for two weeks. Additional information will be given later concerning distributing technology devices and meals. If your child begins to exhibit symptoms of COVID-19, please contact you medical provider for testing. If your child does not exhibit symptoms, there is no need for testing, just quarantine. As always, our school appreciates our Rocky Mountain parents and community's support. We will continue to face these challenging situations together. If you need to reach me, you can contact my cell at 918-797-0318.

RMS Athletic Update for September 10th... 🥎 Softball game is cancelled 🏈 Football game is still scheduled. No concession today.

Sept 8-11 Athletic protocols.......home or away 😷 Wear your mask to get in the gate and during the game when not social distancing 👨‍👩‍👧‍👦 Social distance from others - take your lawn chairs 🤒 Temps will be taken upon entry 💧 Wash your hands with soap and water 🏠 Stay home if you exhibit any COVID symptoms Tuesday 😊 NO SCHOOL 🚀 Virtual students will have a make up day for any work not completed Wednesday 🚀 Virtual Students meal pick up, homework drop off and pick up, 10:00-10:30 🥎 Softball @ Dahlonegah, 12:30, 3 games - 5/6 & 7/8 girls, 6-8 boys. Thursday 🥎 7/8 Softball @ Stilwell (Carson Park) 🏈 Football @ home vs Moseley, 5/6 @ 4:00, followed by 7/8.

September 2020 Board Meeting Agenda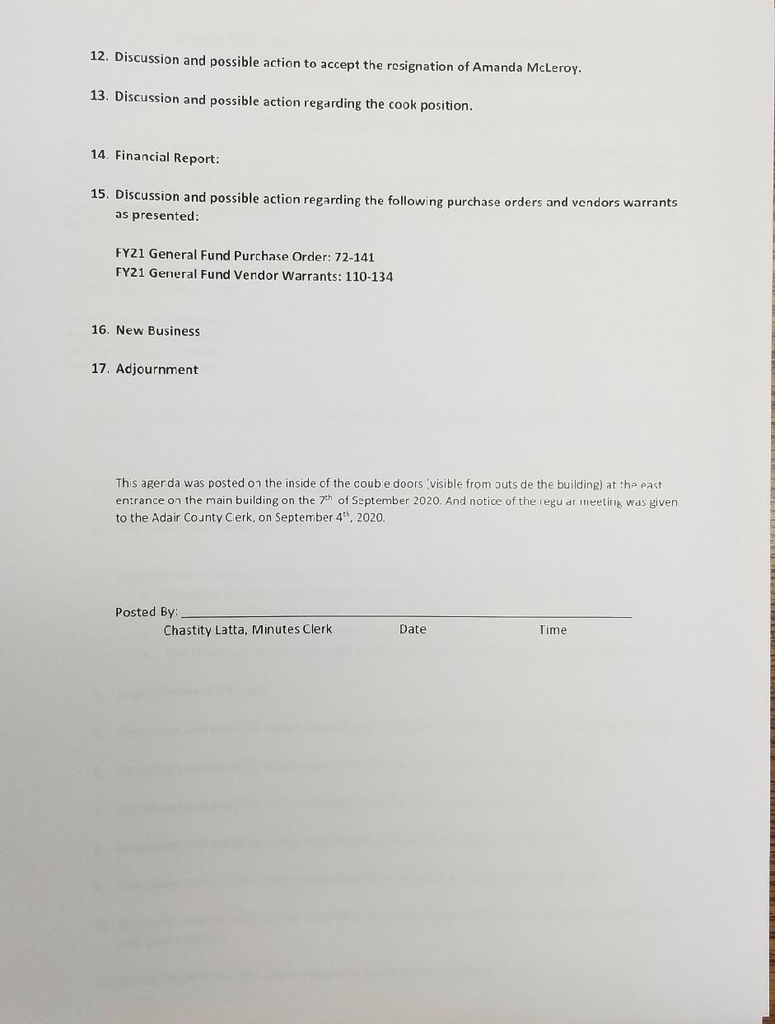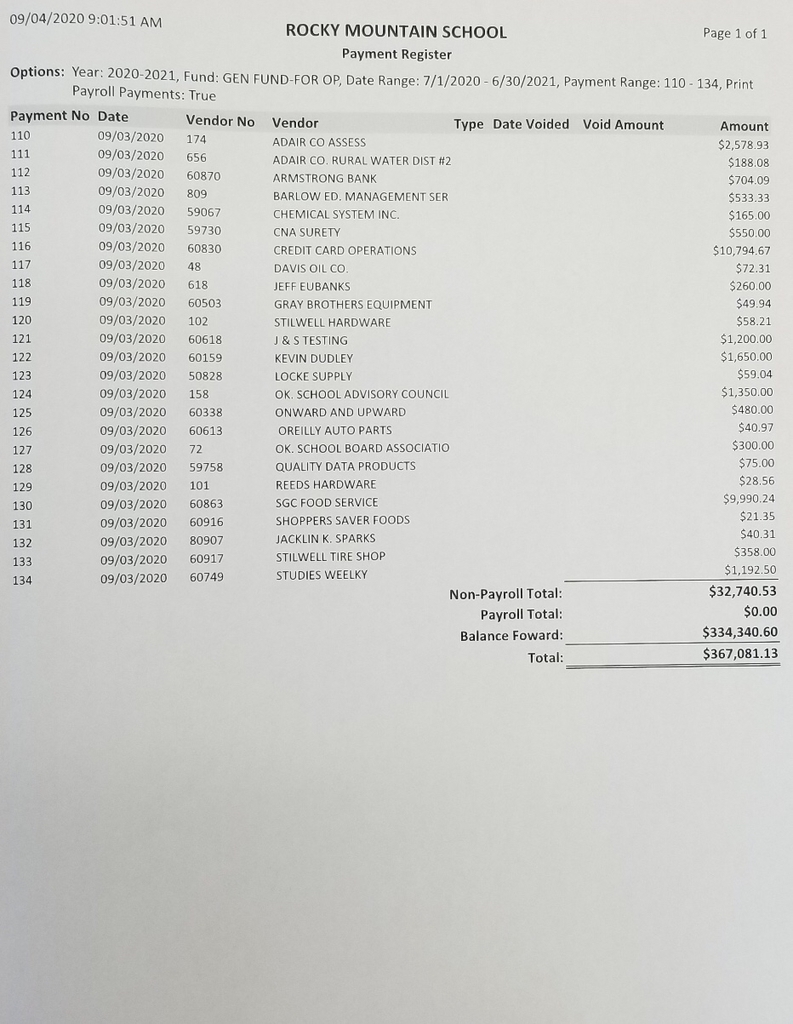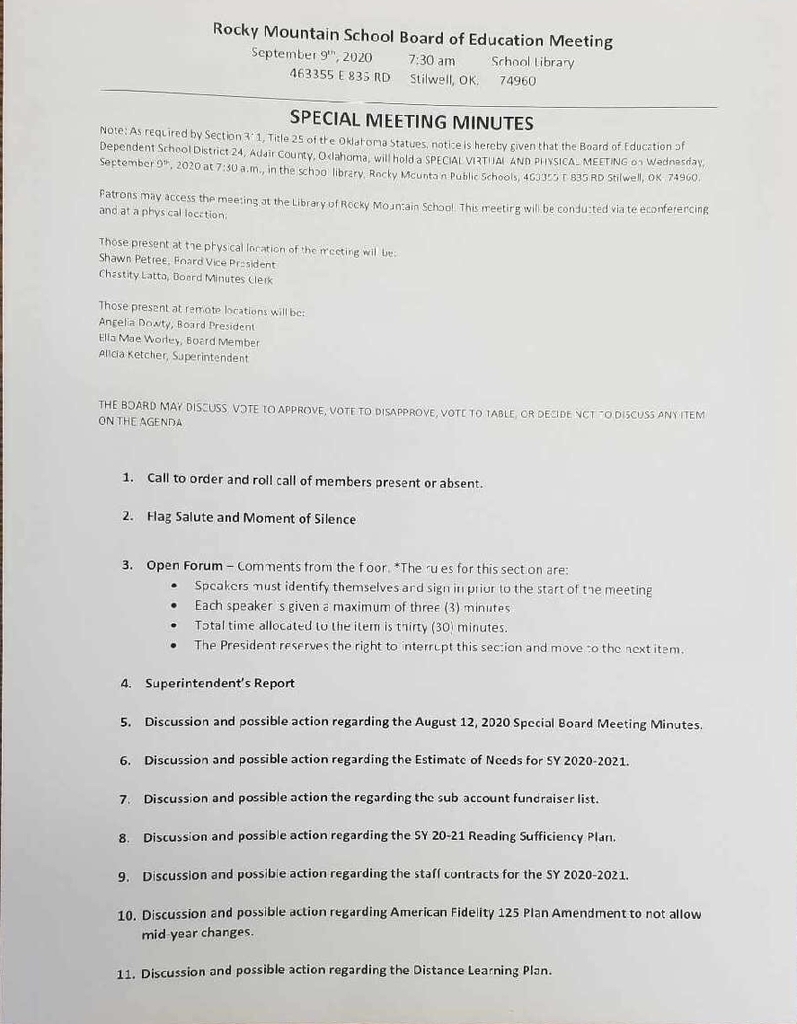 RMS Football UPDATE............ Thursday's game (Sept 3rd) will be played AT Watts. 5/6 will begin at 5:00 PM, followed by 7/8 grade.

September 1st - NO after school football practice.

August 31st No after school football practice today. The field is too wet.

August 31-Sept 4 COVID numbers for Adair County are down again this week!! Keep up the good work!!! Parents are doing a great job of monitoring students' health and quarantining when necessary! Monday 💻 Virtual student weekly meal pick up, 10:00-10:30 AM, paved parking lot 📣 Cheer practice until 4:30 🏈 Football practice until 4:30 Tuesday 🏈Football practice until 4:30 We are phasing in sports this week Thursday 🏈 5-8 Football, home vs Watts, 5:00, 6:00.....temperature checks at the gate and everyone must be wearing a mask to enter. During the game, we encourage you to continue wearing a mask and to practice social distancing. Bring your lawn chairs or use the bleachers. September 5, 6, 7, 8 💙 Labor Day - stay safe and take measures so that no one needs to quarantine after the holiday. 💙

5th-8th virtual RMS students.... Check your school email for an invite to a Zoom mtg with Mrs. Reynolds and Mr. Hudson tomorrow at 2:30 PM. Click on the link provide in the email. You may also be required to type in the password provided. "See you" there!

School phones are currently down. The repairman is working on the situation. If you need to reach us with necessary messages, you may send it through Facebook messenger.

August 17-21 Tuesday, Wednesday, Thursday 🚀 6th - 8th, Cheer Clinic and Try-outs, 3:05-4:05 Tuesday 🚀 Virtual School Drive-thru pick up supplies, enrollment, information, technology if needed, and meals. 3:30-5:30, paved parking lot.

Today is the last day!!!!! Deadline is 11:59 PM! Education COVID-19 Relief for students $150 to students across Cherokee Nation without regard to income or type of schooling they receive for clothes and a winter coat. For income, eligible students it's a $300 clothing stipend. $400 education technology stipend is also offered for any Cherokee student ages 5 to 18 regardless of income and regardless of where they live. YOU CAN BE INSIDE OR OUTSIDE THE CHEROKEE NATION DISTRICT BOUNDARIES. SIGN-UP LINK
https://tinyurl.com/y3ouaggd
Parents who have not submitted an application for a technology or clothing stipend still have time. Cherokee Nation citizens who still need to register their child for Cherokee Nation citizenship, or have a pending application for citizenship on file, can also still apply by the new Aug. 14 deadline.

RMS Parents.... If your child plans to play sports or cheer, they must have a physical. Remember, you must send the signed physical form in order for us to take them for that today. (All students who have not turned one in were given another one yesterday)

RMS Schedule for August 12th 6:30-7:30 AM - extended care - only for families who have to drop students off in order to report to work. 7:35 -8:00 AM -parent drop-off, bus arrival and breakfast 😊 PreK - enter at pre-k building 😊 K - 4th - enter by office or at main entrance by 3/4 grade (which ever kind is shortest) 😊 5th-8th - enter new gym (Temperature checks will be at all entrances and masks must be worn upon entering the building). Only staff and students will be allowed inside the buildings. 3:05 PM - Dismissal (Parents park in parking lot across the street from new gym. Staff will help students across the street) 3:05-6:00 Extended care for working parents Looking forward to seeing everyone tomorrow! 🚀

August School Board Meeting 2020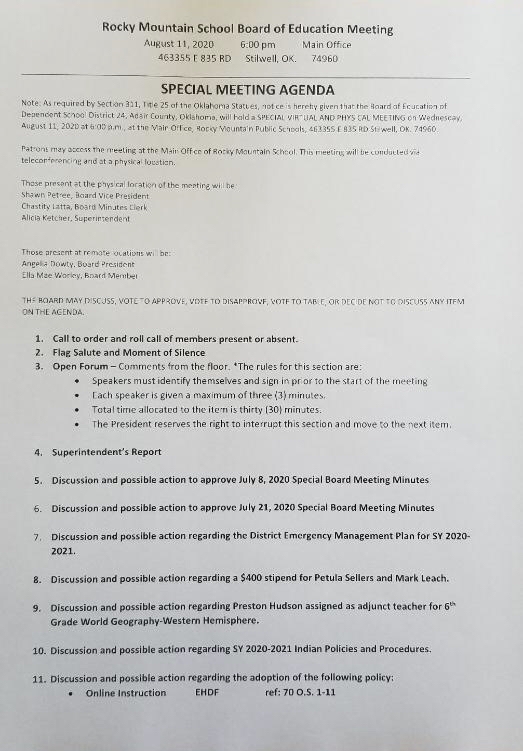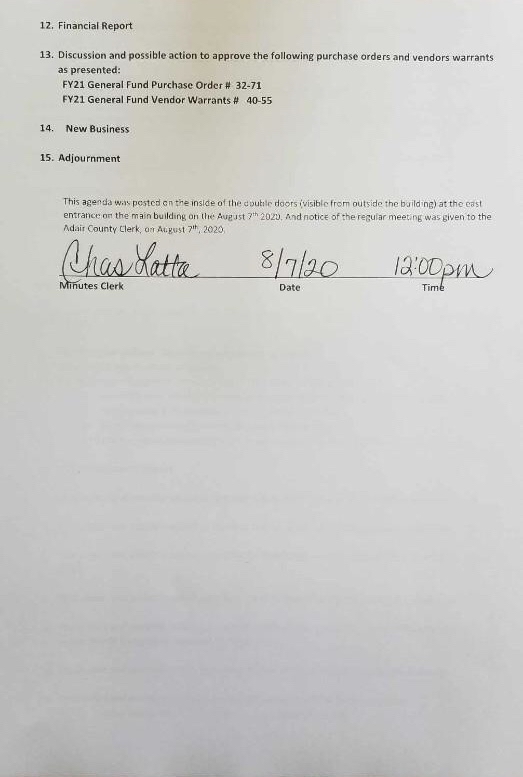 RMS Reminder..... I will be located at the paved parking lot from 3:00-6:00 PM this evening so that you can pick up or drop off enrollment forms.

🚀 First day of school for traditional, in-person will be August 12th. We will have a regular school day including, extended care, buses, breakfast and lunch. Parents must be working in order for students to stay in extended care before and after school. After school boys and girls club is open for 2nd -8th grade. 🚀 Virtual school starts date is August 19th. More information later. 🚀 if you need enrollment forms, you may pick those up Monday and Tuesday, 8:00-3:00 or Monday, 3:00-6:00 PM. You can pick up or drop off forms during these times. If that doesn't work with your time schedule, we can send them home with your child on Wednesday and return them on Thursday. Otherwise, please send all forms on Wednesday. 🚀 If you are able to access the internet, we ask that you fill out our survey before tomorrow evening. If you have already done do, thank you and there is no need to do it again. 🚀 We will send out additional information concerning drop off, pick up, etc before Wednesday. 🚀 If you have any questions, call our office, 918-696-7509, during the day or my cell, 918-797-0318 during the evening. We are looking forward to a challenging and exciting year!!
https://forms.gle/BLNmMQrsqgjJcGqP6