Oct 17 - 21 Mon 🚀 NO SCHOOL - Fall Break Thur 🚌 3/4 grade to Har-Ber Village 🏈 ORES playoffs, 6:00 at Maryetta vs Brushy, all admission is $6 Fri 🍿 Concession - reminder due to inflation, some prices will increase

October 2022 School Board Meeting Agenda and Payment Register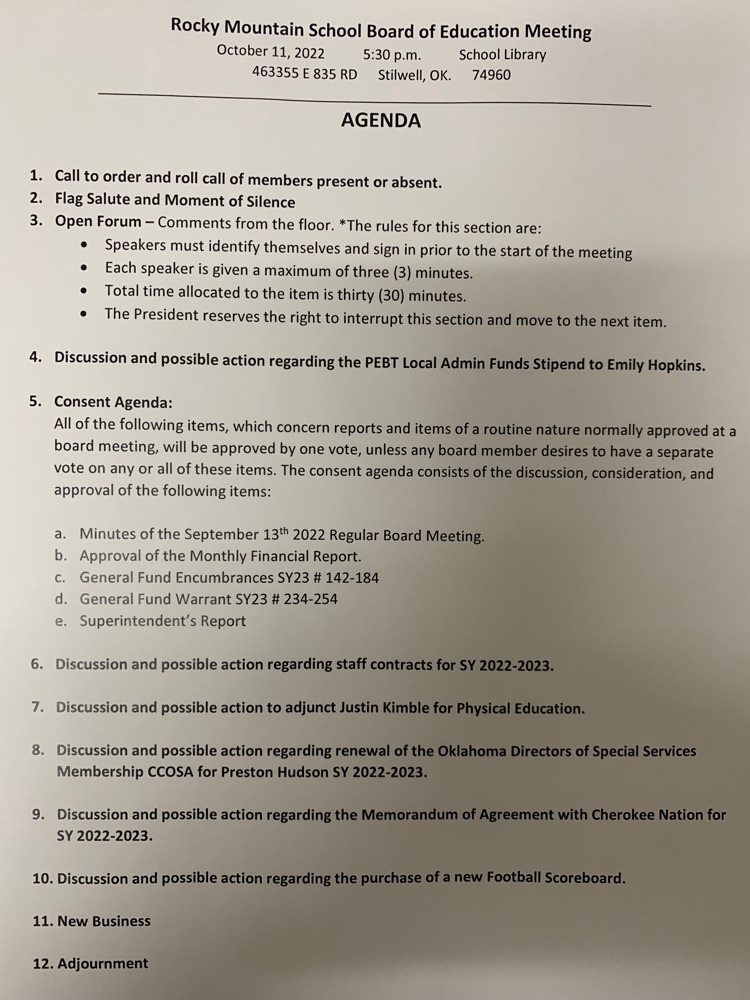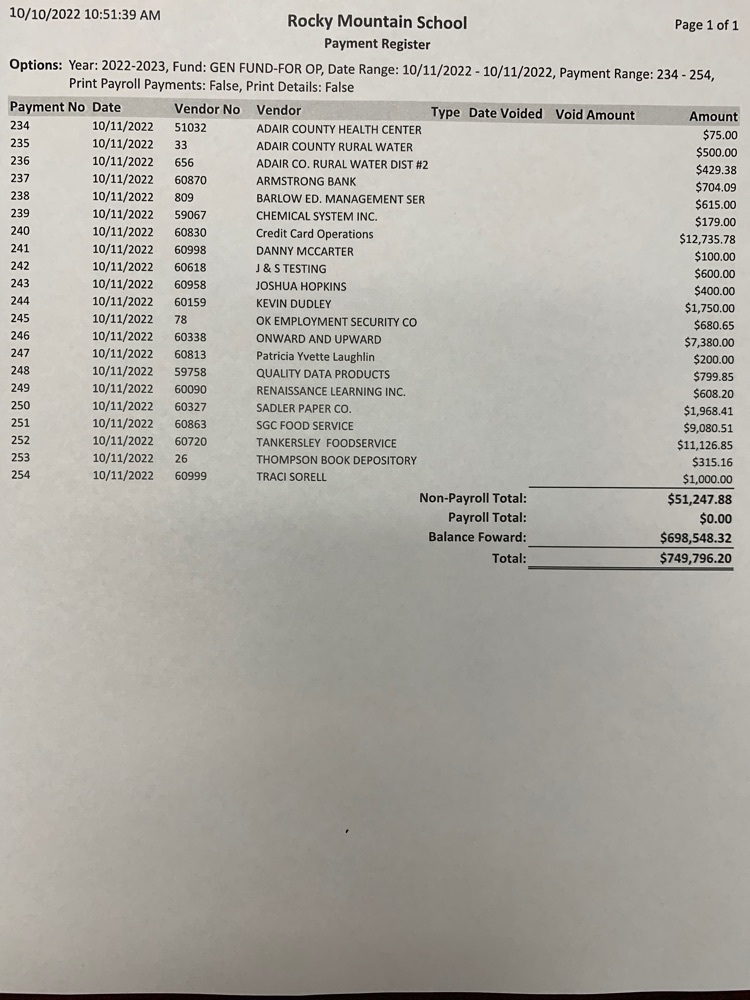 RMS Parent Teacher Conferences 😊 Remember, P/T conferences are today. If you did not make an appointment, please drop by before 7:30 PM. We would love to visit with you concerning your child's progress and needs.

RMS 8th Grade Reminder 🚀 If your child has been involved this year (8th grade) with Softball, Football, Cheer or Cross Country, we will be recognizing them along with their parents/guardians on the field prior to the 7/8 game. Please be on the visitor side a few minutes before the conclusion of the 5/6 game.

October 13-17 Thurs, Fri, AND Mon 😊 Fall Break, No School

Oct 10-14 Mon 🏈 Change in schedule!! 3-8 Football, home vs Brushy, 4:00, 3 games 😊 8th Grade Fall Sports Night, 8th graders who played Softball, Football, Cross Country, Cheer will be recognized on the field, along with their parent/guardian before the 7/8 football game Tues 🛑 NO Extended Care for PreK - 1st grade. Students should be picked up at 3:05 😊 P/T Conferences 3:05-8:05. Please call the office to make an appointment 🚀 Federal Programs Meeting, cafeteria, 5:00 🚀 JOM Parent Elections, cafeteria, 6:00 Wed 🚀 Cultural FamilyDay - cultural crafts, presentations, games, etc. for students and parents, 8:00-3:00, Indian taco lunch

RMS Reminder! 🛑 NO extended care Tuesday for PreK - 1st grade. Students need to be picked up at 3:05

Change on RMS Football game 🏈 due to conflicts for Brushy, 3-8 (3 games) will play MONDAY, Oct 10th, home, 3/4 will start at 4:00 🏈 This year we will honor 8th graders who participate in Football, Softball, Cross Country, Cheer and their parents/guardians on the field before the 7/8 game.

RMS Parents… ☎️ Our phones will be out of order, beginning about 11:00 AM for repair in the neighborhood ☎️ If you need to call and change your child's after school destination, please call before then. ☎️ If you need to communicate beyond 11:00, please use our school Facebook Messenger.

RMS Reminder 🍁 Fall Carnival tomorrow!! 5:30-7:30PM (Paved Parking Lot and New Gym) 🍁 Bingo, train rides, games, cotton candy, face painting, concession and more! 🍁 Meat Basket Tickets and Drawing, "Mayor of RM School" Election 🍁 Donation tickets for Chainsaw and Baby Quilt 😊 Be sure to bring your pop, cakes and country store items (if you haven't yet)

RMS 3-6 grade 🚌 Friday, 3-6 grade will attend the NSU Book Festival. Leave at 11:35, return at 3:00. Seats for this event are reserved for students and staff only. No money will be needed.

ESSER III Public Consultation Meeting Notice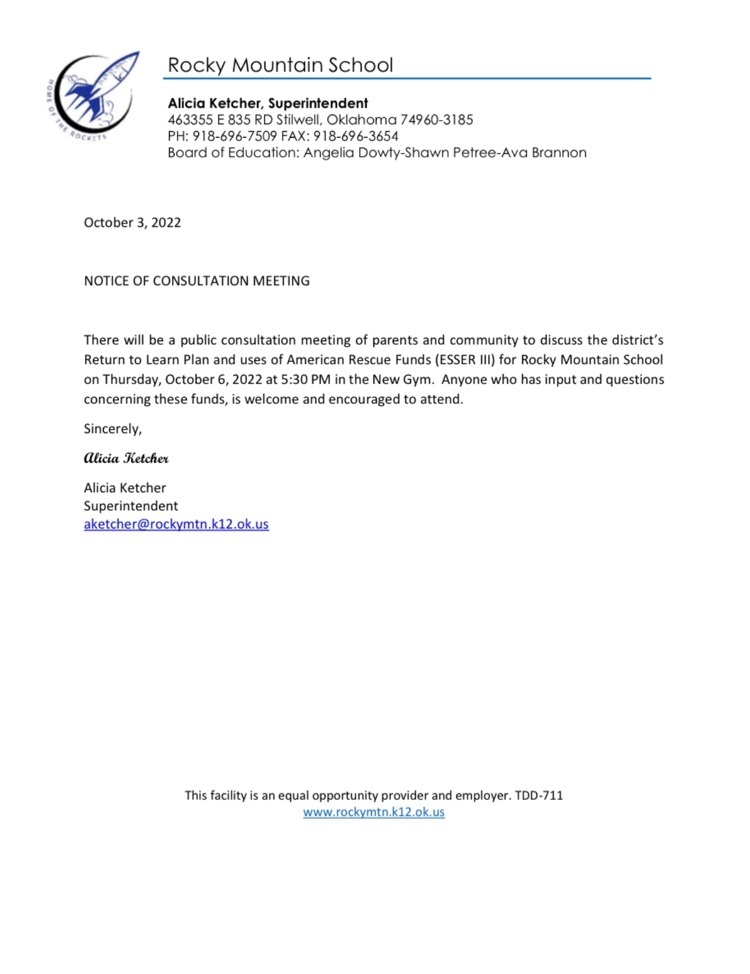 7/8 Washington DC parents 📆 Students received their calendar fundraiser today. Instructions are on the calendar. Once each day is claimed for donation, students should have $496. I will donate an additional $4 to each student who completely fills their calendar, making it an even $500 pure profit for your student! If you have any questions, please call the school.

RMS PK3 through 1st grade 🚀 Tues, October 11th, there will be NO extended care. Staff will have responsibilities with P/T conferences and ballgames. Please make arrangements for your child to be picked up at 3:05. Thank you!!

Thurs Cont. 🧭 Project Venture with Garrett until 5:00 Fri 🏃🏻‍♀️🏃🏻 ORES Cross Country @ North Rock Creek, 11:30 girls & 11:50 boys 🍿 Concession - due to inflation prices will increase

Oct 3 - 7 Mon 🦷 Dental forms due 📸 Picture orders due 📣 Mini Cheer Camp until 5:00 🏈 5-8 Football practice until 5:00 ⚙️ Robotics until 5:00 Tues 👚 Pink Out Day - Everyone wear as much pink as you can for school and ballgame 🦷 Dental Fluoride Treatment 🧭 Project Venture with Garrett until 5:00 🏈 5-8 Football vs Liberty, 5:00, 2 games 📣 Mini Cheer performance between FB games Wed 🍁 Carnival Items Due - note and text sent home 🏃🏻‍♀️🏃🏻 Cross Country @ Stilwell Carson Park Thurs 🏈 3/4 FB at Peggs, 10:00 🐟 5th and 8th to Baron Creek with Game Ranger 🍁 FALL CARNIVAL, 5:30-7:30, see FB posts

RMS Fall Carnival Reminder 🍁 October 6, 5:30-7:30 😊 Advertising info on our school FB Each student needs to bring by Wednesday ☑️ 2 - 2 liter pop ☑️ Item for country store ☑️ Cake or cookies - store bought or homemade 🎟 All Meat Basket tickets and money

October 2022 Menu and Calendar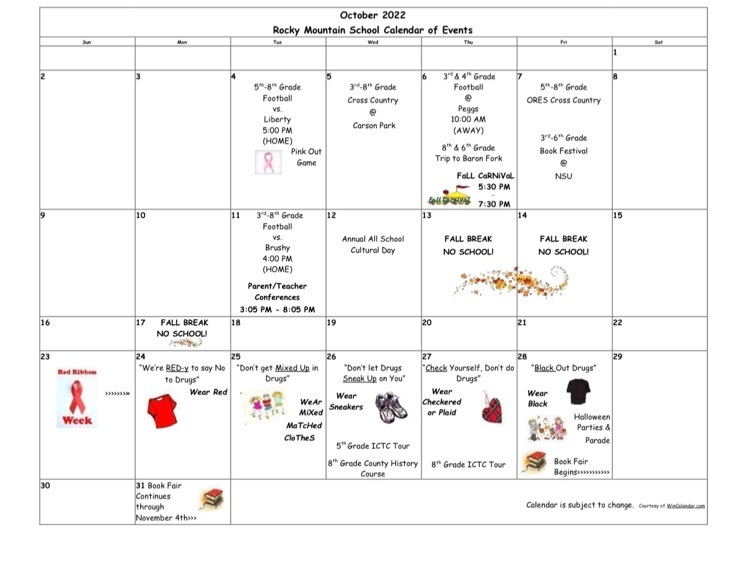 🚌🏈 Football bus has left Roland. Estimated arrival at school will be 9:20-9:30.

RMS 5-8 Parents 🏈 5-8 will be going to the homecoming parade tomorrow. They will leave about 12:40 and return by 3:00. They will have concession before they go. Because of timing, there will not be a store stop on the way back to school.