RMS 6th and 7th grade…… 🐷 REMINDER- Orders and money for Blue and Gold are due on Monday, November 29th! Take the opportunity to make a few more sales this weekend!!

Nov 22-26 🦃 Thanksgiving Break, no school all week Monday and Tuesday 🏀 7/8 boys and girls basketball practice, 12:00-2:00.

🏀 7/8 Basketball Practice 🏀 7/8 grade boys and girls basketball teams will be practicing in the gym Monday and Tuesday from 12:00 (noon) to 2:00 PM.

😊……Kids asked for it………😊 Pajama Day tomorrow!!! Pajamas must meet dress code. Forecast for tomorrow is 32-59 degrees.

3/4 Parents 🏀 Peave called and canceled the 3/4 basketball game tomorrow

3/4 Parents…. 🏀 Coach said games will start closer to 9:30

Tuesday 🎶 5-8 girls who signed up for Choral Festival will leave at 8:15. Your tshirts are at school. Performance will be at 1:30 in the Stilwell Performing Arts building. Parents are welcome to attend. 📣 6-8 grade Cheer practice until 4:30

RMS Cheer Camp for PreK - 5th grade….. 📣 Practice will be Thursday, Nov 18th after school until 4:30 📣Performance will be Monday, November 29th in New Gym at games with Cave Springs.

Nov 15 - 19 🐷 6/7 grade are selling Blue and Gold sausage $8, bacon $18, and chicken $22 Monday 🏀 5th - 8th b-ball at Norwood, 1:00, 4 games ⚙️ Robotics until 5:00 📣 Cheer until 4:30 📚 5-8 Homework help until 4:30 Tuesday 😊 No activities Wednesday 🏀 3/4 b-ball at Westville, 9:00 🚌 5-8 grade to AIRC Camp Sevenstar, 8:00-3:00 📚 Homework help until 4:30 Thursday 🏀 3/4 b-ball vs Peavine, home, 9:00 📣 PreK - 5th Cheer Camp until 4:30 (Rescheduled Performance will be Monday, Nov. 29th) Friday 🏀 5/6 b-ball Scrimmage at Stilwell, 12:00 November 22-26 🦃 Thanksgiving Break

3/4 parents… 🏀 basketball game tomorrow at Norwood at 9:00 🚌 Teachers will be taking all students. Those who don't play will get to go and watch the games. The bus will leave after breakfast and they will return after the games.

CANCELLATION - Peavine School called this morning and is cancelling the ballgames for this evening due to scheduling conflicts for them. - CHEER CAMP PERFORMANCE will be RESCHEDULED and we will get information to you ASAP. - Call our office if you need your student to change pick up procedures for after school. Thank you for understanding.

RMS Reminder........ Please have all students dress for the Veterans Day Program tomorrow at 9:00 AM in the gym. They can bring a change of clothes for after the program if you want. Our program will last about a total of 30 minutes. As always, Veterans and their families are welcome. Please contact family and friends who are veterans and invite them to the program. They can come early for donuts and coffee beginning at 8:30. We will be serving in the gym lobby. Parents, family and veterans will be seated on the gym floor and the home side of the gym. We hope to see you there.

November 2021 Board Meeting Agenda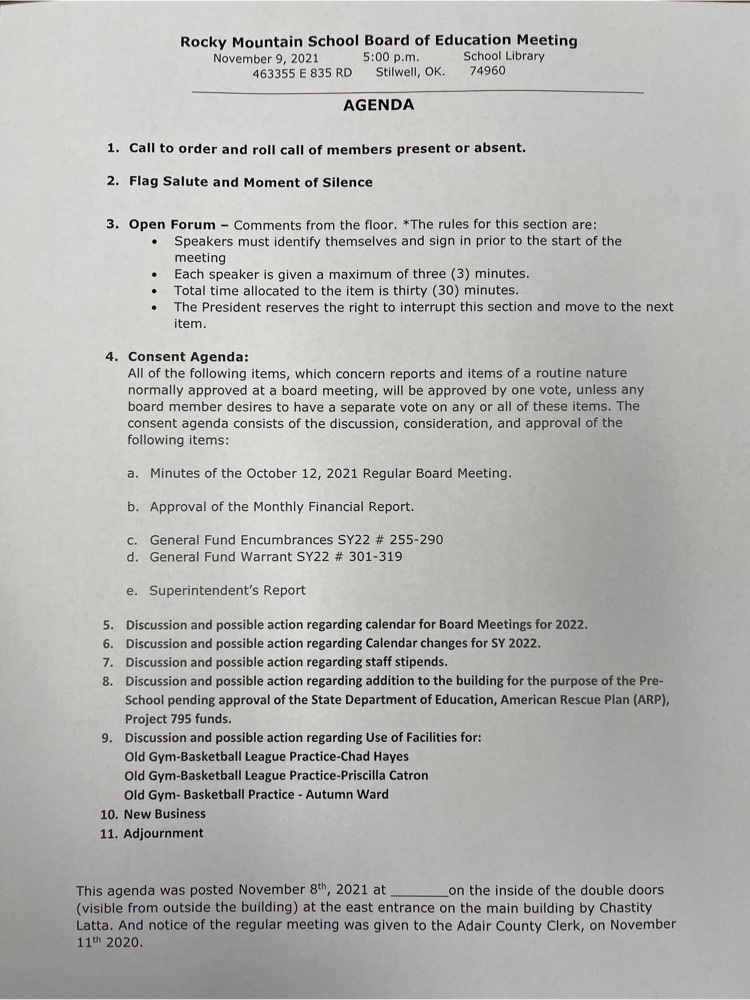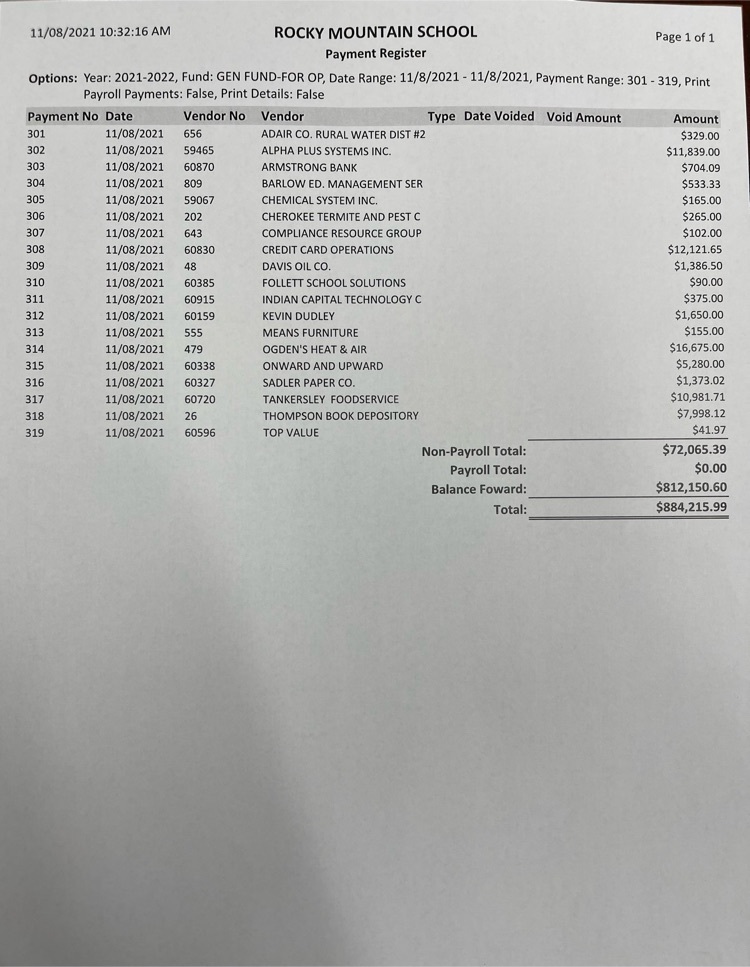 RMS Parents….. Buses will be running a few minutes late.

RMS 3/4 grade 🏀 Time change for Friday……3/4 grade will play basketball at Norwood beginning at 9:00.

RMS 5-8 Reminder…. 🚌 Devils Den tomorrow, 8:00-3:00 😊 Wear comfortable shoes and layers of clothing 😊 May bring a fishing pole and small amount of tackle/bait 😊 May bring items such as frisbee, football, etc 😊 School will provide a cook out lunch and plenty to drink 😊 Might stop at a convenience store on the way back so if they want, they can bring some money

RMS Nov 8 - 12 ⏰ You should have turned your clocks back last night. Mon 📣 Cheer Camp, PreK-5th that signed up, until 4:00 ⚙️ Robotics until 5:00 📚 Homework help until 4:30 🏀 7/8 b-ball vs Stilwell, home, 4:00 Tues 🚌 5-8 to Devil's Den State Park, 8:00-3:00 📣 Cheer Camp until 4:30 Wed 📣 Cheer Camp until 4:30 📚 Homework help until 4:30 Thurs 🇺🇸 Veterans Day Program, 9:00 AM, Veterans are invited to coffee and donuts from 8:30-9:00 🏀 7/8 b-ball vs Peavine, home, 4:00 📣 Cheer Camp will perform between ballgames Fri 🏀 3/4 bball at Norwood, 10:00

2021-2022 Basketball schedules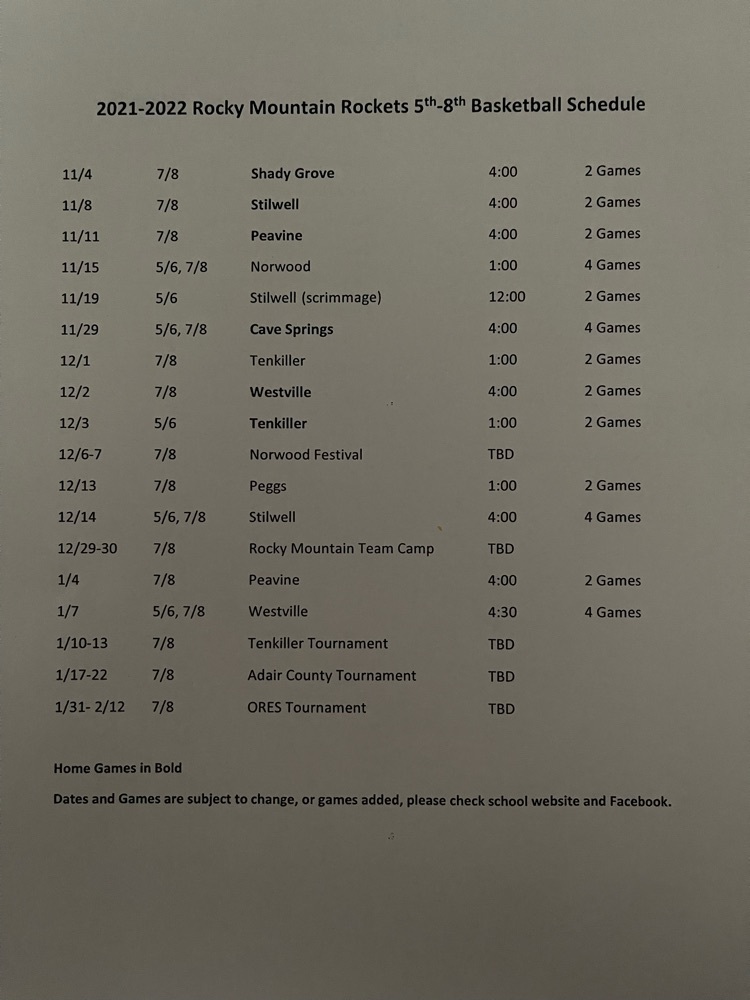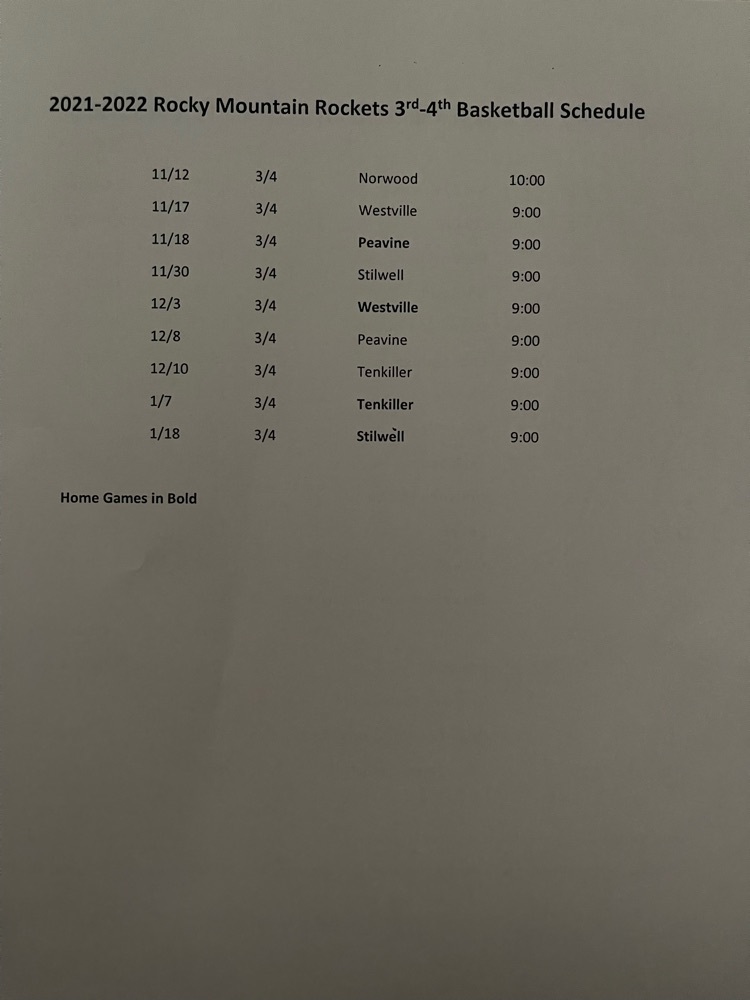 RMS recently applied for the Emergency Connectivity Funding Grant. Windstream contacted us and was able to provide the quick turn-around needed for the grant. We submitted every household address to them for possible approval for free internet service through June 2022. If your household was approved/qualified through them, a Windstream representative will be contacting you by phone or email within the next month. If contacted, they will let you know that they are cooperating with Rocky Mountain School and what is required for them to connect you to the free service. This information is so that you will know that it is not a scam and you are not obligated to receive this free service. This is a simply an opportunity for you through a government grant. If you have any questions, please do not hesitate to contact our office.

3rd and 4th parents.......... Reminder - trip tomorrow to Will Rogers Museum in Claremore. We will leave school at 8:15 and return before the end of the school day. A sack lunch will be provided for students and staff. Parents will be responsible for their own lunch and their own transportation. Looking forward to a great trip!