RMS Summer School…. Thursday Activities 🏀 Basketball Players will be staying with coaches for camp 🚌 Field trip will be to The Monkey House in Ft. Smith. Wear clothes comfortable for jumping! 🚌 No money needed from home 🚌 We hope to return by 2:00. If we are running late, we will send a message.

RMS 2022-2023 Incoming 5th - 8th basketball May 24 🏀 Girls practice 10:00 AM - noon 🏀 Boys practice noon - 2:00 PM May 25 and 26 🏀 Boys and Girls Basketball camp at RM All interested, come!

RMS "Summer Around the World" Summer School starts tomorrow, May 23rd! 😊 School hours, 8:00 - 2:00 😊 Extended Care, 7:00-5:30 😊 Report to Old Gym if you arrive before 8:00 😊 Breakfast and lunch will be served 😊 Leave cell phones at home 😊 Bus will run. Danny's morning route plan on same time as regular school. Jack's route will start from the school approx 7:15 and make loop toward Hwy 100 at county line. He will pick up at Caughman's approx 7:45. Times will be better estimated after first day. 😊 Field trips on Thursdays. Notes will be sent home each week concerning details. 😊 Free Community Covid testing each week, Mon - Thurs, 7:00- 7:45, New Gym Parking Lot

RMS….. 💻 If your household has qualified for internet service through The Emergency Connectivity Funding, you will receive a call from Windstream and they will offer you free internet services for a year. This is not a scam and wanted parents to know that this is a legitimate offer. Have a great weekend!

RMS Parents, Tomorrow is the last day of school. Each grade level will get to enjoy some time in a couple of bouncy houses and we will be having ice cream. Thanks for a wonderful school year!!

May 2022 School board agenda and Payment Register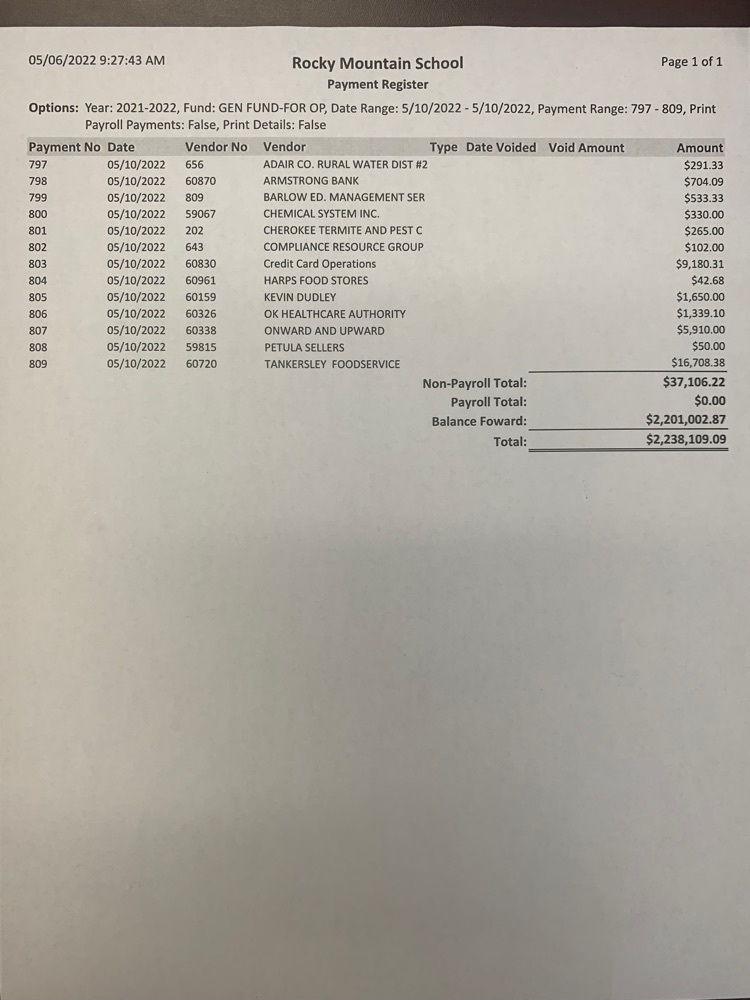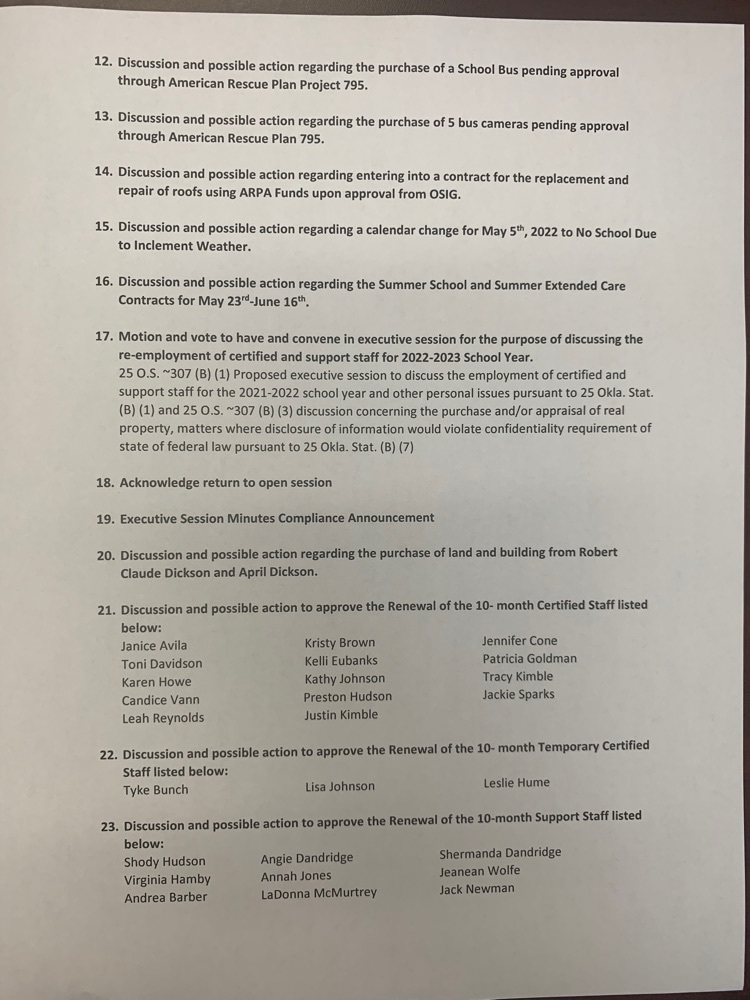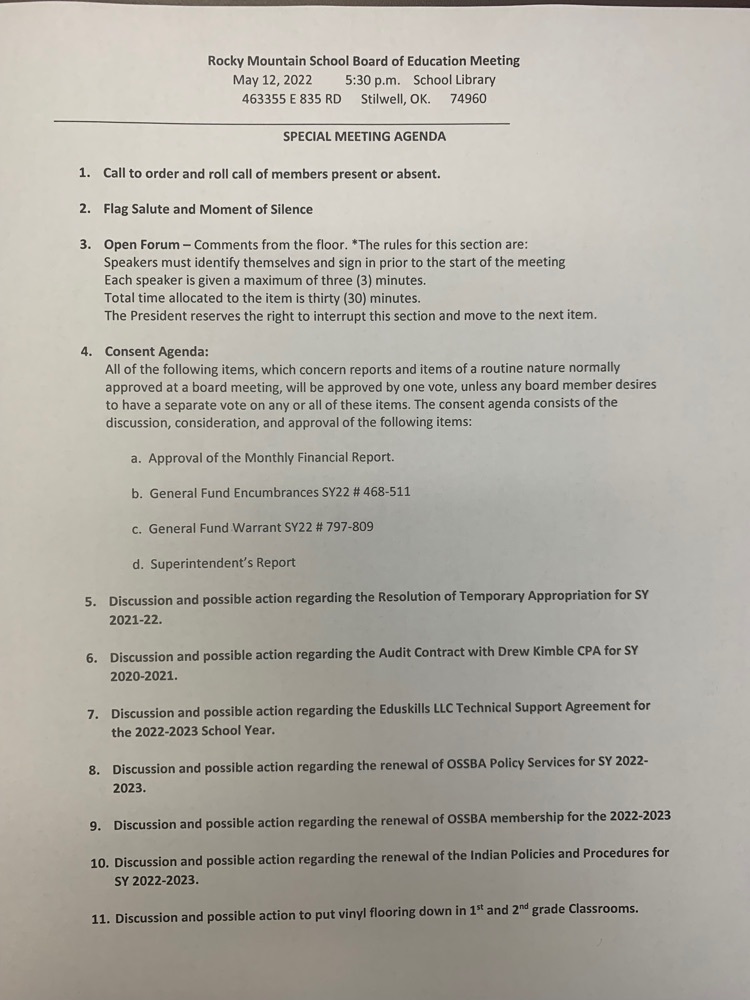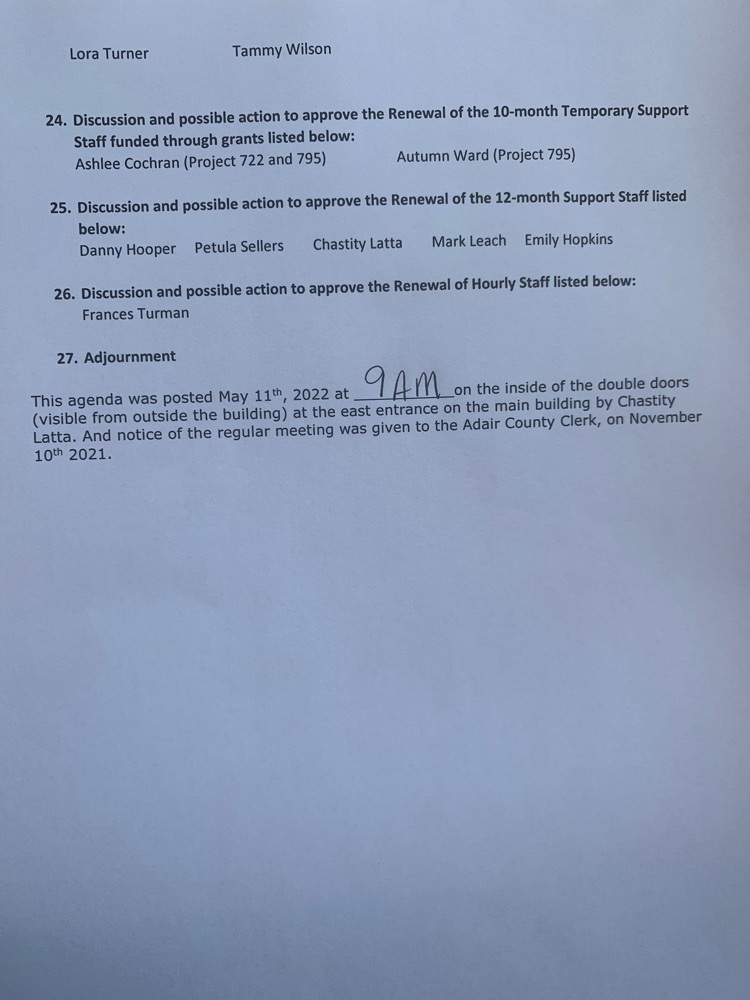 You are welcome to bring lawn chairs or sit in the bleachers. We just ask that you sit behind the white line on the gravel. Thank you

RMS Parents… 😳 The storm last week got our servers and phones. We hope to be back up and running before the end of the day. If you need to send a message, text my phone and I will check it from time to time. 918-797-0318 Have a Marvelous Monday!!!

May 9 - 13 LOCATE and RETURN IMMEDIATELY….. 🚀 Sports uniforms of all kinds 💻 Laptops, cases, chargers, etc 📚 Textbooks AND Library Books 💰 Fundraiser money and/or items Mon 🏆 T-1 - 4th Awards, 9:00, New Gym 🏆 5th - 8th Awards, 10:00 New Gym Tues 👨🏼‍🎓 8th Grade Graduation, 6:30 PM, Football Field Wed 👨🏼‍🎓 Kdg Graduation and Awards, 10:00 AM, New Gym 🚌 5th - 8th to Adair Park Thurs 😎 Last Day of School

RMS….. 😊 Multi-family yard sale tomorrow, May 7th in the Old Gym, 8:00 AM - 2:00 PM. Proceeds go toward 6th and 7th grade students' 2023 Washington DC trip.

6th and 7th grade parents…… 😊 Old gym will be open at 7:00 AM for anyone wanting to set up a yard sale booth. We will be open 8:00 AM - 2:00 PM 😊 if you are planning on setting up, please text me at 918-797-0318 so that we can have a floor plan in place. 😊 we probably have enough tables for everyone to have one. If you need more, please bring them. 😊You will run your own booth, change, etc and can deposit profits into your child's account at the end of the day.

8th grade 🚌change….Leave @ 7:00 AM, return @ 10:00 ish 🚌 breakfast, lunch, supper and Silver Dollar City ticket paid for 🚌 SDC until about 3:00, then to Branson Landing for shopping 🚌 Students will be in a supervised group, no free roaming 🚌 Bring money for anything extra you want to spend 🚌 Checks were dispersed on Wednesday for remaining fundraising account funds

RMS Updates for May 6th 🚀 School will be in session tomorrow. Buses will run and pick up students where possible. 🚀 Family Fun Day is CANCELED. 🚌 PreK and Kdg will be going to Tulsa Zoo from 8:15 AM - 5:30 PM. 🚌 8th grade will be going to Branson from 7:00 AM - 10:00 PM.

May 5, 2022 NO SCHOOL - Due to a power outage and flooding that has caused many roads to be impassable, there will be no school today. Stay safe!

RMS parents, If you or someone you know are a First Language speaker, please let them know that Cherokee Nation will be at our Cultural Day tomorrow to help anyone who meets the income guidelines to fill out paper for assistance with utilities. Please bring your tribal membership card with your registration number. It would also help to bring your social security award letter.

May 2022 calendar and menu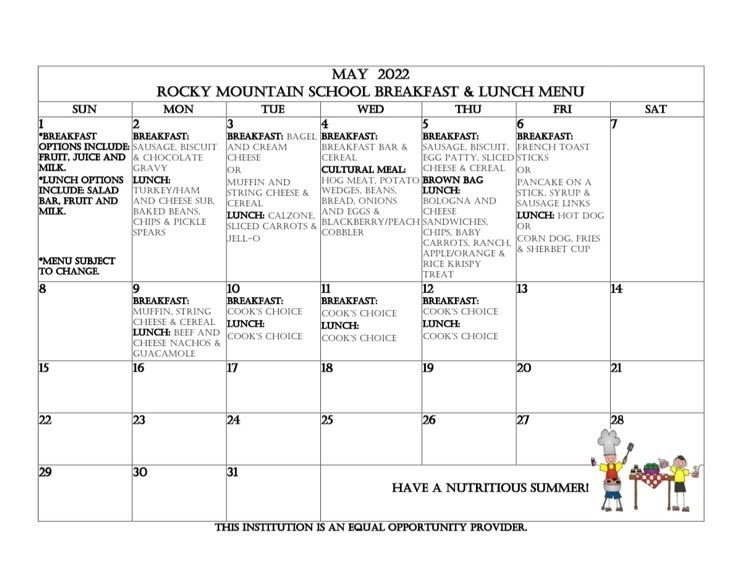 Important Updates for RMS….. 🚀 If you have not taken the technology survey, please do so.
https://bit.ly/3xaFgwJ
Due to weather…….. 😊 Cultural Day activities have been moved inside. All welcome. 😊 Family Fun Day is being moved to Friday. We know a few will be gone on trips but there is a 95% chance of rain on Thursday.

RMS Parents….. May 2 -6 is Teacher Appreciation Week 💙 Please take a few moments sometime this week and have your child create a Thank You card for their classroom teacher, coach, assistant, and/or granny. Cards from parents would be awesome as well. Gifts are great, but personal cards are the best!!! (They won't see this post unless they have students in school.) 💙 I assure you, if you truly realized all the things that go into making school happen each day, you would be astonished. RMS staff do everything so well, that to the untrained eye, they make it look like it's a cake walk. They are here to make a positive difference in the lives of others 24/7. 💙 Help show RMS Staff some love this week!

May 2-7 😷 Free Covid testing each day, 7:00-7:30 AM, new gym parking Mon 📣 Cheer until 4:30 Tues 🚌 State Track to Rogers Wed 😊 Cultural Day - special invitation to Cherokee speakers Thurs 😊 Family Fun Day, Football Field/Track Fri 🚌 Pre 3, PreK 4, and Kdg to Tulsa Zoo, 8:30-5:30 🚌 8th to Branson, 6:00 AM to late Sat 😊 Indoor Yard Sale , 8:00 AM -2:00 PM, Old Gym - 6-7 graders will have booths to raise funds for Washington DC trip

ATTENTION RMS Families….. LOCATE and RETURN IMMEDIATELY….. 🚀 Sports uniforms of all kinds 💻 Laptops, cases, chargers, etc 📚 Textbooks AND Library Books 💰 Fundraiser money and/or items