RMS Parents…… 😷 The virus season ( flu, strep, RSV, stomach bug) has hit not only our school but the area and state as well. We are disinfecting and doing any additional measures possible to keep the spread to a minimum at school. 😷 Remember to keep your child home if they are running a fever, vomiting or have diarrhea. They should be symptom free for 24 hours before returning to school. Many times those symptoms don't start until after they get to school. If so, we will call you. 😷 Encourage your child to bring their water bottle instead of using the fountain. 😷 If your child is sick and staying home, please call the office so it is documented correctly. 🙌🏻 Thank you!

Friday, Nov 4th 📚 Last day for Book Fair!!! Library will be open from 8:00 AM -1:00 PM 🍿 Concession

2022-2023 Basketball Schedule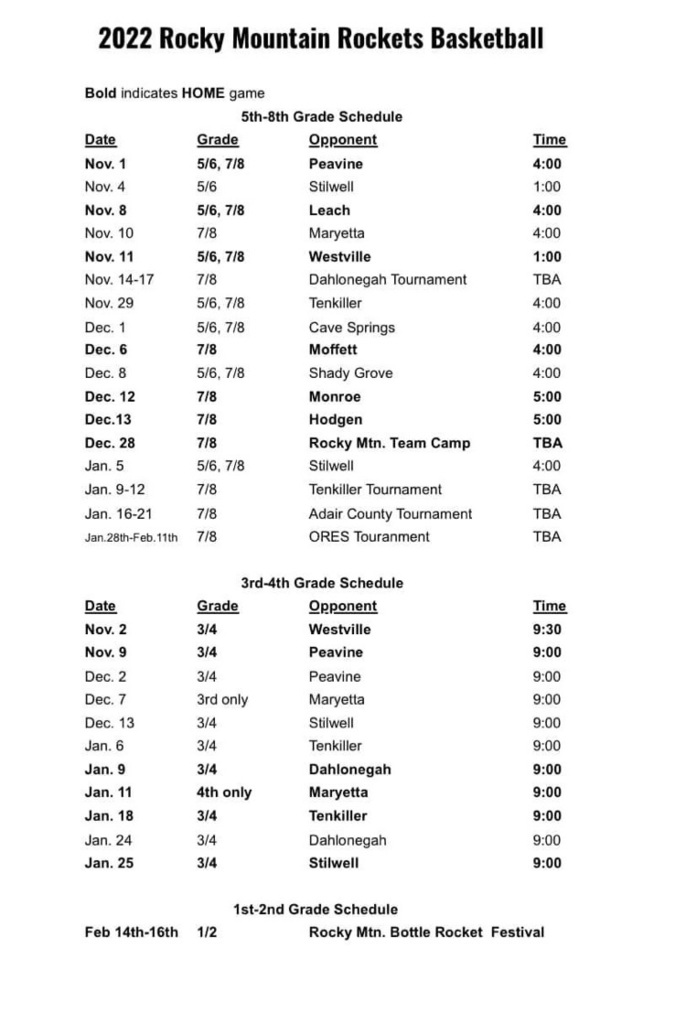 November Calendar and Menu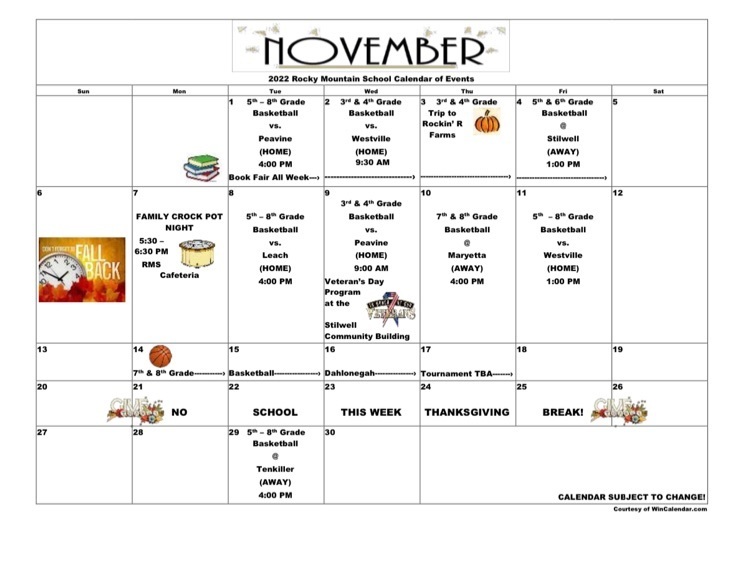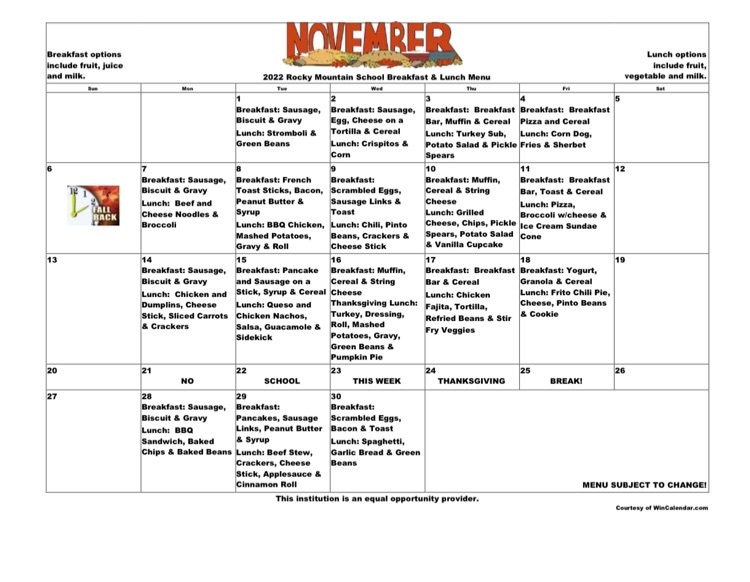 Oct 31-Nov 4 📚 BOOK FAIR ALL WEEK!! Mon 🚌 5-8 to Devil's Den State Park 🚀 8th grade calendar fundraiser due ⚙️ Robotics until 5:00 📚 Book Fair Tues 🏀 5-8 B-ball vs Peavine, home, 4:00, 4 games 📚 Book Fair Wed 🏀3/4 B-ball vs Westville, home, 9:00 📚 Book Fair Thurs 🚌 3/4 to Rockin R Farms 📚 Book Fair Fri 🏀 5/6 B-ball at Stilwell, 1:00 🍿Concession 📚 Book Fair

5-8 RMS Parents 🚌 Monday, Oct. 31st we will be taking 5-8 grade to Devil's Den State Park for a fun-filled day of fishing, hiking, playing games, hotdogs, s'mores and more! We will leave at 8:10 and return by 3:00. 🍁 The students don't know because we have been watching the weather so please tell them to wear tennis shoes (closed toed) and dress in layers. May even want to bring extra shoes and socks? 🍁 They may bring fishing gear, footballs, frisbees, blanket to sit on, etc. 🍁 We will furnish hot dogs, chips, s'mores, etc. 😊 It will be a beautiful fun-filled day!

🏀 RMS Basketball Schedule posted on school Facebook 🏀 5-8 basketball girls practice tomorrow until 4:15

RMS Robotics ⚙️ Since the game got changed, we will have Robotics TODAY until 5:00.

ORES Update 🏈 All ORES games have been changed from Monday to Tuesday. 🏈 RM will play Zion TUESDAY at Briggs at 6:00 PM 🚌 Players and cheerleaders will leave at 4:30

Fri 🛑 Black out drugs - Wear BLACK until costume time

Fri 📚 Book Fair starts today!! 🚌 K-4th to Senior Nutrition Center to provide them a costume parade 🎃 K- 8th Costume Parade and Contest, 1:30, New Gym. Community welcome!! 🎉 Class parties as scheduled during the day

Oct 24-28 🛑 RED RIBBON Week!! Mon 🏈 ORES Semi-Finals, play Zion @ Briggs @ 6:00 🚌 FB and Cheer will leave at 4:30 🛑 We are "RED"y to be drug free - Wear RED Tues ⚙️ Robotics until 5:00 📣 Cheer until 4:30 🛑 Don't get mixed up on drugs - Wear MIXED MATCHED clothes Wed 🚌 5th grade to ICTC 🚌 8th grade to Adair County History Tour 🛑 Don't let drugs sneak up on you - Wear SNEAKERS Thurs 🚌 8th to ICTC 🛑 Check yourself, don't do drugs - Wear CHECKERED or PLAID

RMS Reminder 💉 FREE flu shots provided by Cherokee Nation today from 2:00-4:00 in our school library for ALL COMMUNITY. No appointment needed.

🏈 ORES football tonight playing Brushy, 7:00 PM at Maryetta 🏈 Admission is $6, we are home team 🏈 No one other than players, coaches and cheerleaders on track or field 🏈 Make some noise FOR our team! Go Rockets!!

RMS News 🚀 Tomorrow, 7/8 Football participate in ORES playoffs. Everyone show your support and school spirit by wearing Rocky Mountain clothing and/or colors to school!! Go Rockets! 💉 Fri, Oct 21st - FREE flu and/or Covid booster for ALL COMMUNITY, 2:00-4:00 PM

7/8 Washington DC 2023 🇺🇸 Calendar fundraiser reminder!! It should be completed and turned in by the end of the month. This is 100% profit for your account and will cover more than your next payment. 🇺🇸 Next payment of $371 is due by Nov. 1st 🇺🇸 November fundraiser will be RADA Cutlery. 🇺🇸 Christmas gift idea…..ask for money toward Washington DC from family members who buy gifts.

3/4 Grade 🚌 Reminder - if you have not already, bring $5 for the trip to Har-Ber Village 🚌 Trip will be Thursday. School lunch will be provided for students. Will return by 3;00

🏈 Football practice players can be picked up. Practice done a little early. 🏈 Correction on game time. We play Thursday at 7:00PM

📣 RMS Cheer practice Tuesday until 4:30. 📣 Will be cheering at the game on Thursday at Maryetta

RMS football practice for the 7/8 team Monday 🏈 noon - 2:00 Tuesday AND Wednesday 🏈 until 4:00