School Board Meeting Agenda April 2021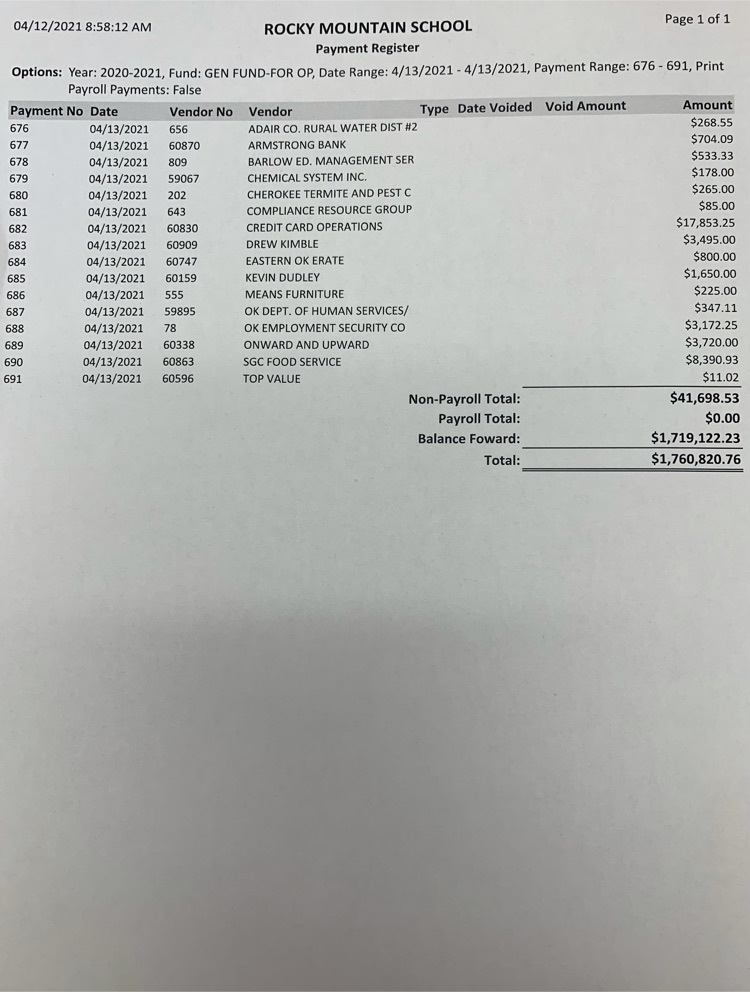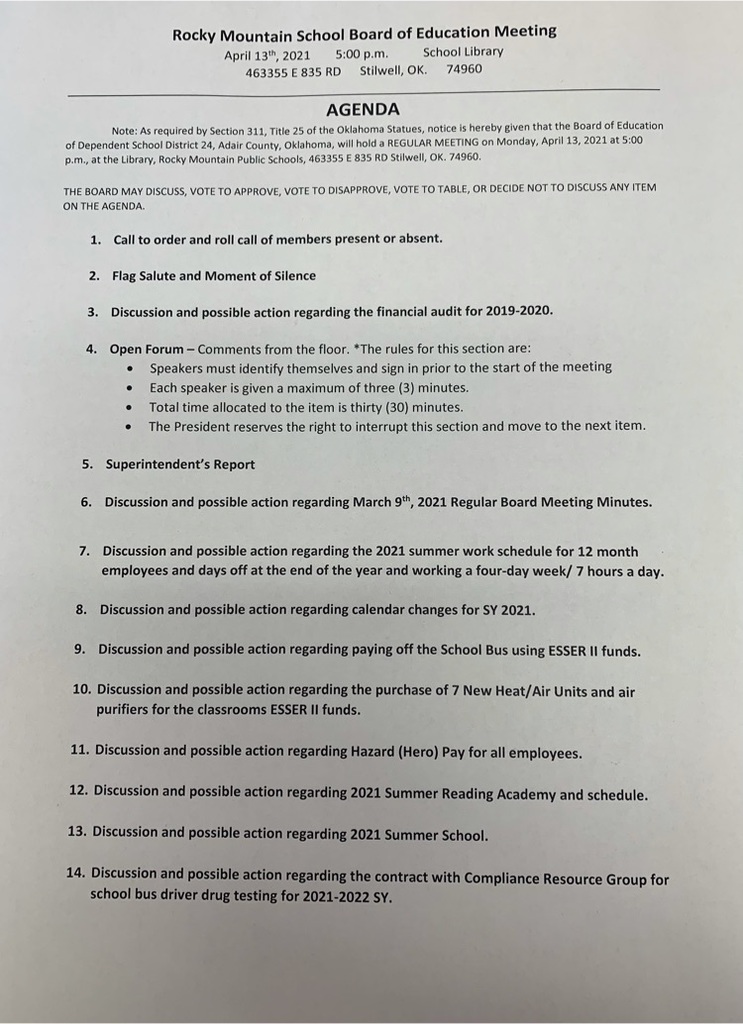 RMS April 12 - 16 🍱 ALL students are eligible for the summer food program through Cherokee Nation but you must sign up online. All students brought a flyer home. It is also posted on our school FB. You only need to complete the boxes with an asterisk. Monday 🚀 Virtual student meal pick up and homework exchange, 10:00-10:30 🦷 Fluoride treatment for all students who return permit form. If you haven't anyone who has not returned a form received another one on Friday. 📚 5-8 Homework help with Mrs. Reynolds, 3:05 - 4:30 Tuesday 🚀 5-8 Adair County Track @ Stilwell, 8:45 📚 5-8 Homework help with Mrs. Reynolds, 3:05-4:30 Thursday 🚀 5-8 Regional Track at Claremore Sequoyah Friday 🚀 Dress Up Day - Wear All One Color

RMS April 5-9 🚀 8th grade bring baby/toddler pictures to Mrs. Brown Monday 🚀 Virtual student meal pick up snd homework exchange 🚀 5-8 grade tutoring/homework help, 3:05-4:30 Tuesday 🚀 5-8 grade tutoring/homework help, 3:05-4:30 Thursday 🚀 5-8 Track @ Stilwell, 9:00 Friday 🚀 Wear Red, White, Blue

RMS 8th grade, remember to get baby/toddler pictures to Mrs. Brown ASAP.

RMS Reminder.... Thursday 🐣 PreK - 4th Egg Hunt, students only - no guests, bring 6-12 candy filled plastic eggs and a basket for hunting. 🍿 PreK - 8th Popcorn and PopTreat 📚 Last day for Book Fair Friday 🐰 No School - Easter Break

April 2021 Calendar and Lunch Menu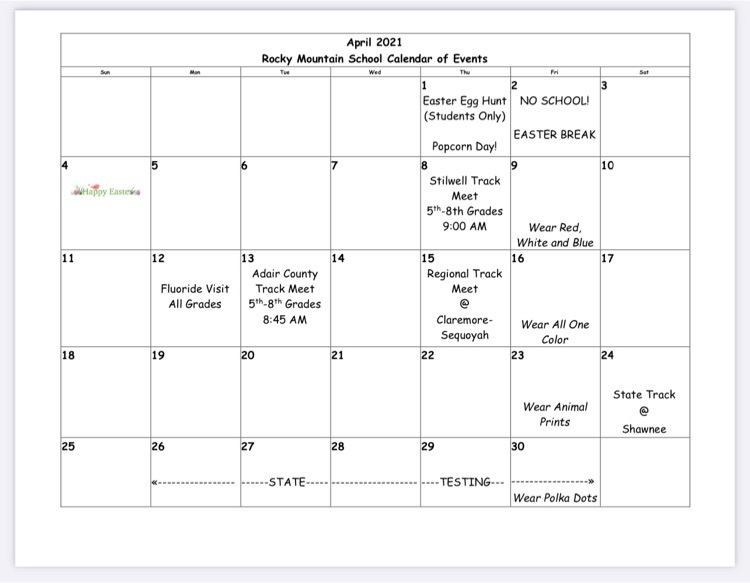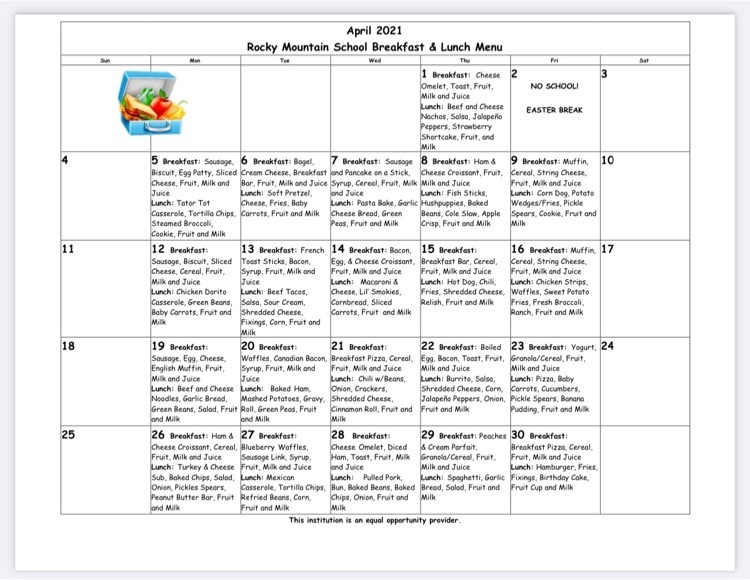 RMS Virtual meal pick up and homework exchange will be Monday morning from 10:00 - 10:30.

RMS March 29 - April 2 Monday - Thursday 📚 Book Fair - book prices start as little as $1.00! Students were given flyers and have previewed the sale already. Due to Covid protocols, only students allowed. If you want your student to spend their money on books only or on certain items, please send a note with their money. If you have any questions, please call the office. Thank you for encouraging your child to love reading!! Tuesday and Wednesday 🚀 5-8 grade after school tutoring/homework help, 3:05-4:30 Thursday 🐰 PreK - 4th grade Easter Egg Hunt, Students Only, each student bring 6-12 candy-filled eggs and a basket 🎉 PreK - 8th grade Pop and Popcorn treat Friday 🐣 No School - Easter Break

RMS...... Friday activities 🚀 Wear black and white dress up day 📚 Students will preview the Book Fair. They will be able to purchase items all next week. Students only allowed in library. 🐣 Next Friday, April 2nd, No School - Easter Break

RMS.... If you want to order spring pictures, please send the proofs, order form, and money to school by tomorrow.

RMS families.... We hope everyone enjoyed spring break and are ready to be back in school tomorrow! Remember, if you arrive before 7:35 AM, please drop your child off at the old gym. 7:35-8:00 drop off will be at the building doors. We look forward to seeing everyone!

ALL RMS Parents..... The Cherokee Nation Summer Nutrition Program is now accepting applications for the Summer EBT for Children program. This year, parents will need to apply. Just click the link to get started.
https://health.cherokee.org/public-health/women-infants-children/sebtc/
The deadline to apply is April 14th, by 5:00 p.m. THIS FEDERALLY FUNDED PROGRAM IS AVAILABLE TO ANYONE; YOU DO NOT HAVE TO BE AMERICAN INDIAN TO QUALIFY. Qualifying families will receive approximately $30 of free food per child per month for May, June and July. Benefits are on an EBT card (works like a debit card) that allows you to purchase healthy food for the summer. Participation in this program will have no impact on other government assistance that you and your child receive. Information provided by you on the data spreadsheet or any records obtained for this program will be kept confidential as required by law and will be used only for this project. Once approved, Summer EBT cards will be mailed to the address provided along with a list of participating stores and a food card (shopping list) that will help you identify approved food items. Families with questions can call Cherokee Nation SEBTC at (539) 234-3265 or (800) 256-0671 ext. 5589 between 8 a.m. and 5 p.m., Monday through Friday with questions.

March 2021 School Board Meeting Agenda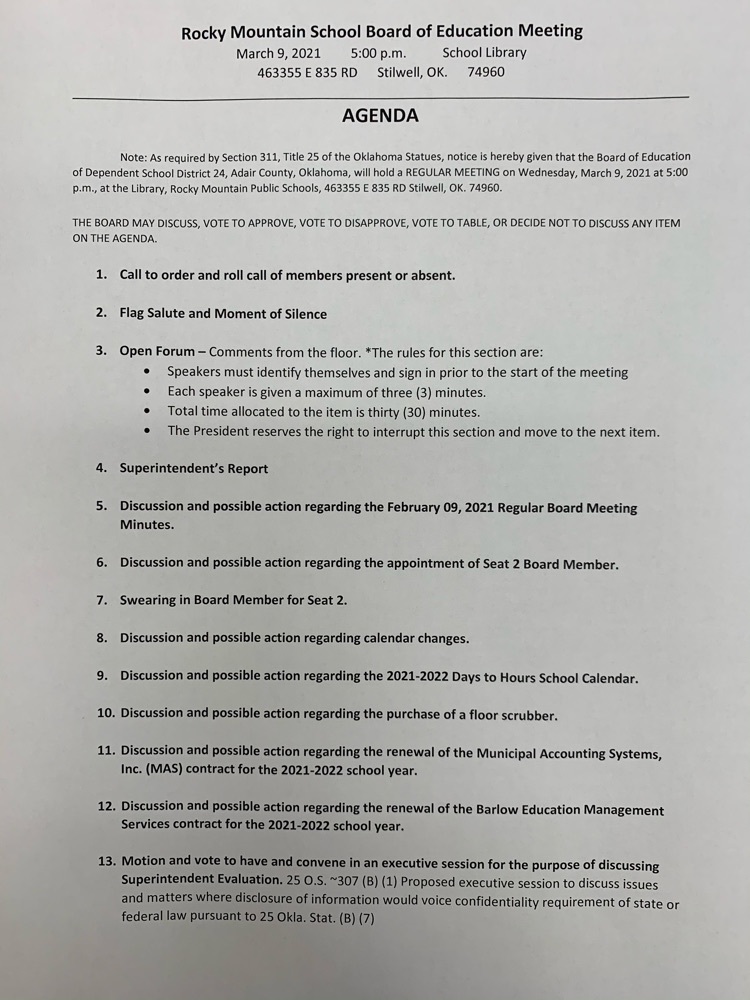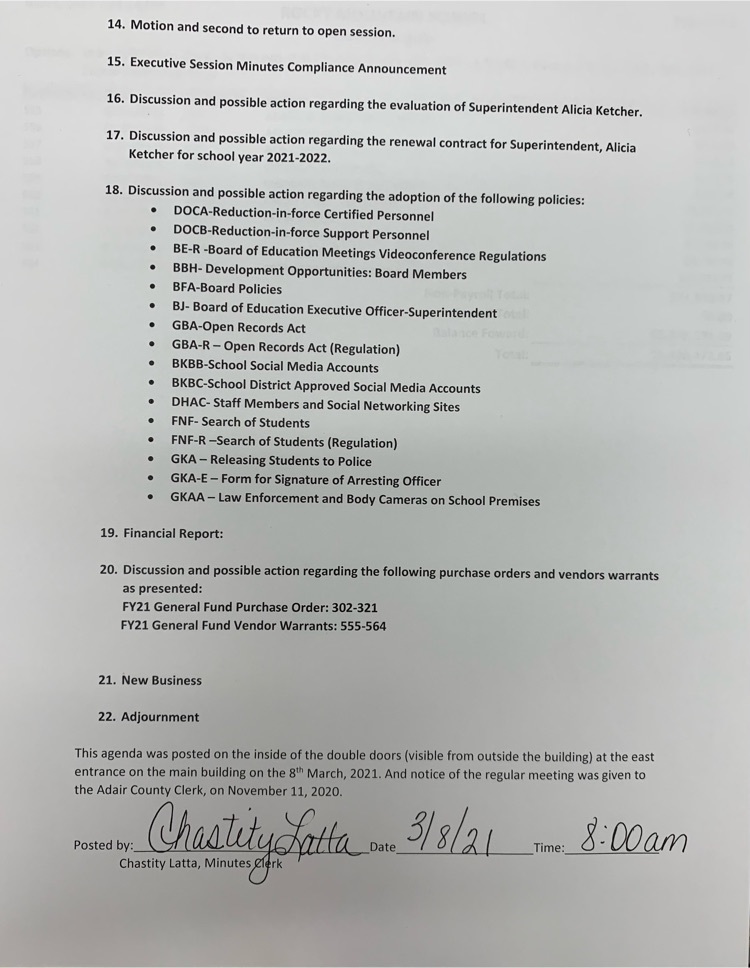 RMS March 8-12 🚀 Parent Conference Week - Teachers will call parents to update you concerning your child's progress. No on-site conferences. Monday 🚀 Virtual student meal pick up and homework exchange, 10:00-10:30 📚 5-8 grade homework help w/ Goldman and Reynolds Tuesday 📚 5-8 grade homework help w/Goldman and Reynolds Thursday 💚 Wear Green Day 🚀 Pre-Enrollment for Pre-K 3's and 4's, 3:30-7:30, cafeteria (see Facebook post) ❤️ Community sponsored Suicide Prevention/Awareness Rally, 5:30 PM, Kiwanis Stage and Fletcher Park Friday 😊 No School (Parent conferences will be during the week by phone) March 15-19 💐 Spring Break - No School

RMS Parent reminders..... 📸 Tomorrow is Spring Picture Day. We will also take class, basketball and cheer photos. 📚 Friday is the end of the 3rd 9 weeks. All assignments January 4- March 5 are due 🔷 Friday is Backwards Day - wear your clothes backwards

Remember, wear you favorite hat tomorrow to celebrate "Hats Off to Reading" in honor of Read Across America Day!

RMS March 1 - 5 🏀 All basketball suits need to be turned in by Wednesday ‼️ End of the 3rd 9 Wks. Most 5-8 students have assignments that need to be turned in. Several chose not to do all their lessons during distance learning days. Homework Help will be available Monday and Tuesday after school. All assignments are due Friday. Monday 🚀 Virtual student meal pick-up and homework exchange, 10:00-10:30 🔷 5-8 grade Homework Help w/Ms. Goldman, 3:05-4:30 Tuesday 📚 Read Across America Day, "Hats Off to Reading", wear your favorite hat 🔷 5-8 Homework Help w/ Ms. Goldman and Mrs. Reynolds, 3:05-4:30 Thursday 📸 Spring Picture Day - individual, class, basketball, cheer. Virtual students who want individual pictures, please come between 9:00-10:00 and we will work you in. You must wear a mask while waiting. Friday 😊 End of 3rd 9 Weeks - all assignments are due. 🍦 End of 9 week celebration with ice cream 🚀 Dress Up Day - Wear your clothes backwards

RMS Feb. 22-26 Monday 🚀 Virtual student meal pick up and homework exchange ❤️ Valentine parties - send valentines and store bought snacks 📚 5-8 Homework Help with Mrs. Reynolds, 3:05-4:30 Tuesday 5-8 Homework Help with Mrs. Reynolds, 3:05-4:30 Wednesday and Thursday 🔷 No activities Friday 🚀 Wear Flannel Day!

RMS Parents...... As you are well aware, the backroads and individual driveways continue to be an issue for safe transportation within our district. Honestly, it doesn't look to improve before the weekend. Plus the morning temperatures will be bitter cold. Rocky Mountain School will be distance learning for Thursday, February 18th and Friday, February 19th. Students should log in and complete lessons assigned for both days. We will return to in-person learning Monday, February 22nd. Stay safe and warm.

Correction RMS parents...... Due to weather, backroad conditions, and temperatures, RMS will transition to Distance Learning for Wednesday, February 17th. Students will log in and complete assignments that are listed on their tablets or laptops. Students/parents can message teachers with any questions. You may also contact me on my cell at 918-797-0318 if you need help with anything. We will continue to monitor the conditions each day and make a decision accordingly. Stay warm and safe!