CORRECTION!!! (My brain is on break????) 🏀 Games are on Wednesday and Thursday!! Glad I have 20 people to immediately set me straight! Thanks!!

RMS Reminder… 🏀 7/8 basketball festival tomorrow and Wednesday, 10:00-2:00, both gyms

January 2022 Menu and Calendar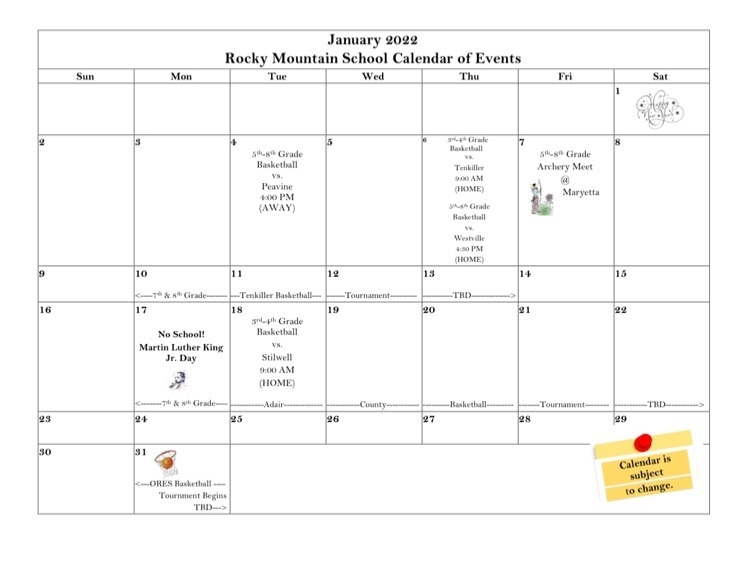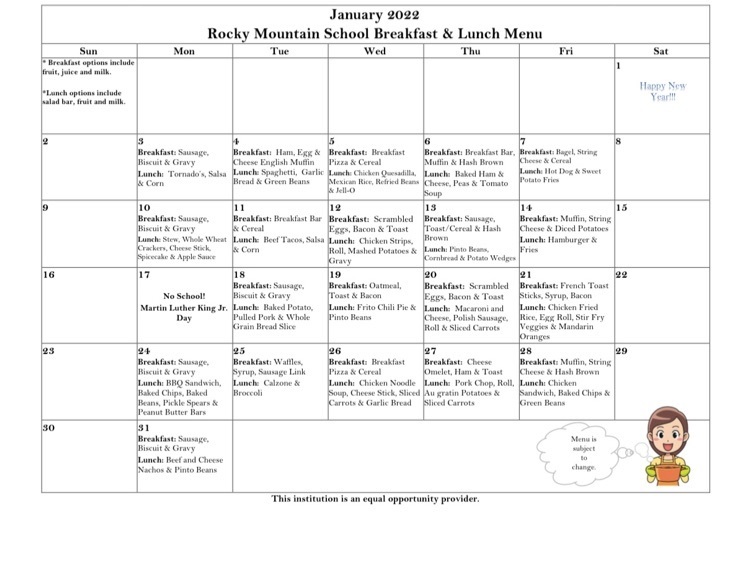 December Counselor Newsletter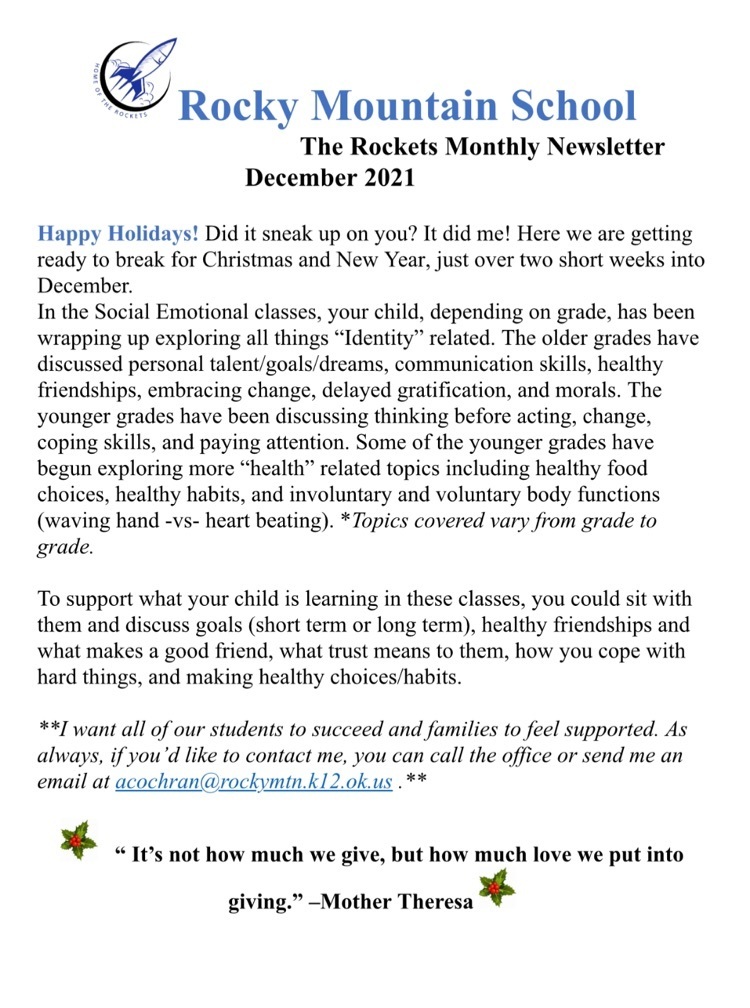 Reminder that the RMS Christmas Program will be this evening at 6:30 PM. Doors will open at 6:00. 🎄 Students need to be seated on visitor bleachers by 6:25. If your child is a reindeer or part of the nativity, please have there about 6:15 in order to get in costume. 🎄 Parents/families will be seated on the home side or in chairs on the floor. 🎄 Program will last approx 35 minutes 🎁 Students will receive their gifts AFTER the program.

6th and 7th parents, We have boxes of World's Finest Chocolate for students to sell as their next fundraiser for the Washington DC trip. Candy bars sell for $1 each. This will be a great time to sell as students go to family gatherings or parents may want to sell them at work. If you want your child to check out a box to sell, please send them with a note or call our office to let us know.

December 2021 Board Agenda and Payment Register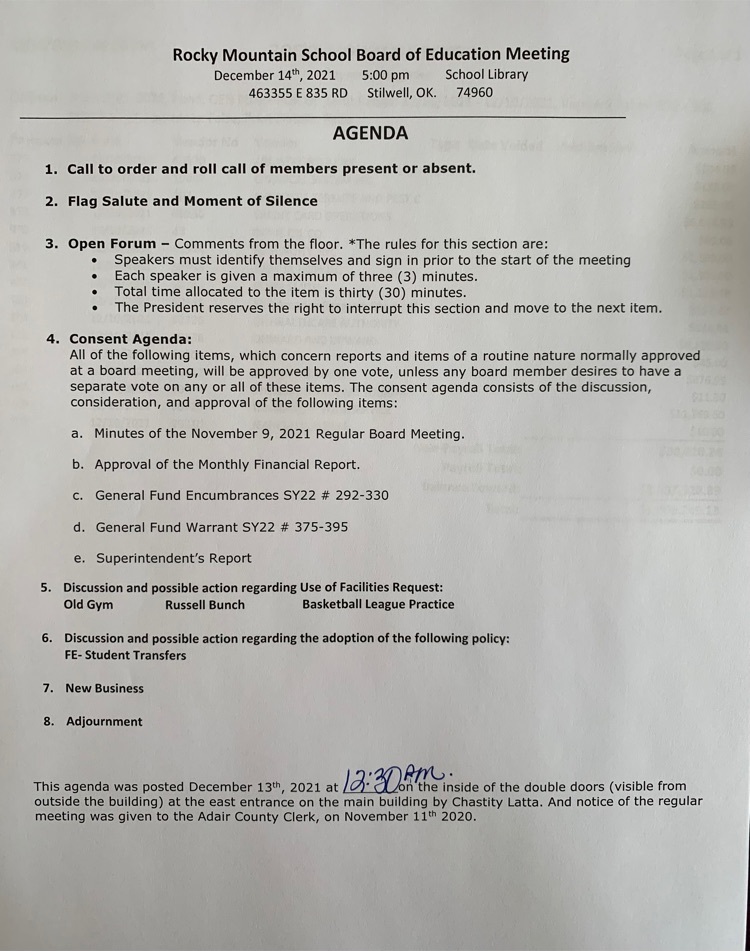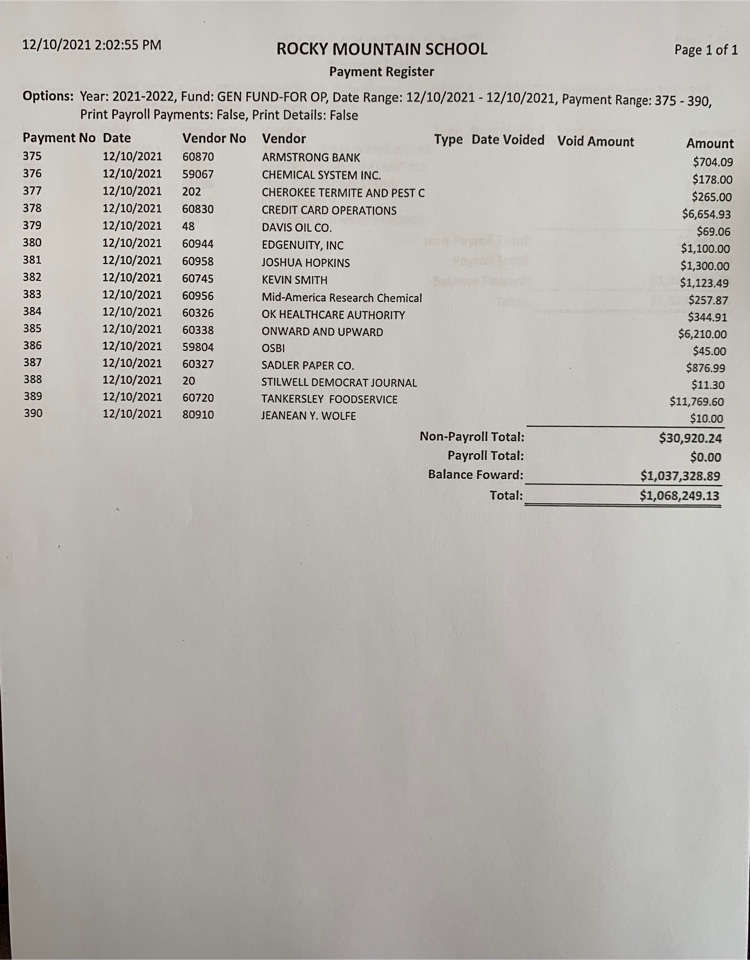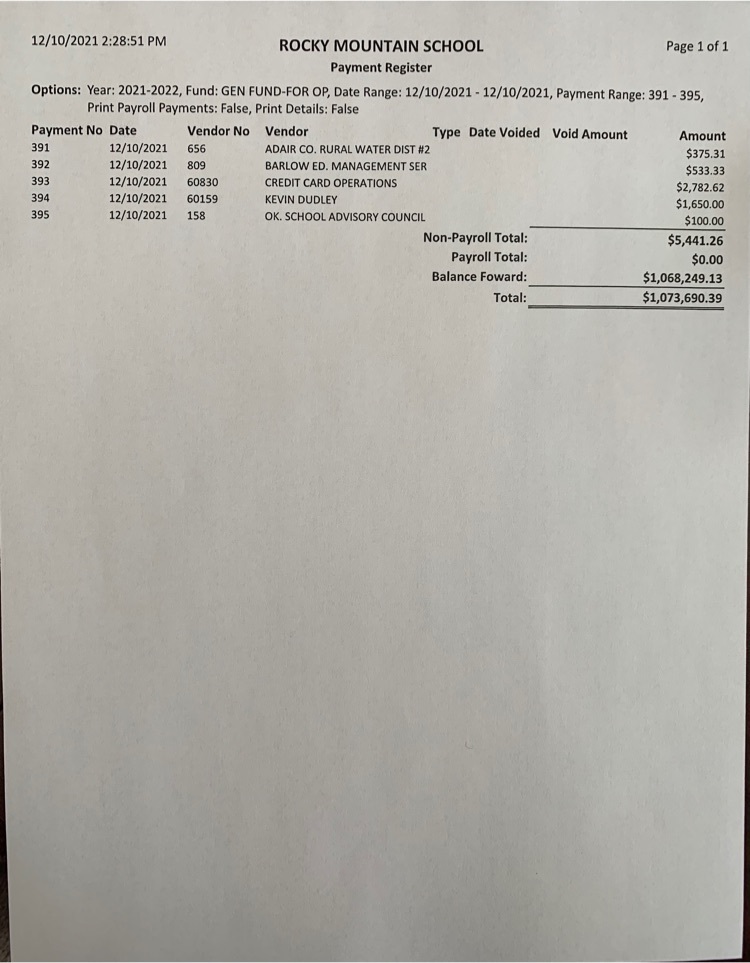 RMS Reminder 🦷 please send signed fluoride treatment forms with your child today

Dec 13-17 Busy week! Please read all info! Mon 🎄 Wear Cozy Socks and/or Slippers 🦷 Flouride Treatments on-site. Return signed forms! 🏀 7/8 B-ball @ Peggs, 1:00 ⚙️ Robotics until 5:00 📚 Homework Help until 4:30 Tues 🎄 Wear Blue and White 🏀 5-8 b-ball @ Stilwell, 4:00 Wednesday 🎄 Wear Christmas Hats, Headbands, Hair or Scarf Thursday 🎄 Wear Pajamas - Christmas or Not 🎶 Christmas Program, 6:30, New Gym. (About 45 min) 🎁 Students will receive their gifts AFTER the program Friday 🎄 Wear Red, Green and White 🏀 5/6 b-ball @ Stilwell, 12:30

🏀 3/4 grade basketball will play tomorrow at Tenkiller at 9:00

PK3 - 4th grade…. 🚂 Reminder that we will be traveling to Van Buren tomorrow to ride the Christmas Train. The students do not need any extra money. School will provide lunch. We will leave by 9:00 and return by 3:00.

🚂 CORRECTION Train ride is $8.

Dec 6-10 Mon 🐷 6/7 grade - parents pick up Blue and Gold beginning at 2:30. 🚂 PK3 - 4th, turn in $6 for train ride ⚙️ Robotics until 5:00 📚 Homework help until 4:30 🏀 Canceled - Norwood Festival Tues 🏀 5th - 8th b-ball at Leach, 4:30, 4 games Wed 🏀 Canceled - 3/4 B-ball 🚂 Pre3 - 4th grade to Van Buren for Christmas Train ride Fri 🏀 3/4 b-ball at Tenkiller, 9:00 🍿 Concession

November 2021 Counselor Newsletter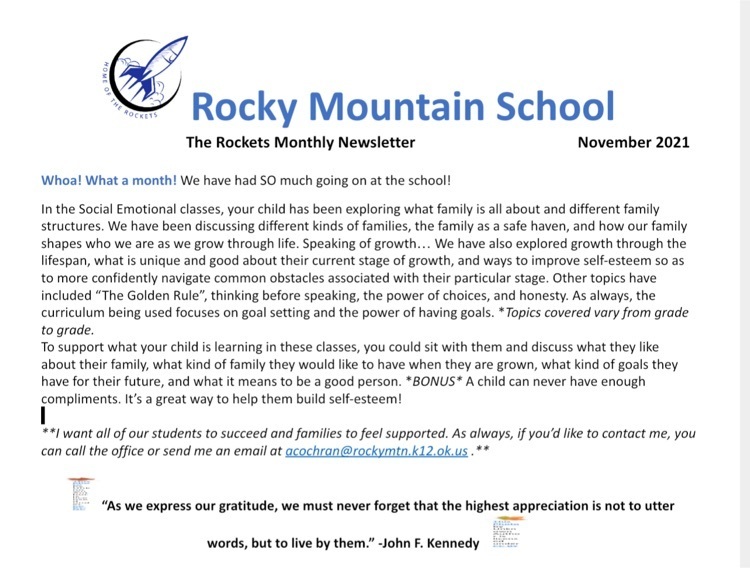 6th and 7th parents…. 🐷 Blue and Gold will be ready for pickup beginning at 2:30 PM in the cafeteria on Monday, Dec. 6th. Please make arrangements to pick and deliver so the items can remain frozen.

Cheerleaders will NOT be attending today's game; ball players for 7/8 grade team only. Thank you.

RMS parents........... CHANGE for 7/8 basketball today!!! Westville has us playing at their gym. Due to transportation for them, we will be switching our games to Westville today! Game time will also change to 4:30. If you have any questions, please call our office. Thank you for understanding.

3/4 parents…. 🏀 Friday's game is canceled. Westville called and needs to reschedule. When a new date is decided, we will notify you.

December 2021 Menu and Calendar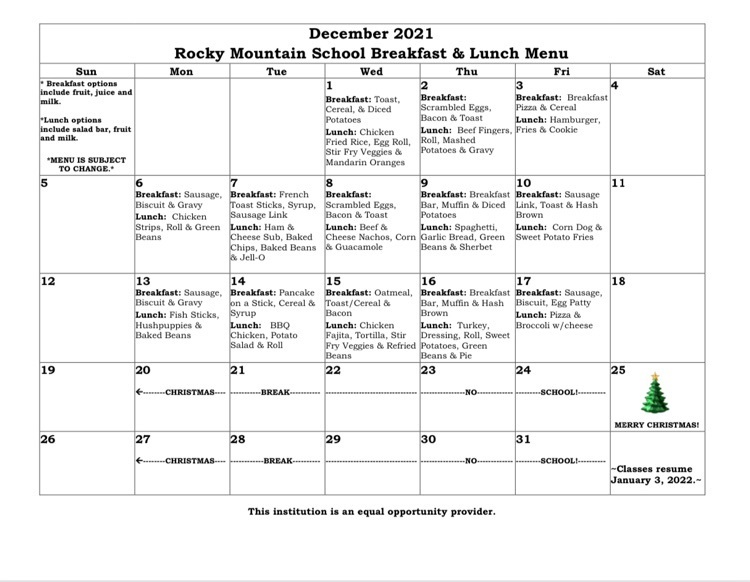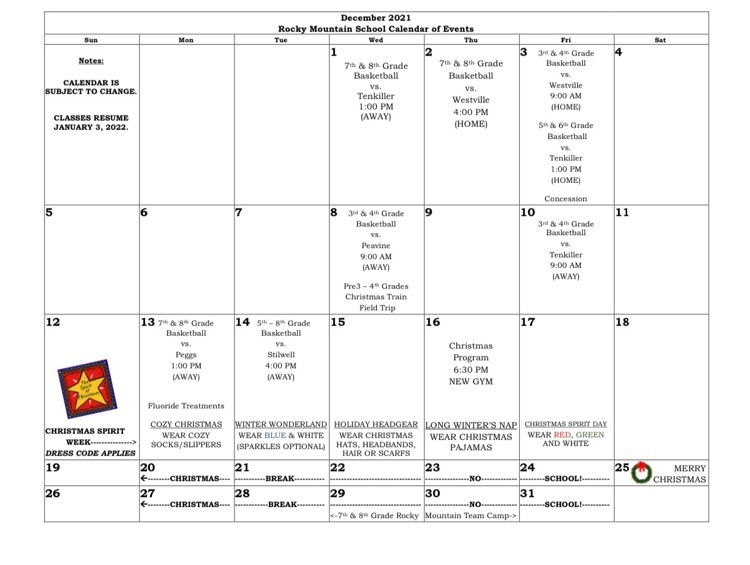 RMS Nov 29-Dec 3 Mon 🐷 6/7 Blue and Gold orders and money due! ⚙️ Robotics until 5:00 🏀 5-8 b-ball (4 games) vs Cave Springs @ home, 4:00 📣 PreK - 5th Cheer Camp Performance between 2nd and 3rd game. Girls be @ gym @ 5:00 Tues 🏀 3/4 b-ball @ Stilwell @ 9:00 Wed 🏀 7/8 b-ball @ Tenkiller @ 1:00 Thur 🏀 7/8 b-ball vs Westville, home, 4:00 Fri 🏀 3/4 b-ball vsWestville, home, 9:00 🏀 5/6 b-ball vs Tenkiller, home, 1:00 🍿 Concession, items $.50 and up