🧥 New Coat Giveaway TODAY at First Christian Church, 306 N. 2nd Street, 8:00-2:00, child must be present, sizes 0 months - XXL 14 Happy Saturday!!!

RMS Reminder…. 📸 Picture Retakes and Sports pictures today!

🍁 Dress Up day tomorrow. We will celebrate the end of summer and beginning of fall by wearing shorts and sweatshirts (or hoodie.) 😊

UPDATE as of today - 5-8 football @ Cave Springs @ 4:00, scrimmage-type format. New news for 7-8 grade so if your child can't go, please call the office so that we can notify coach. Otherwise, we will be taking all players. Thank you!

Check out our 2021-2022 Student Handbook in the documents link or use the button above titled Student Handbook!

Peavine called and canceled 3/4 Softball game for tomorrow.

A 5/6 Football game is scheduled for tomorrow, Sept. 21st at Cave Springs at 4:00. I apologize, I forgot to post that yesterday.

Sept. 20-24 Remember to sell and return Meat Basket tickets and money. Need more tickets? Call our office. Drawing will be held at Fall Carnival, October 5th. Monday ⚙️ Robotics, Mr. Hume's room until 5:00 📣 Cheer practice, lobby until 5:00 📚 5-8 grade homework help, Mrs. Reynolds until 4:30 Tuesday 🥎 3/4 grade co-ed Softball @ Peavine @ 9:00 Wednesday 🍁 Dress Up Day celebrating end of summer/beginning of fall - wear "Shorts and Sweatshirts" Thursday 🏈 5-8 Football vs. Norwood, home, 4:30 Friday 📸 Picture Re-takes. Contact office or your child's teacher if you want your child to take retakes. Students who were absent 1st round, will take pictures 📸 Football and Softball pictures 🍿 Concession

P-EBT cards are being mailed to qualifying students' homes. It is my understanding it will arrive in an unmarked envelope and might be mistaken for junk mail. See the link for details:
https://5il.co/z83x

Coats for Kids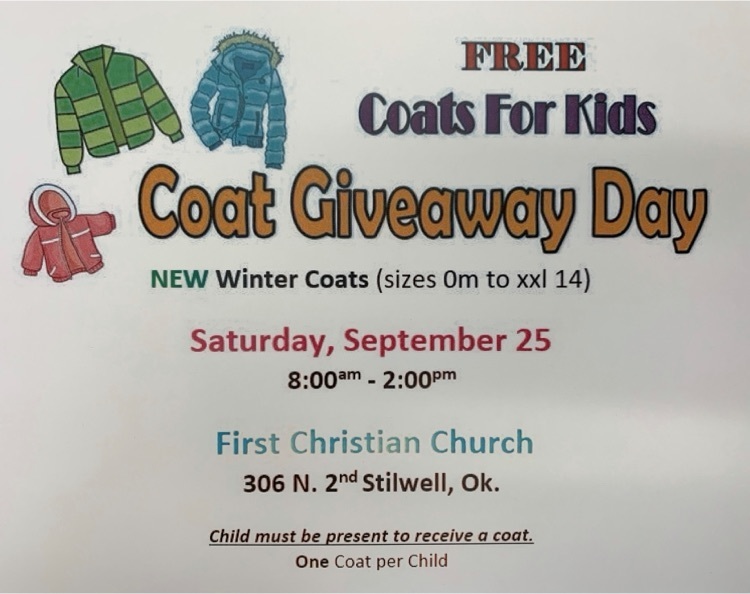 Mountain View Meat Basket Fundraiser Enter to win a basket valued at $400 to raise funds for Rocky Mountain School's Christmas Fund. Get your chance to win from a RMS student or come by the office! Each ticket is $1.00. Basket includes: 20 lbs. Ground Beef, 10 lbs. Sliced Bacon, 2 Racks of Pork Ribs, Beef Brisket, 10 lbs 1/4 lb Burger Patties, 6-7 lb Beef Roast, 12 lbs. Mountain View Meats Hot Links, 3 lbs MVM Bologna, 5 lbs Sliced Cheese, 1 Tub Head Country Seasoning Rub and a bottle of Sauce. Drawing will held at the Rocky Mountain School Harvest Carnival October 5th 2021 A special prize goes to the seller of the winning ticket!

RMS Updates for Sept. 16 🏈 Football game tomorrow is canceled and coaches are working to reschedule 🥎 5-8 Softball will leave at 6:00 AM and travel to Seminole for ORES state tournament. First game is at 10:00. Go Lady Rockets! 🚀

September 2021 School Board Meeting Agenda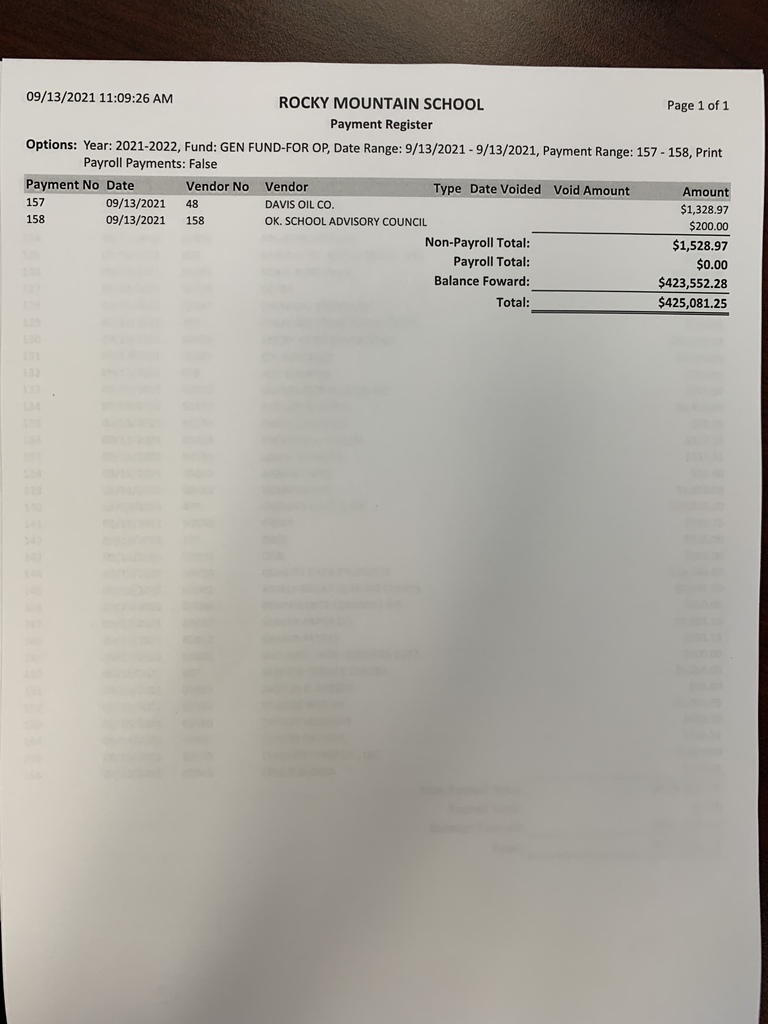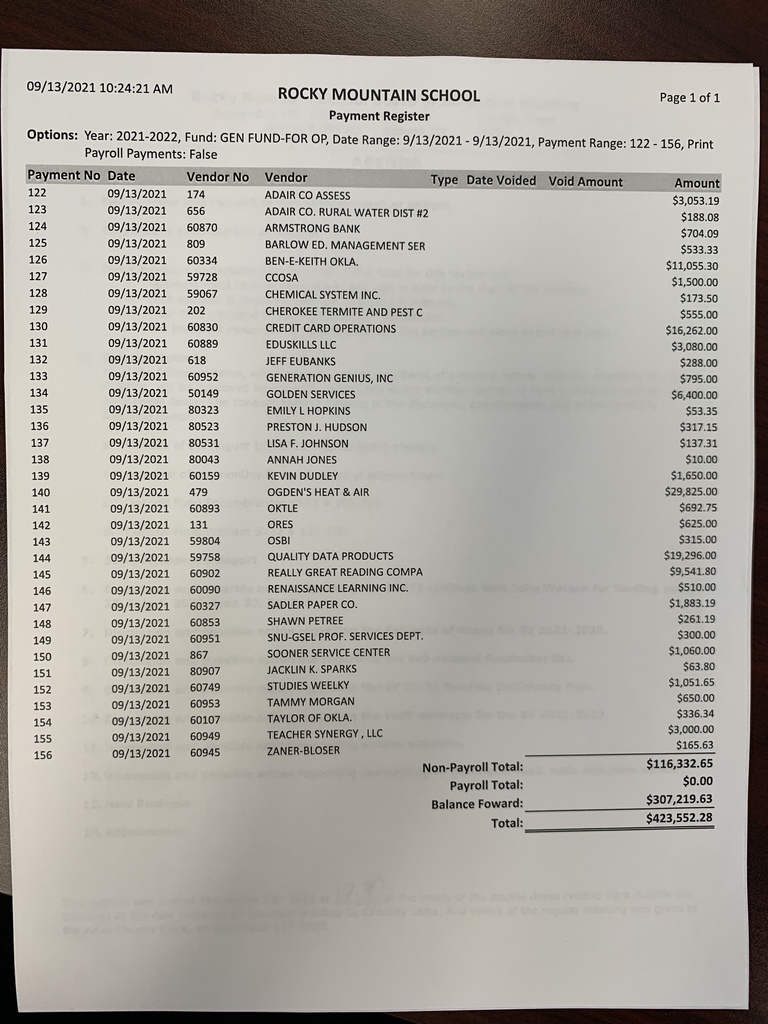 September 2021 School Board Meeting Agenda

RMS - due to issues with the carrier companies, we are limited on length of characters of text messages. For now, weekly schedules will be limited to posting on our school app and school Facebook. I will also start sending a weekly call again. We hope this is resolved soon.

RMS football and softball players are leaving Siloam Springs, headed to school.

Sept. 7 - 10 Tuesday 🚀 NO SCHOOL Wednesday 📚 5-8 grade tutoring/homework help, 3:05-4:30 Thursday 🥎 7/8 Softball @ Leach, 3:00 🏈 7/8 Football @ Moseley, 4:00 (no 5/6 grade game) Friday 🥎 7/8 Softball @ Stilwell, 2:00

RMS Reminder……. Thursday 📸 SCHOOL PICTURES!! 😊 5-8 After school activities sponsored by American Indian Resource Center (AIRC), 3:15-4:30 at Boys and Girls Club. Stay, then have parents pick you up before the football game!! 🏈 5-8 Football, home, 5:00, 2 games (Will upload season schedule tomorrow) Friday 🥎 UPDATE…. 5-8 Softball @ Kansas, 10:30, 1 game 🍿 Concession ( items are $.50 or $1.00)

September 2021 Menu and Calendar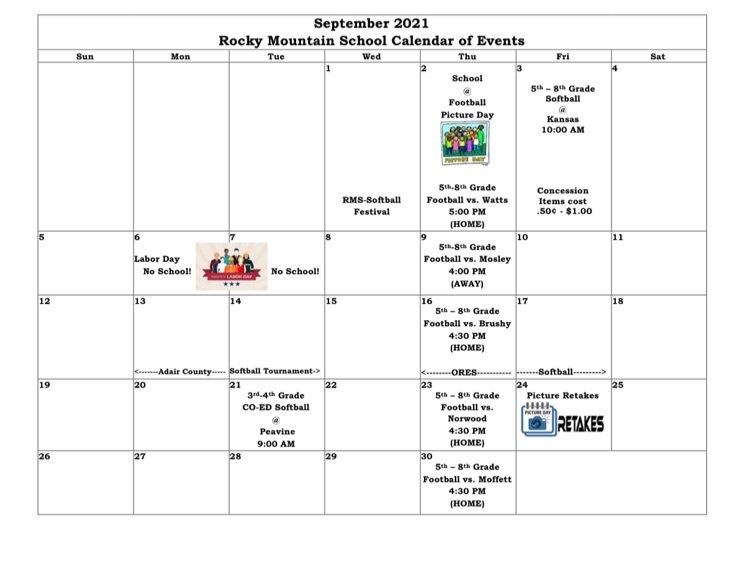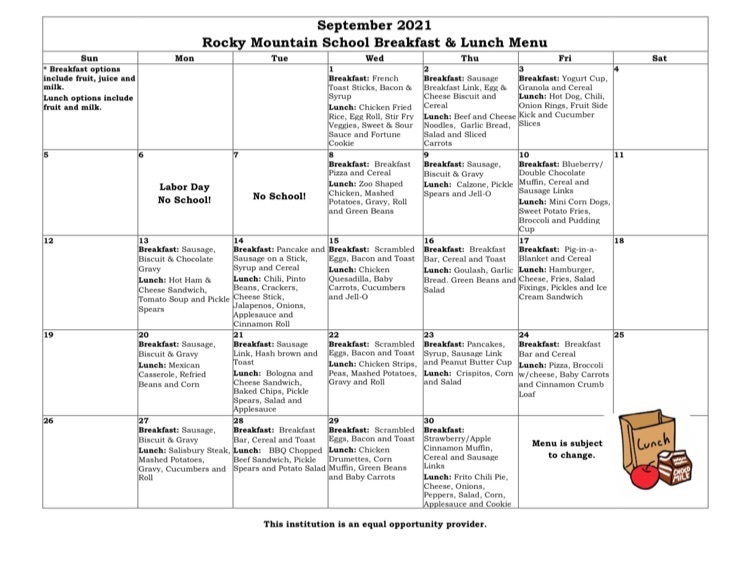 Labor Day dates for NO SCHOOL September 6 & 7 ((Next Monday & Tuesday)