🏈🏃🏻‍♂️ 5-8 boys Football/Track practice Tuesday until 4:30

Corrections for Tuesday 📣 Cheer until 4:00 🏀 1st and 2nd game times at Peavine are girls at 6:30, boys at 7:00

📣 RMS Cheer practice Tuesday until 4:00.

Feb 20-24 Mon 😊 NO SCHOOL Tues 🏀 1st and 2nd b-ball festival at Peavine. 🏀 Girls play Dahlonegah at 6:00 🏀 Boys play Dahlonegah at 6:30 🚌 No bus - parents transport Wed 🦅 5-8 to Eagle watch with wildlife biologists Thurs 🏀 1st and 2nd b-ball festival at Peavine 🚌 Bus will take players, parents pick up at Peavine 🏀 Girls play Belfonte at 3:30 🏀 Boys play Belfonte at 4:00 Fri 🍿 Concession

RMS Reminder….. No School Monday, February 20th. Weekly schedule later today 😊

Good morning!!! ❤️ All party supplies delivered today will need to be delivered to the office. ❤️ All Valentine gift items will need to be delivered to the library 🏀 Several 1st and 2nd graders forgot their jersey, shorts, and shoes this morning. Please double check rooms, cars, etc and bring with you to the game.

1st and 2nd parents 🏀 Coach gave players a jersey to wear for the games. If possible, have your child wear black shorts. Tues 🏀Girls play at 11:00 and 6:00 🏀 Boys play at 11:30 and 6:30 Thurs 🏀 Girls play at 2:00 and 6:00 🏀 Boys play at 2:30 and 6:30

5-8 Parents…. ❤️ Due to the craziness of the week, 5-8 grade will have their party on Friday so that they can relax and all students can enjoy. Outside deliveries will still be made tomorrow.

February 2023 Board Meeting Agenda and Payment Register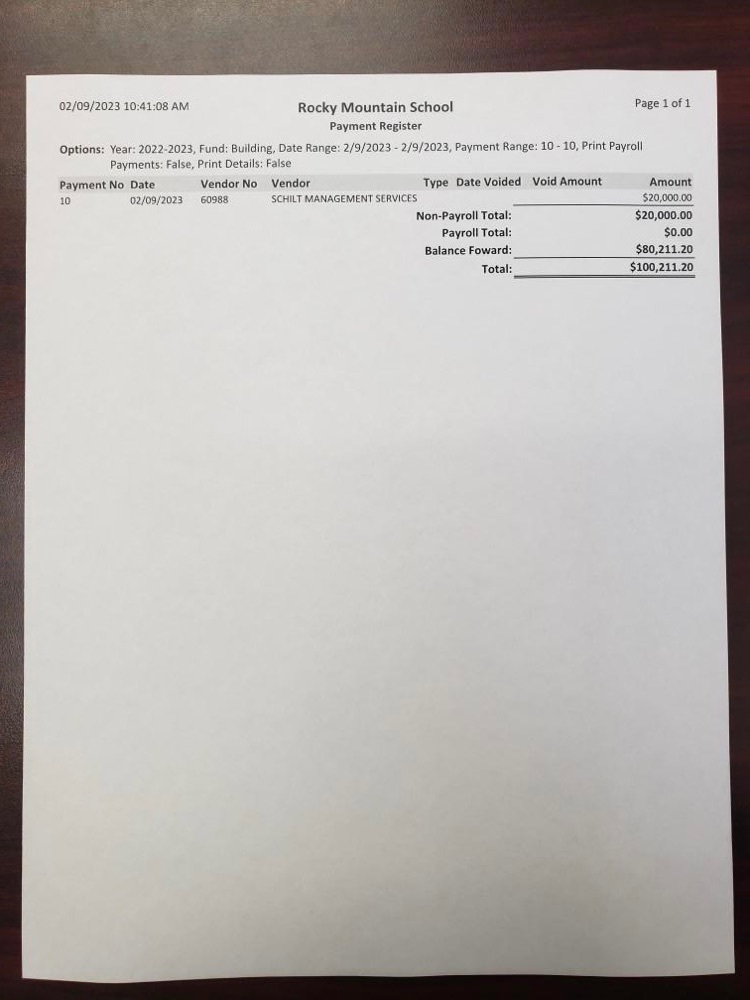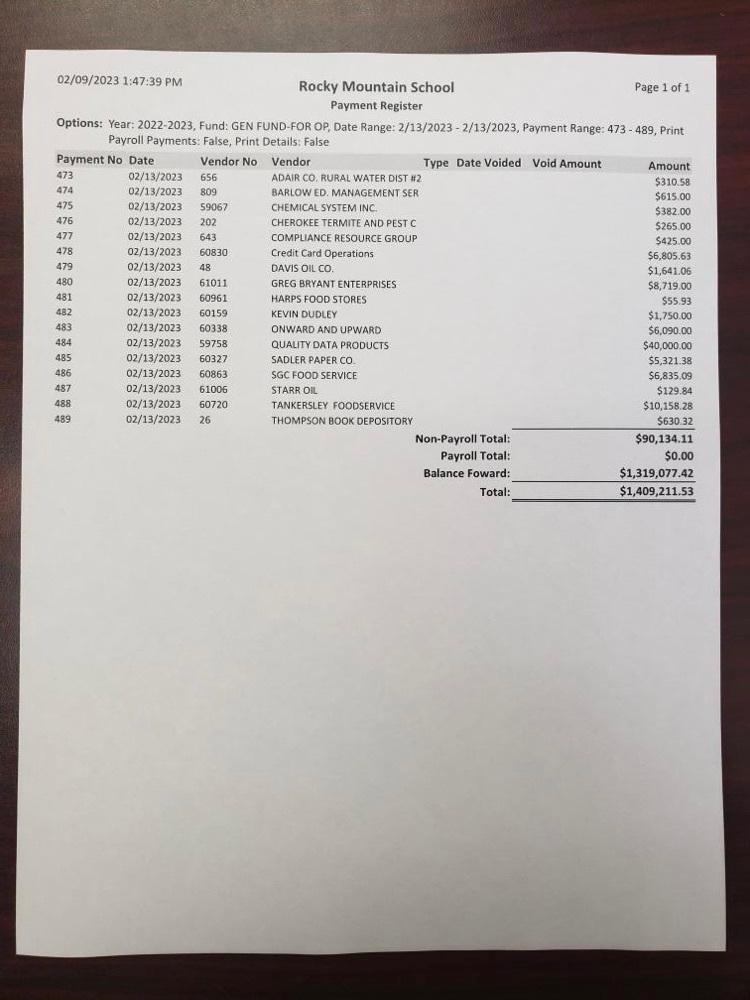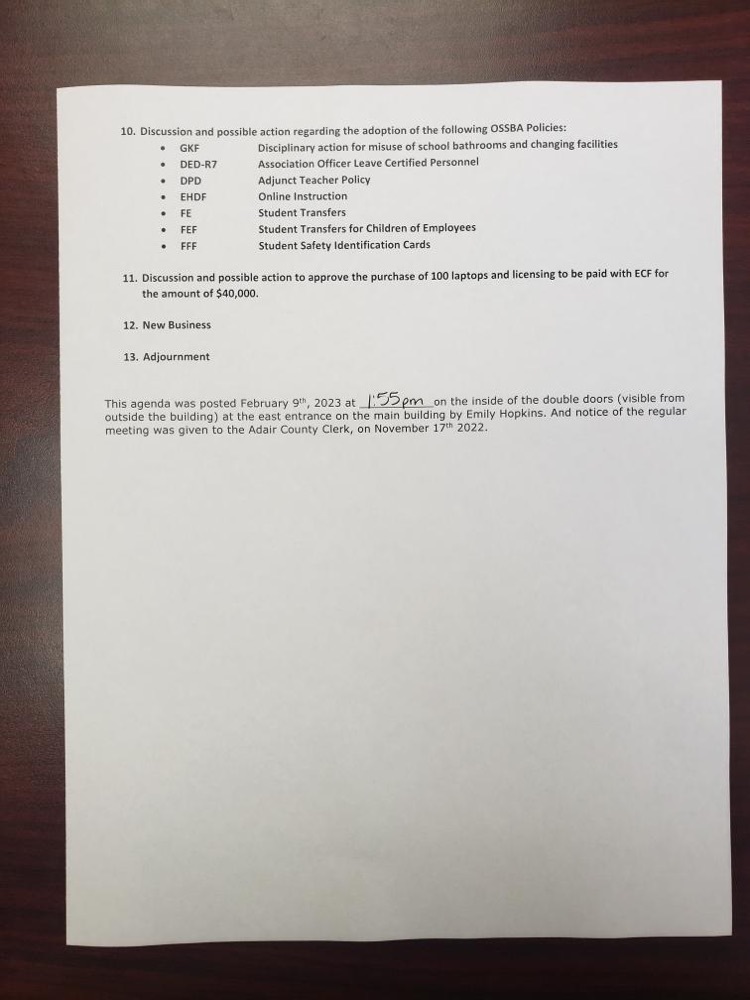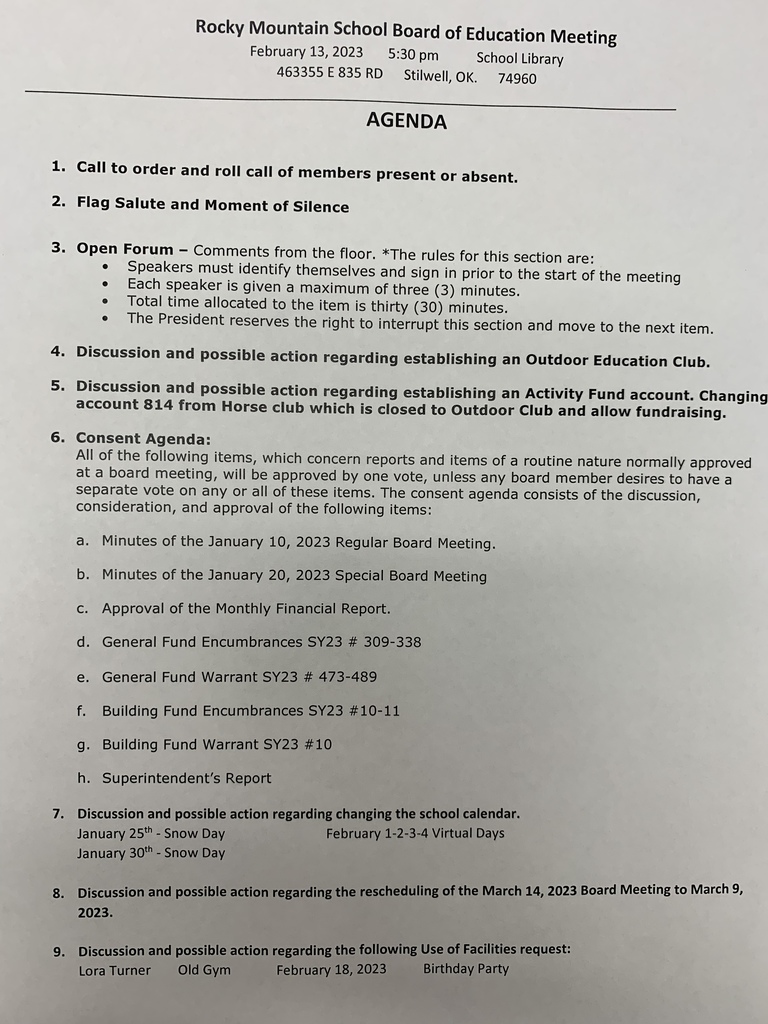 1st and 2nd grade Bottle Rocket Basketball Festival

1st and 2nd Grade Bottle Rocket Basketball Festival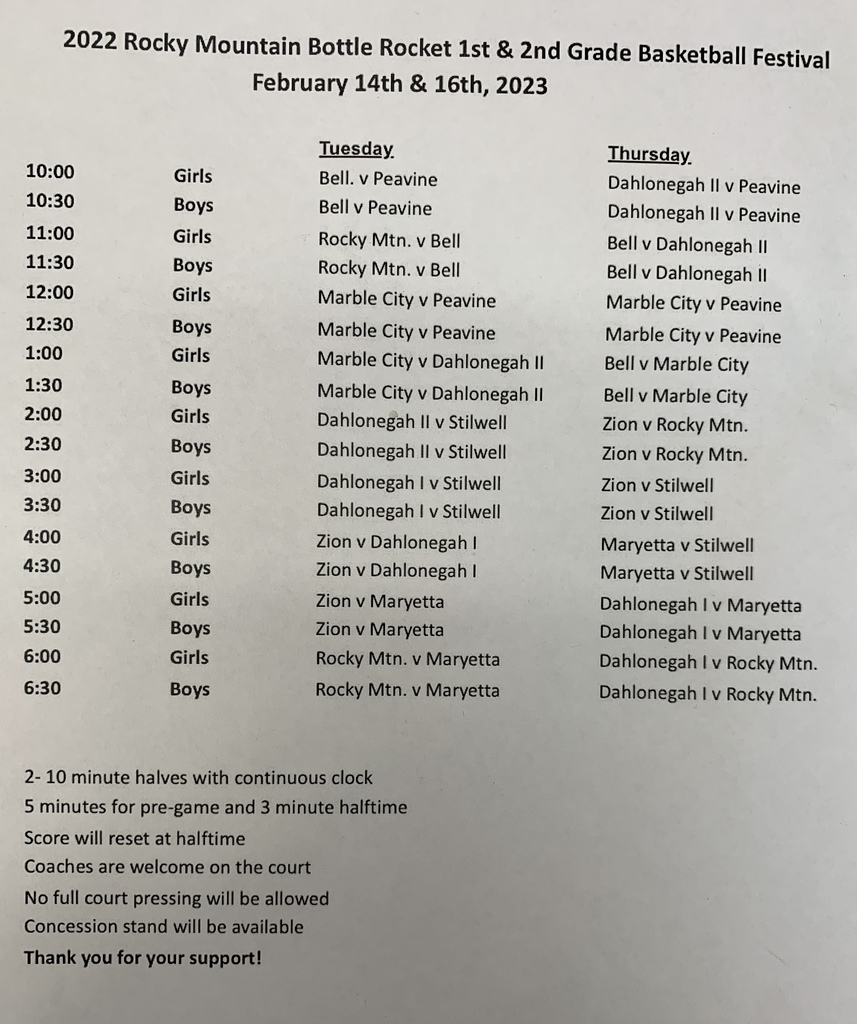 Feb 13-17 Mon 🧁 Valentine Cupcake Box orders must be returned if you are ordering Tues ❤️ ALL Valentine Deliveries will be in the Library ❤️ Class Valentine Parties 🏀 1st & 2nd Bottle Rocket Festival - full schedule on School app live feed and Facebook 🏀 Girls play at 11:00 and 6:00 🏀 Boys play at 11:30 and 6:30 Thurs 🏀 1st-2nd Bottle Rocket Festival 🏀 Girls play at 2:00 and 6:00 🏀 Boys play at 2:30 and 6:30 Fri 🍿 Concession Monday, February 20 😊 NO SCHOOL - President's Day

DC 2023 trip Parents Monday A couple of notes have been sent…..but ❤️ Send items for Valentine boxes - mini cans of soda and ind wrapped candy 🏀 Send Items for 1-2 grade bottle rocket festival Tues and Thurs 🙌🏻 If parents (or adult rep) can and/or would like to volunteer to work concession, gate, etc during games, please call the office tomorrow and let us know days and times 🏀 Games will start at 10:00 AM and end at 7:00ish both evenings. Clean up will hopefully be done before 8:00 PM. Mrs. Reynolds will be creating a schedule. Have a conversation to let your child know if they can work of the evening and what times.

RMS REMNDER 😊 No School Friday, February 10th.

⚙️Robotics Parents: Robotics until 5 today

Due to car trouble, State Shirts will be ready at 10:30 today. So sorry for any inconvenience

👕 Basketball tshirts will be in our office at 9:00 in the morning. If you can't get to school, notify us and we will bring it to Shawnee. 😊 🏀 RM girls travel to Shawnee tomorrow. They play Denison at North Rock Creek at 5:00. We are the home team so we would like to fill the stands with Royal Blue directly across the floor from the bench and make some POSITIVE noise as these girls work to take state!! 🏆

RMS Girls 🏀 🍡 Bring snacks for 16 people to the office so we can create snack packs for them 🩱 Bring your swimsuit (just in case) 💲 Optional - money for store stops, concession, shopping 🏀 Remember to pack everything for your suit including both sets of shorts and shoes!! 😊 Parents have questions? Think of something I forget to tell the group? please text or call me. 918-797-0318

February 2023 Menu and Calendar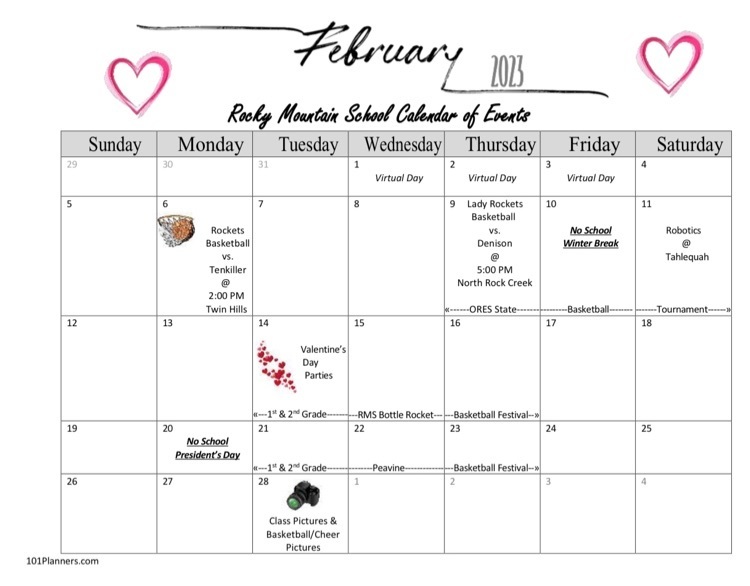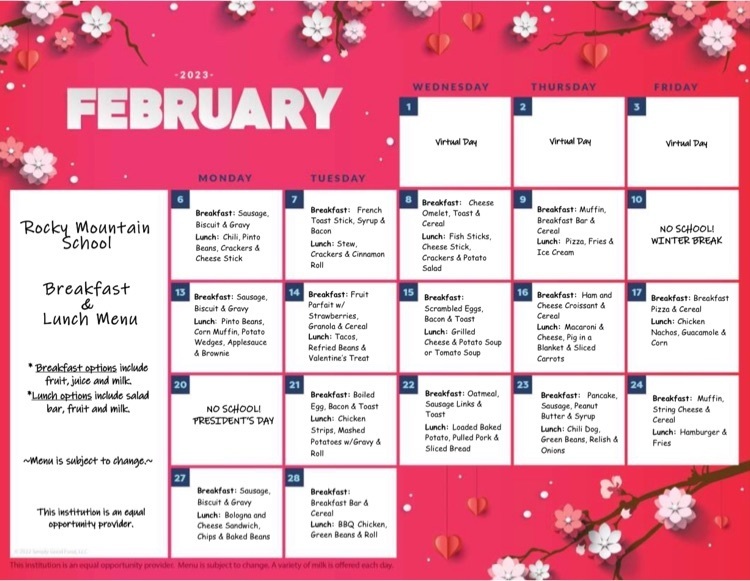 RMS Reminder Friday 😊 I failed to put it in the text yesterday, NO SCHOOL on FRIDAY!!!