3rd/4th parents…. Your student will be attending the Health Fair tomorrow afternoon, sponsored by the Boys and Girls Club. They will return before school is out and will not need any money.

6th/7th parents…… It's still too far out, for them to give us a definite price for Washington DC 2023 trip. But they estimate it between $1500-$1600. Tomorrow, students will be given a "Calendar Fundraiser." There are directions on the sheet. Basically they will be taking a donation for each day of the month. This will total $496. For each calendar completed, I will donate them $4 so each student has the opportunity to have $500 our profit added to their account. Let us know if you have any questions. If you do not want your child to participate, please write that on their calendar, sign your name and have your child return it to Mrs. Reynolds.

Parents, the summer EBT for children is now open to apply. All of our students qualify for free meals through CEP. Parents must click on the link and apply in order for your student to receive this program. Apply now at: health.cherokee.org/public-health/women-infants-children/sebtc/

Feb 28-Mar 5 🎉 Dr Seuss Birthday Week - Dress Up Days that coordinate with book titles Mon 🎉 "I Can Read With My Eyes Shut" - Wear a shirt with words you can read or a message - eg. Be Kind ⚙️ Robotics until 5:00 📚 Homework help until 4:30 Tues 🎉 "One Fish, Two Fish, Red Fish, Blue Fish" Wear Red and/or Blue 🍀 County 4-H Fabrics and Fashion @ RMS Wed 🎉 "Cat in the Hat" Wear a Hat 📚 Homework help until 4:30 Thurs 🎉 "Fox in Socks" Wear Crazy Socks Fri 🎉 "I Am Not Going to Get Up Today" Wear Pajamas Sat ⚙️ State Robotics @ NSU, Tahlequah

Robotics Team…. ⚙️ Robotics Meet at Tahlequah tomorrow - be careful in our parking lot!! ⚙️ Parents SIGN CONSENT FORM for competition as you drop off your child ⚙️ Bus leaves at 7:00 AM, return approx 5:00 ⚙️ Competition starts at noon, parents welcome ⚙️ Taking stuff for breakfast and lunch, concession will be available

RMS Robotics….. ⚙️ As of now, they will have the Robotics meet tomorrow. The bus will leave at 7:00 AM and return about 5;00 PM. Competition starts at noon and parents are welcome

RMS Family…. 😊 The message everyone's been waiting for…… NO SCHOOL Friday, February 25th.

RMS Family… 🥶 NO SCHOOL tomorrow, Thursday, February 24th. Stay safe and please let me know if you need anything. 😊

RMS Families….. ⛄️ NO SCHOOL tomorrow, Feb 23rd. I have continued to watch and monitor the weather modules for tomorrow's forecast. It seems that ice and some snow are inevitable for our area. Stay safe and warm. As always, if you need anything, please contact me.

Feb 21 - 26 Mon 🇺🇸 NO SCHOOL - Presidents Day Tues 🏀 1/2 B-ball @ Peavine Festival, girls @ 1:30, boys @ 2:00 ⚙️ Robotic until 5:00 Wed 🏀 5-8 b-ball, home vs Bell, 12:00 📚 Homework help until 4:30 ⚙️ Robotics until 5:00 Thurs 🏀 1/2 b-ball @ Peavine Festival. Parents please have students dressed and 15 min early. Girls @ 4:30 & 5:30, Boys @ 5:00 & 6:00 Sat ⚙️ Robotics Meet @ Tahlequah MS, bus leaves @ 7:00 AM, returns @ 5:00. Competition begins @ noon. Parents welcome

RMS Reminder for Feb 18 📸 Spring pictures 📣 Cheer pictures - bring your suit! 🏀 Basketball pictures - bring your suit!

6/7 Parents……. 🏀 We used all the 2 liter pops for the free-throw shoot. If possible, send 2 more bottles tomorrow 😊 Thanks for everyone's help! Your kids are doing a great job working.

6/7 grade Parents 🏀 Students signed up for a day and time to work the festival with Mrs. Reynolds. Please ask your child when they are working and have them there at that time. 😊 Thank you for sending the needed supplies!!!!

1/2 grade Parents 🏀 Posted an updated schedule (RM teams still play at the same time) 🏀 Players need to bring a tennis shoes and if possible, a blue shirt and shorts 🏀 Admission is $2 adults and $1 students 🏀 Concession will be available

Updated Bottle Rocket Festival Schedule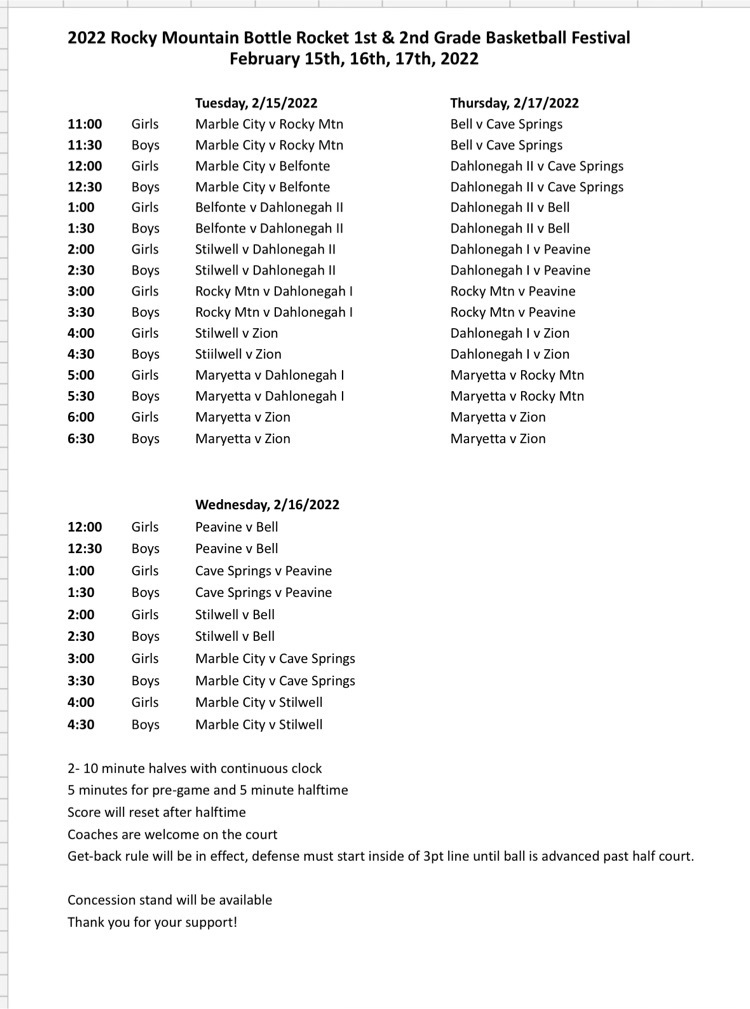 Feb 14-18 📸 Basketball and cheer pictures on Friday - Bring your suit!!!! Mon ❤️ Valentine class parties ❤️ All deliveries should be taken to the new gym concession between 8:15-11:30 ⚙️ Robotics until 5:00 Tues 🏀 1/2 grade Bottle Rocket B-ball festival, 11:00-7:00 (Schedule posted on FB) RM students play twice Wed 🏀 1/2 grade B-ball festival, 12:00-5:00 Thurs 🏀 1/2 grade b-ball festival, 11:00-8:00, RM plays twice Fri 🌸 📸 SPRING and SPORTS pictures

REVISED 1/2 grade b-ball festival is posted on our school FB. 😊 All proceeds go to the 2023 Washington DC trip! 🏀 Students will sign up to work various duties Tues, Wed, and Thurs. Please visit with your child so they know if they can work after school on any of these days. 🏀 We can also use a few parent volunteers for various jobs. If you can help, please look at the schedule and let us know what day and time is best.

1/2 Parents…. 🏀 REVISED B-Ball schedule is posted on our Facebook. We will get it posted on our website as well. 🏀 1/2 is a combined team, so your player will be playing twice each day. Hopefully it helps everyone's schedule so that parents and grands can make it to at least one game per day.

Bottle Rocket Festival Updated bracket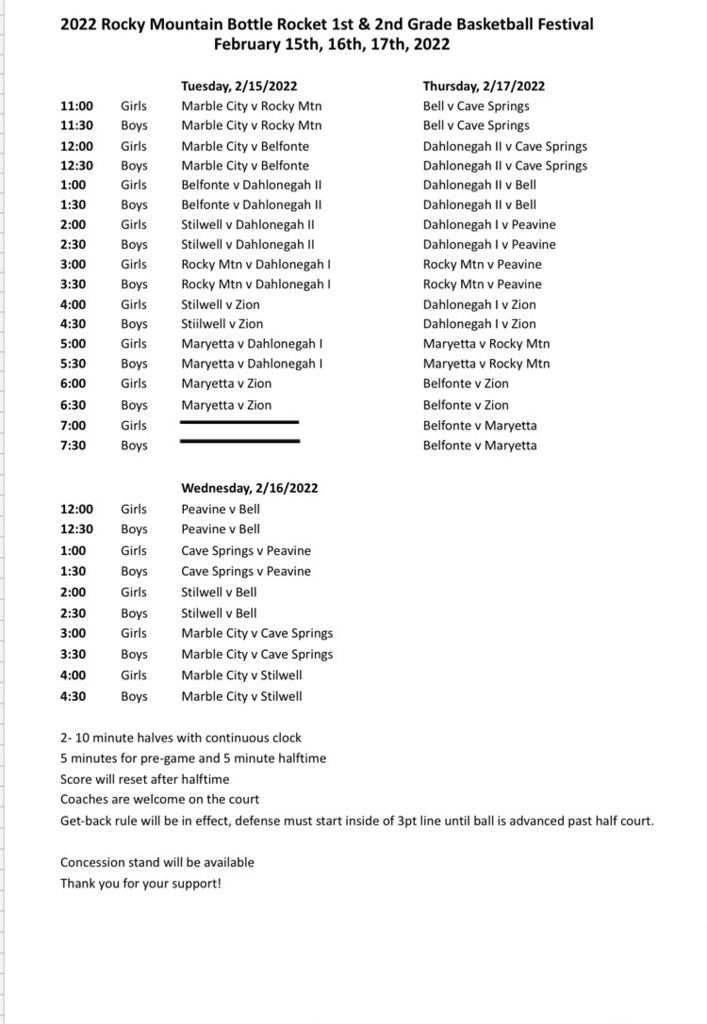 6-7 Parents Everyone send a total of 2 bottles of pop - one for party and one for festival. Send any of the following items for the basketball festival….. 😊 lg bag of fritos 😊 plastic spoons 😊 styrofoam bowls 😊 hot dogs 😊 hot dog buns 😊 candy bars 😊 jar of whole pickles